From 1999 to 2012 the percentage of Americans on antidepressants increased from 6.8% to 13%, according to a report published this week by the Journal of the American Medical Association (JAMA).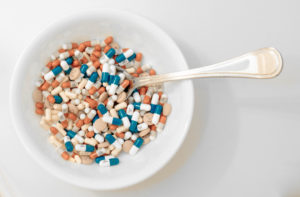 While other studies have reported on the increasing use of prescription drugs in the US in general, those studies have often relied on secondary data sources, such as pharmacy or medical claims reports. This new report on prescription use, first-authored by epidemiologist Elizabeth Kantor of Harvard University, derives its data directly from the population itself using the National Health and Nutrition Examination Survey (NHANES).  The survey included results from 37,959 adults over age twenty, but did not include people hospitalized or institutionalized.
The results show an overall increase of prescription drugs, with 51% using one or more prescription drugs in 1999 and 59% doing so by 2002. However, one of the most startling increases was in the use of antidepressants, with use steadily growing at every two-year measuring period.
The study authors comment:
"The increase in use of antidepressant drugs may, in part, reflect shifting attitudes regarding depression.27 Use of SSRIs and SSNRIs markedly increased; notably, use of SSNRIs increased between 1999-2000 and 2005-2006, remaining stable thereafter. Even so, SSRIs remain much more commonly used than the other antidepressant drugs, and the continued popularity of the SSRIs may reflect the availability of several generic options with a wide range of indications and a favorable profile regarding adverse effects. 28"
However, large-scale meta-analyses have challenged the effectiveness of antidepressants compared to placebo and psychotherapy both in moderate and severe depression, and re-analyses of industry trials have also continued to raise safety concerns.
Neuroscience research and reviews of clinical trials have questioned antidepressants' effectiveness beyond the placebo effect. Imaging studies have revealed that people diagnosed with severe depression show the same changes in brain scans when they respond to a placebo as they do when they take an antidepressant. Similarly, a recent reanalysis of antidepressant efficacy versus placebo in major depression did not find a significant difference in symptom reduction between the active prescription and placebos.
A meta-analysis of antidepressant trials compared to therapy, published in JAMA Psychiatry in September, found no significant differences between antidepressants and CBT in response to treatment or remission in patients with severe depression.
The authors also fail to mention that this increase in the prescription of antidepressants likely includes a large proportion of off-label prescriptions or orders given without an indicated diagnosis. Studies have demonstrated that as many as two-thirds of all prescriptions for antidepressants are given to patients who have never met the criteria for severe depression.
*
Kantor, E. D., Rehm, C. D., Haas, J. S., Chan, A. T., & Giovannucci, E. L. (2015). Trends in Prescription Drug Use Among Adults in the United States From 1999-2012. JAMA, 314(17), 1818-1831. (Full Text)