A new longitudinal study, led by Daisy Fancourt, a researcher from the University College London, explores cultural engagement as a preventative tool for depression in older adults. Results of the study, published in The British Journal of Psychiatry, found a dose-response association between cultural engagement and levels of depressive symptoms in aging adults.
"Going to cultural venues is a way of reducing sedentary behavior, which is associated with depression, partly through increased inflammatory responses. Furthermore, the emotional response to cultural activities such as music has been found to involve brain regions critical to the processing of positive emotions and reward," write Fancourt and colleagues.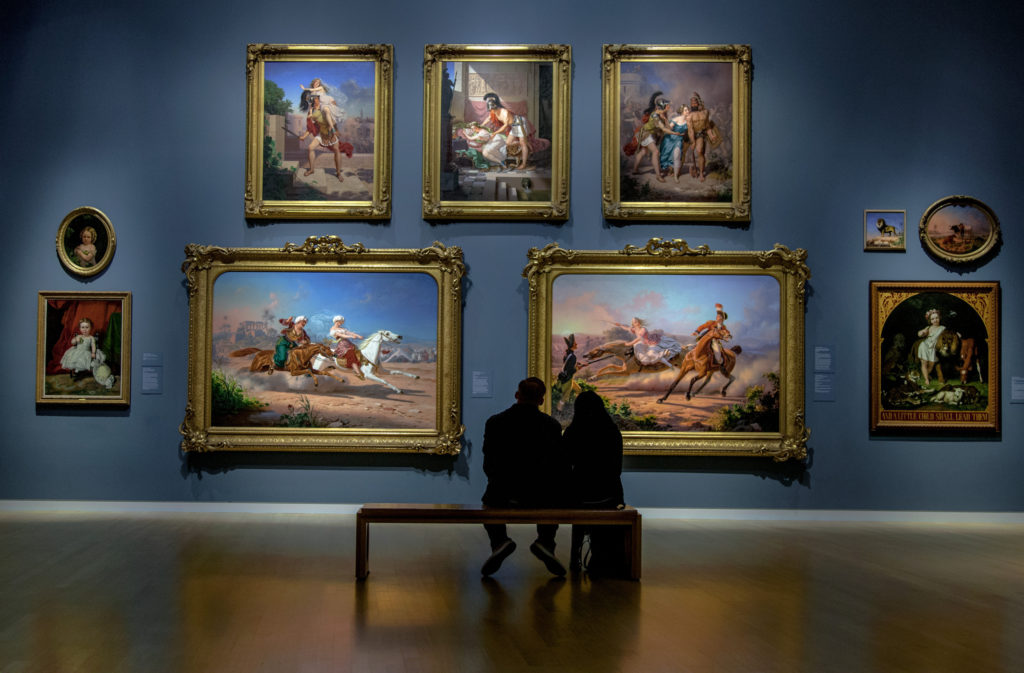 While overall rates of depression are difficult to measure, depressive symptoms are believed to increase with age and are more likely to go undiagnosed and untreated. As depression is linked to an increase in dementia, stroke, and mortality, a need for depression interventions among older adults is evident. However, as Fancourt and colleagues highlight, "there is a recognized lack of effective multimodal psychosocial interventions for the prevention of depression in older adults."
A growing body of literature suggests cultural engagement, activities such as singing, dancing, doing art, and visiting a museum, can aid in the recovery and treatment of depression. Less work has been done exploring the preventative aspects these activities may provide to individual's mental health. Cultural engagement is often comprised of social interactions, reduced sedentary behavior, and positive emotional response, all of which contribute to wellbeing and may serve to protect against depression.
"Mental health is an important determinant of successful aging and longevity. It is, however, prone to decline with age because of life events and circumstances commonly experienced by older adults such as bereavement, lone living, impoverished social interactions, poor health, retirement, and worsening economic condition," the authors write.
Fancourt and colleagues used over a decade of data from the English Longitudinal Study of Ageing to conduct the first longitudinal study utilizing validated depression scales to examine the relationship of cultural engagement on depressive symptoms in older adults, The study sampled 2,148 participants with a mean age of 62.9 years (age range= 52-89).
The researchers collected the frequency of cultural engagement activities through self-report and used the Centre for Epidemiologic Studies Depression Scale (CES-D) to measure depression symptoms among participants. At baseline, all participants were below the threshold for depression. Sociodemographic covariates, socioeconomic position, employment status, and physical health data were collected. The Midlife Development Inventory personality scale was used to control for openness as a protective factor associated with cultural engagement.
After analyzing a decade of data and employing five sensitivity tests to ensure accurate measurement of variables, the study found an increase in cultural engagement was associated with reduced rates of depression among older adults.
"There was evidence of a dose-response relationship with more frequent attendance associated with a lower risk. For fully adjusted models, this equated to a 32% lower risk of developing depression for people who attended every few months and a 48% lower risk for people who attended once a month or more," the authors report.

"Notably, this finding was independent of sociodemographic factors, health, and behavioral factors and other forms of social and civic engagement including other hobbies, social interactions, community group and civic engagement. It was also independent of open personality type."
This study provides strong evidence for the use of cultural engagement in the promotion of positive mental health among aging adults. As noted by the researchers, Fancourt's study was observational and not interventional. Therefore, interventional studies could be done to further explore the effects of cultural engagement on depressive symptomology among this population.
The authors conclude:
"We found that engagement with cultural activities (including going to the cinema, museums or galleries or the theatre, concert or opera) appears to be an independent risk-reducing factor for the development of depression in older age. Given our analyses specifically tested the potential contribution of reverse causality but found no change in results, this association may be ascribed to multiple components of cultural engagement including social interaction, mental creativity, cognitive stimulation, and gentle physical activity."
****
Fancourt, D., & Tymoszuk, U. (2018). Cultural engagement and incident depression in older adults: evidence from the English Longitudinal Study of Ageing. The British Journal of Psychiatry, 1-5. (Link)