Citing a 43 percent jump since 2003, researchers estimate that 5.8 million school-aged children and teens in the US now have an ADHD diagnosis, a staggering 12 percent of this population. The new NIH-funded analysis also found that the percentage of girls diagnosed with ADHD was up 55% and that the percentage of Hispanic children diagnosed shot up 83% over the same time-frame.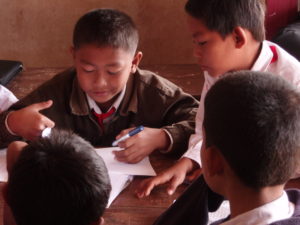 "Economics, family status, non-English language in the home, and neighborhood safety factors differentially impacted diagnosed ADHD across racial/ethnic groups," the study's lead author, Dr.  Sean D. Cleary from George Washington University, concluded. "Although new insights into the role of economic, family, and neighborhood factors on parent-reported ADHD diagnoses were noted, more research is needed to understand causes of the observed racial/ethnic disparities."
While many have tracked the shocking rise in ADHD diagnoses in the US, few studies have addressed the differential prevalence by gender, race, and ethnicity. To do this, Cleary and his team analyzed data from 2003-2011 in the National Children's Survey sponsored by the Maternal and Child Health Bureau and the National Center for Health Statistics of the U.S. Centers for Disease Control and Prevention. The database included parent reported diagnostic and demographic data on 190,408 children aged 5–17 years.
The researchers found that the rates of ADHD diagnoses among certain subgroups were significantly outpacing the already sharp rise in diagnoses overall. The parent-reported prevalence of diagnoses among girls, for example, increased 55 percent from 4.3% in 2003 to 7.3% in 2011, compared to 40% of males. For adolescents between ages 15 and 17, the prevalence increased 52%.
"Although the ADHD prevalence was still highest among whites," the researchers found that "increasing trends were observed for all racial/ethnic groups, most notably among Hispanics, increasing 83% from 2003 to 2011."
In an interview with Medical Xpress, Cleary would not speculate on the underlying reasons for this increase in diagnoses overall or within ethnic minority groups, saying that it could be a "true increase" or a result of over-diagnosis.

*
Collins, K., Cleary, S.,. Racial and Ethnic Disparities in Parent-Reported Diagnosis of ADHD. Journal of Clinical Psychiatry, (Abstract)