In Part One of this article series, we reviewed the contemporary research into the links between psychosis, problematic family dynamics, and other forms of childhood trauma. After reviewing this research, we find that a very interesting and important question emerges: What do all of these have in common? In other words, is there some common denominator that all of these types of trauma and patterns of problematic family dynamics share, a single underlying factor that makes someone particularly vulnerable to experiencing a psychotic crisis? Indeed, I believe that there is.
In essence, I believe that in order to maintain wellbeing, we must ensure that certain core needs remain "well enough" met; and when this doesn't happen, psychosis is likely to ensue. Furthermore, given the importance of our development throughout our earliest years in determining how well we do with regard to meeting these basic needs, and the importance of our family system in shaping our early development, we can connect the dots and say that problematic family dynamics can set the stage for our inability to adequately meet these basic needs, which in turn can lead to the vulnerability to experience a profound psychological crisis (i.e., psychosis). To better understand this, let's start from the beginning.
As I've discussed at length in Rethinking Madness and elsewhere, we can see the very elaborate experience and understanding of our self and the world (our "personal paradigm") as being akin to a tall skyscraper, with the very ground floor consisting of our most primal experience of self and the world and our most fundamental existential dilemma—the need to experience our "self" as a relatively secure and stable being living in a relatively secure and stable world, when the actual nature of the world and of our existence within it is not particularly stable and secure at all. Converging from numerous perspectives—spiritual, psychological, physical—is the recognition that the raw fabric of our world and of our experience is profoundly impermanent, interconnected and therefore fundamentally unitive—in other words, at the most basic levels, ultimately not consisting of discrete and permanent entities or selves. This is the basic fabric of existence to which many religions, spiritual traditions and even the current frontiers of Western science point to; and it is also these deepest waters of existence in which those who enter a psychotic process often find themselves desperately struggling not to drown.
Considering this "ground floor" existential dilemma from the perspective of a human being in the very early stages of development, we can say that as an infant emerges from the intra-uterine experience of relatively undifferentiated unity with the mother to the experience of a differentiated sense of self, he experiences an increasingly reified experience of both "self" and "other." This experience in turn leads to the increasing importance of learning how to develop a relatively secure and enjoyable relationship between "self" and "other." We can say that it is at this stage when the young person is developing the second floor of what will ultimately be the tall and elaborate skyscraper of his personal construct system of self and the world. I have referred to this second tier elsewhere as the "self/other dialectic," or more appropriate to the context here, as the "autonomy/connection dialectic."
To summarize these two most foundational tiers of our development, then, we can say that as newborns emerging from the womb and into the world, we must first experience a "good enough" sense of safety, stability and a nurturing welcome (first tier needs) before having the capacity to properly venture into the risky business of differentiating into a unique "self" that is able to relate effectively with "others" (second tier needs). So generally speaking, safety ("It's safe enough") and belonging ("I belong here"; "My existence is welcomed") can be seen as our most essential core needs, which are followed closely by our rapidly increasing needs for both autonomy and secure connection with others as our self/other differentiation increases (see Figure 1).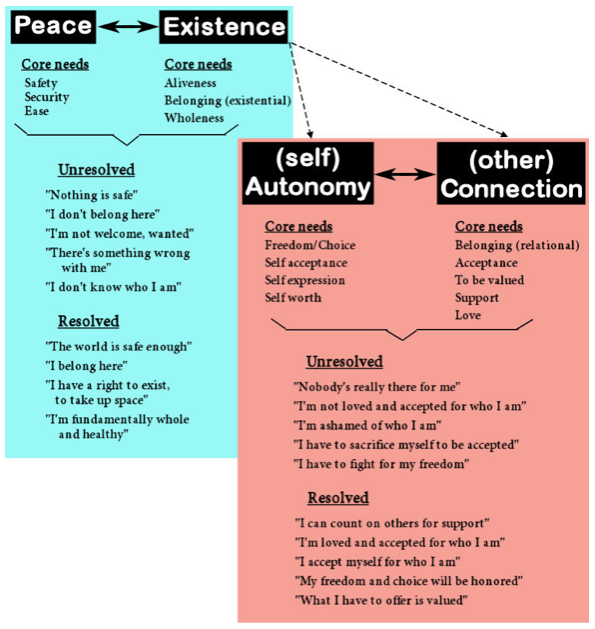 Focusing on this second tier, then, we can say that the autonomy/connection dialectic results from the universal human dilemma that, like it or not, we are profoundly relational beings. The nature and quality of our social relationships play a huge role in our wellbeing, and developing healthy, satisfying relations is generally very challenging for any of us, due in large part to this dilemma that we all share—one hand, we require a certain amount of healthy connection with others in order to survive and to ultimately thrive; and on the other hand, we also require a certain degree of autonomy (e.g., freedom, choice, personal power, self agency and a general sense of self worth). So the dilemma lies in the inherent difficulty of trying to develop healthy relationships with others in which we experience both secure enough nourishing connection and intimacy and also enough freedom and autonomy so that we can tolerate (and hopefully enjoy!) our existence; hence the term "autonomy/connection dialectic."
The other key component of this term is "dialectic," which is derived from the Hegelian notion of two apparently contradictory elements (the "thesis" and the "antithesis") coming together to form a unified whole (the "synthesis"). So the autonomy/connection dialectic refers to the fact that on one hand, it can be challenging to find a balance between two seemingly contradictory needs, or drives—autonomy and connection—but on the other hand, we find that it's possible to develop in such a way that these actually become mutually reinforcing—the more we develop a sense of genuine comfort and security with our autonomy and self worth, the more likely it is that we will feel at ease while connecting with others, and vice versa. So we find that it is possible to arrive at a state of "synthesis" or "resolution" in which we experience wholesome and nourishing relationships in which both autonomy and connection are satisfyingly met (see Figure 1).
While this dilemma of the autonomy/connection dialectic shows up within all of our social relationships—be they with siblings, friends, romantic partners, colleagues or other peers—it first shows up in our relationship with our parents (or other primary caretakers, which I'll collectively refer to as simply "parents"). And not only does it merely show up in our relationship with our parents, but the degree of success we experience with regard to resolving this dilemma within these primary relationships powerfully influences how successful we are in developing into a mature, relatively happy human being. These first relationships form the foundations for the way that we feel and behave in all subsequent relationships with others, and also how we relate with ourselves.
This process of developing a healthy, wholesome relationship with ourselves, and the capacity to experience such relationships with others, is sometimes referred to as "individuation," a term popularized by transpersonal psychologist Carl Jung, and a concept that has been further explored and expanded upon within Attachment Theory, as first developed by John Bowlby in the late 50s and 60s (Bowlby, 1969). To put this term into the context I'm presenting here, we can say that "individuation" essentially refers to our developing in such a way that we experience a "good enough" resolution of the autonomy/connection dialectic (which is in turn dependent upon our resolution of the more primal peace/existence dialectic), which then gives us the capacity to experience healthy, nourishing relationships with ourselves and others.
As we develop as children, while of course our entire childhood influences our process of individuation, it does appear that there are two particularly critical periods in this regard. The first period is more or less our first 2-3 years of life, in which we first develop attachment styles that are likely to remain relatively robust throughout our lives. These refer to habitual patterns of relating to others, and can be seen as corresponding directly to the autonomy/connection dialectic. During these very early years of our life, the way that our parents behave and relate to us profoundly shapes the personal lens through which we make sense of ourselves and others. If we experience an adequate degree of both secure connection and autonomy/validation, then the message that becomes imprinted deeply within our being is, "I'm welcome here, I can count on being supported, and I am loved and valued for who I am." This experience of the world as generally nourishing and supportive is associated with the development of what is referred to within attachment theory as a secure attachment style, and can essentially be seen as indicating that the child has so far been successful in achieving a relatively sustainable and healthy resolution to the autonomy/connection dialectic, at least at this early stage of development.
If our connection and/or autonomy needs are not adequately met during these early years, then according to attachment theory, we are likely to develop an insecure attachment style, a problematic relational style that is generally recognized as veering into one of three extreme relational directions. On one extreme, we become excessively fearful and avoidant of intimate contact, so experience an excessive fear of connection (what I like to refer to as engulfment anxiety, as in a fear of being "engulfed" or overwhelmed by the other), and this is typically referred to as an avoidant insecure attachment style. On the other extreme, we become excessively clingy, so experience an excessive fear of autonomy (what I like to refer to as isolation anxiety or abandonment anxiety), and this is typically referred to as an ambivalent insecure attachment style. Finally, in the most extreme cases, we find that a person can swing radically from one of these extremes to the other, or even experience them both simultaneously (an excessive fear of both autonomy and connection), what is often referred to as a disorganized insecure attachment style.
When a person develops an insecure attachment style during this early stage of development, certain limiting core beliefs become imprinted deeply within one's being, such as: "I'm not welcome here," "Nobody cares about me," or "I'll be cared for, but only if I give up my freedom or suppress my authentic self." And when reflecting upon the autonomy/connection dialectic, it's easy to see how such beliefs, which initially emerged out of a failure to experience successful resolution with regard to this dialectic at this early stage, are then likely to interfere with the individual's ability to achieve successful resolution of this dialectic during the second critical stage of this process occurring much later, in late adolescence (discussed below).
Research into links between attachment styles and psychosis has only recently begun to be carried out; however, we are already finding strong correlations between early insecure attachment styles and the later development of psychosis (Berry, Barrowclough & Wearden, 2007; Read & Gumley, 2008; Williams, 2011). I think to fully grasp the significance of this link it will help to bridge my own exploration of the fundamental existential and relational dialectics (the peace/existence and autonomy/connection dialectics, respectively) with Gregory Bateson's work on the links between double binds and psychosis. Recall that Bateson describes a double bind essentially as that which occurs when we find ourselves torn between two injunctions that are placed in mutual opposition, so that following one injunction is likely to lead to punishment associated with betraying the other; and yet there is the possibility of finding a resolution to this dilemma, by either finding a way to shift from the impossible "either/or" dichotomy to a "both/and" solution and/or by transcending the system altogether. Closely related to this, I see the peace/existence and autonomy/connection dialectics as essentially representing such double binds that have been imposed upon us by our very existence, with our healthy development requiring that we find a way to transcend the possibility of becoming caught indefinitely in an impossible "either/or" dichotomy with regard to these, and to instead arrive at a workable "both/and" solution (i.e., developing a belief system and life strategy that allows us to have both enough peace and also enough meaningful/sustainable existence, and both enough autonomy and also enough nourishing connection with others). Figure 1 shows some common core beliefs likely to be associated with these dialectics being unresolved vs. resolved.
So using this framework, we can say that the degree of relational security we have achieved as indicated by our particular attachment style essentially represents the degree to which we have experienced resolution of these two core double binds that are inherent within our very existence. Bridging the works of Bateson, attachment theory, and my own explorations, then, we can say that while we all share these core existential dialectics/double binds, the family and social dynamics within which we are raised profoundly affects our ability to achieve a "good enough" resolution to these so that we may live enjoyable lives.
The second particularly critical period with regard to healthy individuation occurs in late adolescence and early adulthood. It is at this stage that healthy development requires that we undergo a transition in our primary attachment figures, from our parent(s), who have likely been our primary attachment figures up until this point, to a romantic partner, with a relatively secure and longstanding romantic relationship generally considered the most natural and optimal developmental aim in this regard. This transition is difficult for most children and parents to various degrees, but for some children and parents, the difficulty of this stage of individuation can be completely overwhelming, and therefore pave the way to the development of psychosis. I believe that this is why the large majority of people who experience psychosis first do so during this particular developmental stage—between mid/late adolescence and early adulthood. Some people do experience their first onset of psychosis much later in life, but from what I've seen in the literature and in my own clinical experience, I would say that the majority of these cases are still closely related to a problematic relationship with a primary attachment figure, but that the primary attachment figure is often a romantic partner rather than a parent. Furthermore, I suspect that in the majority of even these cases, the person likely had some pre-existing vulnerability as a result of earlier attachment issues stemming from childhood.
So why is this particular stage of individuation—that of young adulthood—so difficult for some people, children and parents alike, and why can it be so difficult as to sometimes lead to psychosis? In order to answer these questions, it will help to contemplate this stage of individuation as directly experienced from the two different perspective—that of the child and that of the parent:
The child's perspective.  For those of us who have already passed into adulthood, it will help to take a moment to reflect upon our own transition from childhood into adulthood. Most of us will be able to recall several very powerful drives that greatly influenced our behavior during this time. There is usually the drive to distance ourselves from our parents, and to spend an increasing amount of time with peers, including both friends and romantic partners. There is also the drive to come out from under the authority of our parents and to experience as much freedom and autonomy as possible. So in general we can see these as healthy drives pushing/pulling us towards mature adulthood, in which we make the transition to more equal footing in our relationship with our parents—ideally coming to see them more as supportive close friends than as authority figures—and from having our parents as our primary attachment figures to having a romantic partner take on that role.
But along with this pull we feel towards increasing autonomy, most of us also experience some fear associated with this. Will I be able to make it out there in the world without the support of my parents? Can I actually handle the self-responsibility that goes along with being an autonomous adult, taking full responsibility for all of my own actions? Will I be able to develop enough nourishment and satisfaction within my relationships with friends and romantic partners?
With some honest reflection, I think that all of us who have gone through this transition into adulthood should be able to recognize this dilemma—the ambivalence of wanting more freedom and autonomy on one hand, and on the other hand, feeling some degree of insecurity with regard to our ability to really handle these. And closely related to this is usually the concern associated with our ability to continue adequately meeting our connection and belonging needs as we transition away from the direct care of our parents and more fully into the fold of peers and lovers. Some of us struggle with this dilemma much more than others, and the reasons for this can be numerous, but it is clear that the nature of our relationship with our parents, both prior to and during this transition, plays a major role in how difficult this transition will be for us.
When this transition fails, the person essentially fails to achieve healthy individuation (i.e., to successfully resolve the autonomy/connection dialectic), and certain harmful core beliefs associated with this develop or are reinforced, such as: "There's something wrong with me," "I won't be able to find someone who will love me for who I am," "I have to choose between being authentic and being loved," and "I can't handle it out there." The person then feels trapped in a very painful dilemma: on one hand, the experience of overwhelming engulfment by the parent(s) to whom they continue to feel so dependent upon, which is often associated with powerful feelings of anger and resentment towards them as a result of this; and on the other hand, the overwhelming fear of isolation and loneliness should they fail to develop secure and nourishing relations with others upon leaving home. And further stacked upon these feelings is often deep shame and even self loathing as a result of finding oneself so stuck within such a predicament.
This predicament, with so many painful feelings that go right to the core, has the potential to be powerful enough to push anyone over the edge, though we may each differ in just how much we can tolerate before this tipping point is reached. And unfortunately, many parents, wittingly or unwittingly, often directly exacerbate this predicament and increase the likelihood of the ultimate failure of their child's individuation, due to their own ambivalent feelings.
The parent's perspective.  As any parent knows, raising a child requires an enormous whole-being commitment typically lasting at least two decades, often entailing the sacrifice of deep personal ambitions in the process. This great sacrifice combined with the very natural tendency to become deeply attached to one's children can make it very difficult to let them go when they come of age. To devote so many years and resources towards the life of this being, and then to simply let them go free into an unpredictable and frankly dangerous world . . .  this is no easy task for any loving parent, and yet if we want our children to experience the fullness of mature adulthood, this is exactly what is called for. It's no wonder that many parents really struggle with this, and in spite of what may be the best of intentions, may directly undermine their child's individuation process.
Just as in the case of the child, the parent may find that she is harboring or reinforcing certain personal core beliefs that ultimately cause more harm than benefit to their child's individuation process, such as: "There's something wrong with my child," "He's not ready to handle the world," "I have to protect her from the world," "I have to protect him from himself." And just as in the case of the child, the parent may struggle with very powerful and ambivalent feelings associated with this dilemma. On one hand, the parent probably really does want to see their child transition to an independent and enjoyable life, and may even genuinely desire a bit more personal space and freedom for themselves; and on the other hand, they may also fear for their child's safety and/or fear becoming overwhelmed by their own feelings of loneliness and meaninglessness once the child leaves (the so called empty nest syndrome). While it's natural for most parents to struggle with such mixed feelings, if these feelings are powerful enough and not adequately checked by the parent, they are likely to only reinforce their child's own ambivalence about individuation and increase the likelihood of failure.
In Part Three, by taking guidance from the research we reviewed in Part One and the theoretical framework presented here in Part Two, we'll look at practical ways that families and individuals struggling with such extreme states of mind can work towards greater harmony and wellness.
* * * * *
References:
(for all three parts of the article)
Bakhtin, M. (1984). Problems of Dostojevskij's poetics. Theory and history of literature: Vol. 8. Manchester, UK: Manchester University Press.
Bateson, G., D. Jackson, D., Haley, J., & Weakland, J. (1956). Toward a Theory of Schizophrenia. Behavioural Science 1, pp. 251-54.
Baumrind, D. (1989). Rearing competent children. In W. Damon (Ed.), Child development Today and Tomorrow. San Francisco: Jossey-Bass.
Berry, K., Barrowclough, C., & Wearden, A. (2007). A review of the role of attachment style in psychosis: Unexplored issues and questions for further research. Clinical Psychology Review, 27(4):458-475.
Bola, J., & Mosher, L. (2003). Treatment of acute psychosis without neuroleptics: Two-year outcomes from the Soteria project. Journal of Nervous and Mental Disease, 191(4), 219-229. doi:10.1097/00005053-200304000-00002
Bowen, M. (1960) A family concept of schizophrenia IN D.D. Jackson (Ed.) The Etiology of Schizophenia. New York: Basic Books.
Bowen, M. (1993). Family therapy in clinical practice. Lanham, Maryland: Rowman & Littlefield Publishers, Inc.
Bowlby, J. (1969). Attachment and Loss, 3 vols. London: Hogarth, 75.
Brown, G.W., Bone, M., Palison, B. & Wing, J.K. (1966) Schizophrenia and Social Care. London: OUP.
Fromm-Reichmann, F. (1948) Notes on the development of treatment of schizophrenics by psychoanalysis and psychotherapy. Psychiatry, 11, 263-273.
Furnham, A., & Cheng, H. (2000). Perceived parental behavior, self-esteem, and happiness. Social Psychiatry and Psychiatric Epidemiology, 34(10, 463-470.
Galambos, . L. (1992). Parent-adolescent relations. Current Directions in Psychological Science, 1, 146-149.
Goldstein, M. The UCLA High-Risk Project. Schizophrenia Bulletin 1987; 13(3):505-514.
Greenberg. J. (1964). I never promised you a rose garden. Chicago; Signet.
Janssen I, Krabbendam L, Bak M, Hanssen M, Vollebergh W, de Graaf R, et al. Childhood abuse as a risk factor for psychotic experiences. Acta Psychiatrica Scandinavica 2004;109(1):38-45.
Karen, R. K. (1994). Becoming attached: First relationships and how they shape our capacity to love. Oxford, UK: Oxford University Press.
Laing, R.D. (1960) The divided self: An existential study in sanity and madness. Harmondsworth: Penguin.
Laing, R.D. and Esterson, A. (1964) Sanity, madness and the family. London: Penguin Books.
Laing, R.D. (1967). The politics of experience. New York: Pantheon Books.
Miklowitz, J.P. (1985) Family interactions and illness outcomes in bipolar and schizophrenic patients. Unpublished PhD thesis, UCLA.
Mosher, L. R. (1999). Soteria and other alternatives to acute psychiatric hospitalization: A personal and professional review. The Journal of Nervous and Mental Disease, 187, 142-149.
Napier, A.Y. & Whitaker, C.A. (1978; 1988). The Family Crucible. New York: Harper & Row.
Neufeld, G., & Mate, G. (2014). Hold on to your kids: Why parents need to matter more than peers. New York: Ballantine Books.
Norton, J. P. (1982) Expressed Emotion, affective style, voice tone and communication deviance as predictors of offspring schizophrenic spectrum disorders. Unpublished doctoral dissertation, UCLA.
Read, J. (2004). Poverty, ethnicity and gender. In J. Read, L. R. Mosher, & R. P. Bentall, (Eds.), Models of madness: Psychological, social and biological approaches to schizophrenia(pp. 161-194). New York: Routledge.
Read, J., Fink, P., Rudegeair, T., Felitti, V., & Whitfield, C. (2008). Child maltreatment and psychosis: a return to a genuinely integrated bio-psycho-social model. Clinical Schizophrenia & Related Psychoses, 2(3), 235-254.
Read, J., & Gumley, A. (2008). Can attachment theory help explain the relationship between childhood adversity and psychosis? Attachment—New Directions in Psychotherapy and Relational Psychoanalysis, 2(1):1-35.
Resnick, M. D., Bearman, P. S., Blum, R. W., Bauman, K. E., Harris, K. M., Jones, J., … & Udry, J. R. (1997). Protecting adolescents from harm: findings from the National Longitudinal Study on Adolescent Health. Jama, 278(10), 823-832.
Seikkula, J., Aaltonen, J., Alakare, B., Haarakangas, K., Keränen, J., & Lehtinen, K. (2006). Five-year experience of first-episode nonaffective psychosis in open-dialogue approach: Treatment principles, follow-up outcomes, and two case studies. Psychotherapy Research, 16(2), 214-228. doi: 10.1080/10503300500268490.
Seikkula, J., & Olson, M. E. (2003). The open dialogue approach to acute psychosis: Its poetics and micropolitics. Family process, 42(3), 403-418.
Selvini-Palazzoli, M., Boscolo, L., Cecchin, G., (1978). Paradox and counterparadox. New York: Jason Aronson.
Shelvin M, Houstin J, Dorahy M, Adamson G. Cumulative traumas and psychosis: an analysis of the National Comorbidity Survey and the British Psychiatric Morbidity Survey. Schizophr Bull 2008;34(1):193-99.
Siegel, D., & Hartzell, M. (2003). Parenting from the inside out: How a deeper self-understanding can help you raise children who thrive. New York: Tarcher/Penguin.
Siegel, D., & Payne, T. (2014). No-drama discipline: The whole-brain way to calm the chaos and nurture your child's developing mind. London: Scribe.
Whitaker, R. (2010). Anatomy of an epidemic: Magic bullets, psychiatric drugs, and the astonishing rise of mental illness in America. New York, NY: Crown Publishers.
Williams, P. (2011). A multiple-case study exploring personal paradigm shifts throughout the psychotic process, from onset to full recovery. (Doctoral dissertation, Saybrook Graduate School and Research Center, 2011). Retrieved from http://gradworks.umi.com/34/54/3454336.html
Williams, P. (2012). Rethinking madness: Towards a paradigm shift in our understanding and treatment of psychosis. San Francisco: Sky's Edge Publishing.
Wynne, L.C., Ryckoff, I.M., Day, J. & Hirsch, S.I. (1958) Pseudomutuality in the family relations of schizophrenics. Psychiatry, 21: 205-220.