There are very few things considered more taboo in the world of mental health than the suggestion that problematic family dynamics can lead to a child developing a psychotic disorder. And yet, when we look honestly at the history and research of psychosis and the broader concept of "mental illness," it becomes apparent that there are few subjects in the mental health field that are more important. I'd like to invite you, then, to join me on a journey into this taboo territory, dividing our trip into three legs. In the first leg (Part One), we'll go back in time to explore how such a crucial topic has become so vilified, and then embark upon a flight for an aerial view of some of the most essential findings of the last 60 plus years of research that look at the links between problematic family dynamics and psychosis. In the second leg of the journey (Part Two), we'll explore a framework that offers us the potential to unify the research on the various problematic family dynamics, trauma, and other factors associated with psychosis, locating the roots of psychosis within two core existential and relational dilemmas that I believe we all struggle with to greater or lesser degrees. Finally, in the third and last leg of our journey (Part Three), we will reap the fruits of our exploration, and consider how what we have learned may guide us as parents, as family members, and as society as a whole in offering genuine support to those who continue to grapple with these extreme states of mind.
A Brief History of a Serious Taboo
Between the late 1940s and the 1980s, we saw a steady flow of exploration and research on the links between certain kinds of parent/child dynamics (and general family systems dynamics) and the subsequent development of psychosis within the child. Among those leading the charge on this research were pioneering psychologists and family systems theorists such as Freida Fromm-Reichmann, Gregory Bateson, R.D. Laing, Murray Bowen and Carl Whitaker. Based upon the fruits of this exploration, there was a period of time in which tremendous hope existed that certain kinds of family therapies and parent education could lead to a significant reduction in the amount of adolescents and young adults who went on to experience psychosis and other distressing states of mind, or that such interventions could at least foster recovery for those who had already gone down this path. One book from that era that I find particularly illuminating and accessible to the layperson, highlighting the hopeful family-oriented movement of this time, is The Family Crucible, which documents a successful family therapy process that leads to the reversal of an adolescent girl going down the path of a schizophrenia diagnosis (Napier & Whitaker, 1978).
Fast forward to today, however, and we find that any quick surf across the internet will pull up a plethora of mainstream mental health organizations that are very quick to denounce the possibility that problematic family dynamics has anything at all to do with a young person developing a psychotic condition. So what happened? It appears that the general assumption within mainstream society today is that somehow the entire 60+ years of research finding links between problematic family dynamics and psychosis must have been thoroughly debunked; and in fact you will find explicit statements to this effect throughout the mainstream mental health field today. And yet, after years of poring over the literature on the etiology and recovery of psychosis, I have yet to find any substantial research that directly contradicts the essential premise that problematic family dynamics can lead to extreme psychological breakdown. So again, what happened?
Let's rewind to the early 1950s, when the development of the first psychiatric drug, the "antipsychotic" drug Chlorpromazine, led to one of the most powerful industries the world has ever known—that formed by a coalition between the pharmaceutical and the psychiatric industries (which I'll just refer to as the psychopharm industry for short). This industry was founded on a single ideology—the "mental illness" theory, or "medical model" (which I'll refer to simply as the medical model)—an ideology that gave this industry tremendous power and influence. The medical model essentially states that distressing states of mind can, for the most part, be categorized into discrete "mental illnesses," and that although these mental illnesses continue to the present day to be rampant and even growing within our society, we must rest assured that the great medical advances of this industry have already developed powerful drugs that can generally contain them, and that it is just a matter of time before our medical technology will eliminate these illnesses altogether (see my book, Rethinking Madness, or my article here for a more thorough critique on the medical model).
The medical model had already been in existence with varying degrees of power for many decades prior to the development of psychiatric drugs, having been particularly fostered within the field of psychiatry. However, up until this point, the medical model had not been able to fully overcome the popularity of the more psychosocially oriented models and methods when it came to making sense of and dealing with human distress, and this presented a particularly challenging dilemma for the psychopharm industry. How could this industry convince the public that much of human distress could be conceived of as discrete "mental illnesses" arising from diseases of the brain and requiring "medical treatment" with psychiatric drugs at a time when psychosocial interventions were showing so much promise? In the 1970s, the answer to this dilemma came in a somewhat surprising form—the parents of those diagnosed with schizophrenia.
As mentioned earlier, beginning in the late 1940s, we find this very dynamic period of time in the field of psychosis theory and treatment/recovery models in the West, in which a series of studies and projects emerged that offered considerable hope for the prospect that for many young people who were experiencing psychosis, their recovery could be greatly facilitated by addressing the problematic relationships within their life. These included various family and social systems models that supported the entire family or social system, seeing the "identified patient" as essentially a canary in a troubled coal mine; residential facilities such as Soteria, Diabasis and I-Ward, which fostered the development of healthy relationships in away-from-family environments; and transpersonal approaches that viewed such crises from within a spiritual context (i.e., as "spiritual emergencies"), and supported the development of healthy relationship between the "self" and the entire web of interdependence that extends beyond simply one's immediate social network.
But as this psychosocial movement entered the 1970s, just as it was reaching a point of truly game-changing momentum, a tremendous backlash occurred. Many parents, understandably not feeling comfortable with so many fingers being pointed at them, resisted the idea that they played any role in their children's development of psychotic conditions, and they began to push back, hard. And it just so happened that the psychopharm industry was more than happy to take full advantage of the situation, providing these parents with the perfect remedy to their dilemma—the medical model. For these parents, this model offered them an alternative narrative that relieved them of any burden of responsibility—their children simply have brain diseases, which is terribly tragic but has nothing to do with family and social dynamics; and for the psychopharm industry, these parents provided the ideal platform with which to spread this model so crucial to increasing their power and their profit margin—what could possibly be a more persuasive "grass roots movement" than an army of concerned parents willing to offer their complete devotion?
The power of this coalition between defensive parents and the psychopharm industry rapidly escalated, leading to a kind of perfect storm that essentially obliterated the movement towards family therapy and general relationship support as a means to addressing psychosis and other extreme states. The flagship organization of this coalition, which still maintains extraordinary power and influence within the mental health field today, is the National Alliance for the Mentally Ill (NAMI). As an indication of just how successful this coalition has been, in spite of over 60 years of very robust research showing strong correlations between problematic family dynamics and psychosis, and in spite of robust research showing the great benefits of fostering healthy interpersonal relationships as a means to support recovery from psychotic conditions (discussed in more detail below), it has become one of the most serious of taboos within the mental health field to suggest that problematic family dynamics can precipitate psychosis and other extreme states of distress.
In short, then, we find ourselves living in a society in which disability due to psychological breakdown has been continuing to grow at nearly exponential rates in spite of (or perhaps partially because of, as documented so well in Robert Whitaker's Anatomy of an Epidemic; 2010) a psychopharm industry whose scope and power has likewise grown at a nearly exponential rate.  And all the while, we find that the very hopeful and well established premise that so much of this psychological breakdown is rooted in problematic family dynamics has been discarded like so much outdated and worthless trash.
I and others have come to believe, however, that this has been a colossal mistake—that if we take the time to pick up this "trash" and carefully reconsider it, we will find that we have thrown away some truly valuable gems, gems that have the potential to offer real peace of mind to so many troubled individuals and families within our troubled society. So let's take the time now to look more closely at some of the key findings of the links between family/relational dynamics and psychosis, and explore some of the implications of these with regard to avoiding the onset of psychosis in youth, and in supporting the recovery of those who have already experienced such a breakdown. But before we do, let's first take a closer look at what we mean by the term "psychosis."
What Exactly Is Psychosis? 
We typically throw the word "psychosis" around freely as if we're pointing to a condition or illness that is well established, but I've come to feel that the term "psychosis" is far overused and abused in our society. Essentially, whenever someone has beliefs, perceptions or behaviors that don't line up with the generally accepted norms of one's society (i.e., consensus reality), they're at risk of being diagnosed with a "psychotic disorder," typically "schizophrenia," "schizoaffective disorder" or "bipolar disorder." However, just because certain beliefs, perceptions or behaviors are considered "abnormal" does not automatically imply that they are "unhealthy," and vice versa. To the contrary, contemporary society as a whole is extremely violent and destructive—indeed, multiple indicators suggest that we as a species will be quite fortunate if we survive the 21st century; so we need to rein in any tendency we may have to automatically assume that "abnormal" beliefs, perceptions and behaviors are problematic or represent "mental illness," and that "normal" beliefs, perceptions and behaviors are necessarily "healthy."
As I've discussed extensively elsewhere (and as summarized in my article here), I think it's helpful to first make the distinction between those anomalous experiences (shorthand for "nonconsensus beliefs, perceptions and behaviors") that are harmful/distressing and those that are not. If they're not harming anyone or distressing the individual, then what's the problem? Why give them any kind of label at all? And in those cases where they are harmful or distressing, this still does not necessarily mean that they are qualitatively any different than other harmful or distressing beliefs and behaviors that are considered more "normal," such as burning fossil fuels, eating meat, getting drunk or believing in the special entitlement of one's nation, race or religious group.
There clearly are, however, certain states of mind that are more than simply the existence of certain anomalous beliefs, perceptions and behaviors, or experiencing particularly intense states of emotions. Many people clearly do develop a condition in which these kinds of extreme experiences become significantly unstable and overwhelming, and it is this condition to which I think it can be helpful to refer to as "psychosis." I have come to see this condition as generally representing an unconscious attempt of a desperate psyche to radically transform one's deepest experience and understanding of the self and the world—a condition that occurs when one's current experience and understanding of the self and the world has reached a point where it is simply no longer tolerable, for whatever reason. And considering that our capacity to relate to self and other is so profoundly shaped by our relationships with our parents and other close family members, it stands to reason (and to the research, as discussed below) that these most primary of our relationships can profoundly affect our vulnerability or resilience to such psychological breakdown.
An Overview of the Research on Family Dynamics and Psychosis
Regardless of the particular theoretical model used—whether seeing the etiology of psychosis as being predominantly due to "nature" (i.e., biological/genetic) or "nurture" (i.e., one's environment), or some combination thereof—what remains undisputed is that the development of psychotic conditions tends to run in families. In spite of the fact that the prevailing mainstream belief is that psychotic disorders are caused by yet to be established genetically inherited brain diseases, the research supporting this is actually very weak (discussed more thoroughly in Rethinking Madness; 2012). On the contrary, when looking at the research linking psychosis to environmental conditions, and especially interpersonal conditions, we find quite a rich and compelling history of research that strongly supports this link. Let's take a moment now to go over some of the most significant of these:
Between the late 1920s and the late 1950s, psychotherapist Frieda Fromm-Reichman devoted much of her time to trying to understand the nature of psychosis, and to working therapeutically one-on-one with people struggling with such conditions. Building her own theories from a predominantly psychoanalytic relational orientation, she essentially came to the conclusion that psychosis typically occurs when a person becomes overwhelmed by a dilemma in which they both intensely long for and intensely fear the symbiotic merger with another. She believed that such a predicament most commonly emerged as the result of early childhood relational confusion and injury associated with the child's primary caretaker, which is most often the mother (and hence her coining the controversial term, "schizophrenogenic mother.") In 1964, Joanne Greenberg, a patient of Fromm-Reichman who experienced full recovery from a debilitating psychotic condition, published the bestselling book, I Never Promised You a Rose Garden, which offers a compelling autobiographical account of the potential for full recovery from long-term psychosis when such individuals are supported in repairing early childhood relational injuries.
In the 1950s, Gregory Bateson and his colleagues followed a line of reasoning similar in some ways to that of Fromm-Reichman, and after extensive research, proposed the "double-bind hypothesis" (Bateson et al., 1956). This hypothesis suggests that if the authority figures within a family (typically the parents) place the child in a double-bind by setting up conflicting injunctions so that it is impossible for the child to satisfy one without violating another, then a situation can result in which the child experiences such overwhelming distress that they are forced into a kind of psychotic reaction as a kind of extreme strategy to tolerate this otherwise intolerable situation.
Piggybacking off of the work of Bateson and his team's double-bind hypothesis, R.D. Laing suggested that these kinds of interpersonal and intrapersonal binds that develop within dysfunctional family systems go on to create an incompatible knot, or untenable dilemma within the child that forces her to essentially "go mad," which he saw as a profound transformation of the self resulting from a desperate attempt to resolve this otherwise irresolvable dilemma. After closely studying the family and social systems surrounding over 100 cases of individuals diagnosed with schizophrenia, he concluded that, "without exception the experience and behavior that gets labeled schizophrenic is a special strategy that a person invents in order to live in an unlivable situation [author's emphases]" (1967, pp. 114-15). So Laing was one of the first in the West to emphasize the deeper wisdom and potential for positive transformation and renewal within the process of psychosis. Laing went on to write extensively on these topics, with The Divided Self (1961), Sanity, Madness and the Family (1964) and The Politics of Experience (1967) being among the most essential of these.
In the late 1940s and 1950s, Murray Bowen, a founding pioneer of family systems theory and therapy, came onto the scene as a leader in researching links between certain kinds of family dynamics and the development of "schizophrenia." Among his most well-known family systems concepts is Differentiation of Self, which essentially refers to the capacity to experience a self as distinct from others, and particularly from one's primary caretakers. He derived this concept during his years of working with those diagnosed with schizophrenia, when noticing that those so diagnosed typically developed an unusually poor Differentiation of Self.
Bowen also came to notice a significant pattern in which patients diagnosed with schizophrenia often improved when being separated from their families (typically when being placed in the hospital), but then deteriorated upon returning to their families. Subsequently, he became inspired to head an inpatient hospitalization project for the National Institute of Mental Health, in which he compared family members deemed "schizophrenic" with those considered "normal," and concluded that:
. . . family members were involved in the [psychotic] process with the patient more deeply than had been hypothesized. Fathers were admitted to the family groups, and the hypothesis was extended to think of schizophrenia as a symptom manifestation of an active dynamic process that involved the entire family, and a plan was devised to treat the family as a single unit rather than individuals within a unit. (Bowen et al., 1960)
In this and his other work, then, Bowen contributed significantly to the idea that what is called "schizophrenia" is more appropriately seen as a problem existing broadly within the entire family system rather than simply existing solely within the "identified patient."
In 1966, George Brown and his colleagues effectively demonstrated that "schizophrenia" patients discharged from the hospital and returned to family environments that have particularly high degrees of criticism, hostility and emotional dependency, are much more likely to return to the hospital. He coined the term "expressed emotion" or "EE" to describe this particular family dynamic, and found that patients from high-EE homes were about 6 times more likely to be rehospitalized than those from low-EE homes (Brown et al., 1966), a finding that has since been replicated numerous times. A later closely related study followed adolescents for 15 years and found that of those whose parents both scored highly on EE measures, 36% of them went on to become diagnosed with schizophrenia, whereas not a single youth became so diagnosed if one or both parents scored low on EE measures (Goldstein, 1987).
In the 70s, stemming directly from this earlier research and Laing's Kingsley Hall experiment, we witnessed a movement towards the development of residential facilities whose aim was to provide the opportunity for young people grappling with psychosis to extract themselves from problematic family systems and live within social environments designed to maximize healthy relationships with others while offering support in resolving their psychotic crises and moving towards independence. The most well known of these is Loren Mosher's Soteria home, which was originally established as a National Institute of Mental Health funded research project, comparing the recovery outcomes of such a home with those of mainstream "treatment as usual" (which primarily consisted of hospitalization and psychiatric drugging). This study demonstrated that the Soteria project was equal or superior to the standard treatment on every outcome measure studied, with a significantly higher percentage of Soteria residents going on to live independently with less psychiatric drug use and fewer rehospitalizations (Bola & Mosher, 2003).
Two other similar but lesser known "madness sanctuaries" developed in the 70s were Diabasis, designed and directed by John Weir Perry, and I-Ward, a project initiated by the Contra Costa County Hospital. Though less well researched than Soteria, the evidence suggests that these other homes were able to demonstrate very hopeful outcomes similar to those of Soteria. After reviewing the collective research on the outcomes of such homes, Mosher concluded that "85% to 90% of acute and long-term clients deemed in need of acute hospitalization can be returned to the community without use of conventional hospital treatment" (1999, p. 142).
Unfortunately, in spite of their success, all of these homes were closed due to a lack of funding, which Mosher and others have ascribed to an underhanded political assault by the psychopharm industry, as the existence of such homes clearly represented a potent existential threat to the psychopharm industry. Since that time, several other Soteria and Soteria-based homes have been established within the U.S. and Europe, but these have generally demonstrated less successful outcomes, due most likely to the fact that these more recent homes have been crippled by a mental health system that has become increasingly entrenched within the medical model paradigm. In particular, these more recent homes have generally not been trusted to receive people experiencing first-episode psychosis, they have often been forced to alter their approach in certain ways to conform more with the medical model, and they have often found themselves excessively burdened by being required to support individuals who have already received significant psychosocial injury from years of previous drug treatment and institutionalization (see this article by Dan Mackler for a more thorough analysis of these issues).
Beginning in the late 70s and through the early 90s, several other models that drew from a family systems perspective came onto the scene. In contrast to the Soteria-type homes, these programs consisted of trained facilitators who worked directly with the families (and extended social systems to various degrees) within the family's natural environment. One such approach is Windhorse Community Services, which draws its guiding principles from the Tibetan Buddhist tradition, and attempts to foster the "basic sanity" and wisdom that underlie the chaotic system that has emerged within the mind of the individual and the broader family system. Windhorse continues to provide services in several regions of the United States, though remains generally marginalized by the mainstream system and forced to conform to some extent with the medical model philosophy and treatment approach.
In the late 70s, a team of Italian psychologists developed the Milan family systems approach to working with those diagnosed with schizophrenia, drawing particularly from Bateson's work on the double bind theory, and developing what they called the "counterparadox" technique, which consisted of various ways to directly counter the entrenched double binds, or "paradoxical communication," that had formed within such families (Selvini-Palazzoli et al., 1978). Drawing directly off of the work of both Bateson and the Milan team (as well as Russian philosopher Mikhail Bakhtin's Dialogism; 1984), a group of mental health professionals in Western Lapland, Finland, developed the Open Dialogue approach, which involves a team of facilitators who work with the family in their own natural environment, and who create a space in which the principles of "tolerance of uncertainty," "dialogism," and "polyphony" are emphasized (Seikkula & Olson, 2003). In essence, this approach attempts to create a space in which all voices are heard, and any existing rigid right/wrong or true/false frameworks held within the family system are exchanged for one that is more open to multiple perspectives, with the idea being that such a space provides the fertile ground for genuine resolution and a more sustainable order of harmony to emerge. After documenting the outcomes of this approach for over 25 years, the Open Dialogue approach has demonstrated the best evidence-based recovery outcomes in the entire Western world, with over 80% of individuals experiencing a psychotic breakdown going on to experience full medication-free recovery. The Open Dialogue approach has recently begun to spread to other parts of the world, continuing to offer significant hope for individuals and families so afflicted.
Presumably due to the increasing dominance of the medical model paradigm in the later decades of the 20th century and up to the present day, research into problematic family dynamics and psychosis has become increasingly sparse. However, over the past 20 years or so, a closely related line of research has come into sharper focus—research into correlations between childhood trauma and the subsequent development of psychosis. In particular, a number of adverse childhood experiences have been shown to be highly correlated with the development of a psychotic disorder, particularly those listed in Table 1.
The findings of several such trauma-based studies have been particularly striking, essentially shattering any doubts people may still have about environmental and relational factors playing a major role in precipitating a psychotic condition in a young person. For example, a 2004 Netherlands study followed 4,045 participants who were initially free from psychotic symptoms for 3 years. They found that victims of child abuse were 9 times more likely to go on to develop psychosis, and that the victims of the most severe child abuse were 48 times more likely to develop psychosis (Janssen et al., 2004). And in 2007, a UK study went over the records of 8,580 participants to identify the correlations between a broader array of childhood trauma and psychosis. They found that individuals with 3 types of trauma were 18 times more likely to have subsequently developed a psychotic condition, and that those with 5 or more types of trauma were 198 times(!) more likely to have subsequently developed psychosis (Shevlin et al, 2007). In contrast, research into biological or genetic correlates for psychosis has not been able to establish degrees of correlation anywhere close to these (for a particularly comprehensive review of the literature on childhood trauma and psychosis, see Read et al., 2008).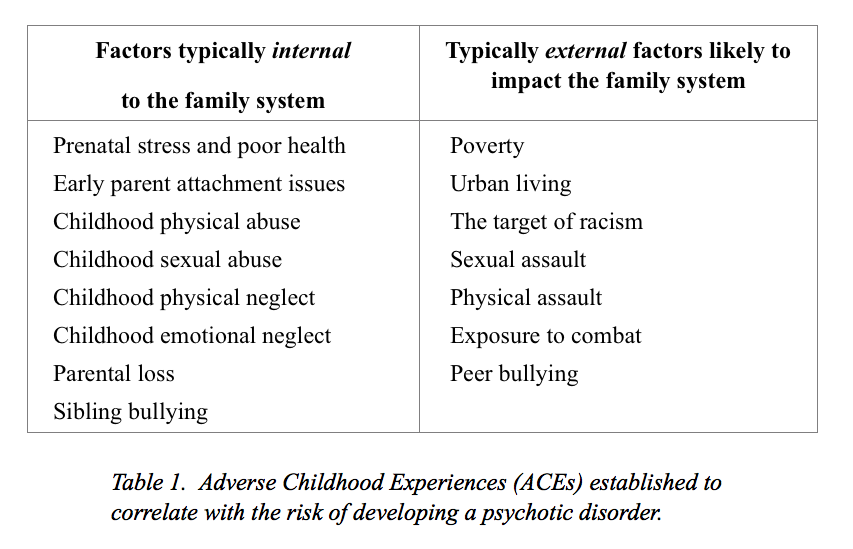 Note that one factor not listed in Table 1 in spite of significant correlations with the onset of psychosis and other extreme states is the use of psychoactive drugs, including both recreational drugs (such as cannabis and methamphetamines) and most major classes of psychiatric drugs. I didn't include this factor in the table, however, since drug use doesn't typically represent an adverse childhood experience in itself, but rather is generally best seen as a common response to the distress caused by such experiences, as psychoactive drugs can often provide temporary relief from such distress. There is a painful irony in using such drugs to ameliorate distress, however—although they may provide significant relief in the short term, they actually increase the likelihood that the person will go on to develop psychosis and other distressing states of mind further down the road (see Whitaker's Anatomy of an Epidemic or my own Rethinking Madness for more about this).
When looking at the list of childhood traumas in Table 1, it's easy to see that all of them are either directly related to serious problems within the family system, or at least directly impact upon them. So looking more closely at this list, and at the types of problematic family dynamics that have been implicated within the research mentioned above, a very important question emerges: What do all of these have in common? In other words, is there some common denominator that all of these types of trauma and patterns of problematic family dynamics share, a single underlying factor that makes someone particularly vulnerable to experiencing a psychotic breakdown? Indeed, I believe that there is, which will be the topic of exploration in Part Two. 
* * * * *
References:
(for all three parts of the article)
Bakhtin, M. (1984). Problems of Dostojevskij's poetics. Theory and history of literature: Vol. 8. Manchester, UK: Manchester University Press.
Bateson, G., D. Jackson, D., Haley, J., & Weakland, J. (1956). Toward a Theory of Schizophrenia. Behavioural Science 1, pp. 251-54.
Baumrind, D. (1989). Rearing competent children. In W. Damon (Ed.), Child development Today and Tomorrow. San Francisco: Jossey-Bass.
Berry, K., Barrowclough, C., & Wearden, A. (2007). A review of the role of attachment style in psychosis: Unexplored issues and questions for further research. Clinical Psychology Review, 27(4):458-475.
Bola, J., & Mosher, L. (2003). Treatment of acute psychosis without neuroleptics: Two-year outcomes from the Soteria project. Journal of Nervous and Mental Disease, 191(4), 219-229. doi:10.1097/00005053-200304000-00002
Bowen, M. (1960) A family concept of schizophrenia IN D.D. Jackson (Ed.) The Etiology of Schizophenia. New York: Basic Books.
Bowen, M. (1993). Family therapy in clinical practice. Lanham, Maryland: Rowman & Littlefield Publishers, Inc.
Bowlby, J. (1969). Attachment and Loss, 3 vols. London: Hogarth, 75.
Brown, G.W., Bone, M., Palison, B. & Wing, J.K. (1966) Schizophrenia and Social Care. London: OUP.
Fromm-Reichmann, F. (1948) Notes on the development of treatment of schizophrenics by psychoanalysis and psychotherapy. Psychiatry, 11, 263-273.
Furnham, A., & Cheng, H. (2000). Perceived parental behavior, self-esteem, and happiness. Social Psychiatry and Psychiatric Epidemiology, 34(10, 463-470.
Galambos, . L. (1992). Parent-adolescent relations. Current Directions in Psychological Science, 1, 146-149.
Goldstein, M. The UCLA High-Risk Project. Schizophrenia Bulletin 1987; 13(3):505-514.
Greenberg. J. (1964). I never promised you a rose garden. Chicago; Signet.
Janssen I, Krabbendam L, Bak M, Hanssen M, Vollebergh W, de Graaf R, et al. Childhood abuse as a risk factor for psychotic experiences. Acta Psychiatrica Scandinavica 2004;109(1):38-45.
Karen, R. K. (1994). Becoming attached: First relationships and how they shape our capacity to love. Oxford, UK: Oxford University Press.
Laing, R.D. (1960) The divided self: An existential study in sanity and madness. Harmondsworth: Penguin.
Laing, R.D. and Esterson, A. (1964) Sanity, madness and the family. London: Penguin Books.
Laing, R.D. (1967). The politics of experience. New York: Pantheon Books.
Miklowitz, J.P. (1985) Family interactions and illness outcomes in bipolar and schizophrenic patients. Unpublished PhD thesis, UCLA.
Mosher, L. R. (1999). Soteria and other alternatives to acute psychiatric hospitalization: A personal and professional review. The Journal of Nervous and Mental Disease, 187, 142-149.
Napier, A.Y. & Whitaker, C.A. (1978; 1988). The Family Crucible. New York: Harper & Row.
Neufeld, G., & Mate, G. (2014). Hold on to your kids: Why parents need to matter more than peers. New York: Ballantine Books.
Norton, J. P. (1982) Expressed Emotion, affective style, voice tone and communication deviance as predictors of offspring schizophrenic spectrum disorders. Unpublished doctoral dissertation, UCLA.
Read, J. (2004). Poverty, ethnicity and gender. In J. Read, L. R. Mosher, & R. P. Bentall, (Eds.), Models of madness: Psychological, social and biological approaches to schizophrenia (pp. 161-194). New York: Routledge.
Read, J., Fink, P., Rudegeair, T., Felitti, V., & Whitfield, C. (2008). Child maltreatment and psychosis: a return to a genuinely integrated bio-psycho-social model. Clinical Schizophrenia & Related Psychoses, 2(3), 235-254.
Read, J., & Gumley, A. (2008). Can attachment theory help explain the relationship between childhood adversity and psychosis? Attachment—New Directions in Psychotherapy and Relational Psychoanalysis, 2(1):1-35.
Resnick, M. D., Bearman, P. S., Blum, R. W., Bauman, K. E., Harris, K. M., Jones, J., … & Udry, J. R. (1997). Protecting adolescents from harm: findings from the National Longitudinal Study on Adolescent Health. Jama, 278(10), 823-832.
Seikkula, J., Aaltonen, J., Alakare, B., Haarakangas, K., Keränen, J., & Lehtinen, K. (2006). Five-year experience of first-episode nonaffective psychosis in open-dialogue approach: Treatment principles, follow-up outcomes, and two case studies. Psychotherapy Research, 16(2), 214-228. doi: 10.1080/10503300500268490.
Seikkula, J., & Olson, M. E. (2003). The open dialogue approach to acute psychosis: Its poetics and micropolitics. Family process, 42(3), 403-418.
Selvini-Palazzoli, M., Boscolo, L., Cecchin, G., (1978). Paradox and counterparadox. New York: Jason Aronson.
Shelvin M, Houstin J, Dorahy M, Adamson G. Cumulative traumas and psychosis: an analysis of the National Comorbidity Survey and the British Psychiatric Morbidity Survey. Schizophr Bull 2008;34(1):193-99.
Siegel, D., & Hartzell, M. (2003). Parenting from the inside out: How a deeper self-understanding can help you raise children who thrive. New York: Tarcher/Penguin.
Siegel, D., & Payne, T. (2014). No-drama discipline: The whole-brain way to calm the chaos and nurture your child's developing mind. London: Scribe.
Whitaker, R. (2010). Anatomy of an epidemic: Magic bullets, psychiatric drugs, and the astonishing rise of mental illness in America. New York, NY: Crown Publishers.
Williams, P. (2011). A multiple-case study exploring personal paradigm shifts throughout the psychotic process, from onset to full recovery. (Doctoral dissertation, Saybrook Graduate School and Research Center, 2011). Retrieved from http://gradworks.umi.com/34/54/3454336.html
Williams, P. (2012). Rethinking madness: Towards a paradigm shift in our understanding and treatment of psychosis. San Francisco: Sky's Edge Publishing.
Wynne, L.C., Ryckoff, I.M., Day, J. & Hirsch, S.I. (1958) Pseudomutuality in the family relations of schizophrenics. Psychiatry, 21: 205-220.