In a major study, published yesterday in JAMA Pediatrics, the use of SSRI antidepressants during pregnancy was found to increase the risk of autism spectrum disorder (ASD) by 87-percent. Previous studies reveal that more than 13-percent of women currently use SSRI antidepressants during pregnancy.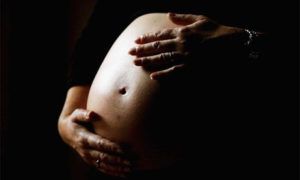 "In this large population-based cohort study, maternal use of ADs during the second and/or third trimester was associated with an increased risk of ASD," the researchers concluded. "Children exposed to SSRIs alone and those exposed to more than 1 class of ADs during the second and/or third trimester had the highest risk. The effect was persistent even after taking into account maternal history of depression."
Maternal use of SSRI antidepressants during pregnancy have previously been associated with increased risks of spontaneous abortion, malformations, premature birth, low birth weight, neonatal withdrawal symptoms, and pregnancy-induced hypertension. Just last month a study published in the American Journal of Psychiatry found that infants exposed to benzodiazepines or SSRI antidepressants during pregnancy showed delayed neurological functioning in the first month after birth.
Autism spectrum disorder (ASD) is defined a neurodevelopmental syndrome detected in early childhood that is "characterized by alterations in communication, language, and social interaction and by particular patterns of interests and behaviors." The cause of ASD is still unknown, but the prevalence among US children has risen sharply in the past fifty years and researchers do not think that improved diagnosis and screening entirely explain the increase and that environmental factors are likely at play. One of the risk factors for ASD is depression in the mother, however, so the researchers wanted to undertake a large enough study with sufficient power to adjust for known risk factors to assess the impact of the SSRIs.
For this study, the researchers tracked all full-term infants born between January 1st, 1998 and December 21, 2009, in the province of Québec in Canada. 145,456 newborns were assessed during this period. The researchers tacked whether the mothers were using antidepressants during various stages of their pregnancy, these included selective serotonin reuptake inhibitors (SSRIs), tricyclic ADs, monoamine oxidase inhibitors, and serotonin-norepinephrine reuptake inhibitors (SNRIs).
1,054 or .72% of these infants were diagnosed with ASD with the average age of diagnosis occurring between four and five years of age. Boys were four times more likely than girls to be diagnosed with ASD. Both of these findings are consistent with other studies over the past fifteen years estimating the prevalence of ASD in the general population.
Out of almost 5-thousand women who took antidepressants during pregnancy, more than half (53.6%) continued to take these drugs during the second and third trimester. Of these, 31 out of 2532 infants (1.2%) were diagnosed with ASD.
"This study shows that use of ADs during the second and/or third trimester is associated with an 87% increased risk of ASD, even after taking into account potential confounders; no association was observed between use of ADs during the first trimester and the risk of ASD. This increased risk was observed with the use of SSRIs only, as well as the use of more than 1 class of AD, during the second and/or third trimester. We further found that prenatal exposure to ADs during the second and/or third trimester was associated with an increased risk of ASD in children whose mothers have a history of depression."
The researchers advance the theory proposed by others that SSRIs can cross the placenta and move from the mother to the infant during pregnancy. The drugs may disrupt several key neurological developmental periods for the child both before and after birth, leading to an atypical synthesis of serotonin in the brains of children with ASD.
"To our knowledge, this is the first cohort study to examine the association between maternal use of ADs and risk of ASD in children according to trimester that takes into account maternal depression, other maternal mental disorders, and comorbidities, such as diabetes and hypertension."
"What this tells us is that we need to think even more carefully about the prenatal environment. And not just about birth defects you can see at the time of delivery but about longer-term consequences," Susan Hyman, a former chairperson of the American Academy of Pediatrics committee on autism, told the Washington Post.
Mad In America Continuing Education (MIACE) is currently offering a free online course on "Antidepressants & Pregnancy: The risks and possible harm to normal fetal development and the newborn child" by Dr. Adam Urato, M.D. of Tufts University School of Medicine. Urato reviews unbiased research on the risks vs. benefits of prescribing antidepressant medications to pregnant women and reviews research on alternatives to antidepressants. Click here for more info.
*
Boukhris T, Sheehy O, Mottron L, et al. (2015) ANtidepressant use during pregnancy and the risk of autism spectrum disorder in children. JAMA Pediatrics: 1-8. (Abstract)