A pathbreaking new study out of Finland suggests that early intervention programs for youth experiencing psychotic-like symptoms may see the greatest improvement when treatment works within the home rather than in a hospital setting. The research, to be published in next month's issue of Psychiatry Research, found greater improvement in functioning, depression, and hopelessness among teens in a new need-adapted Family and Community oriented Integrative Treatment Model (FCTM) program.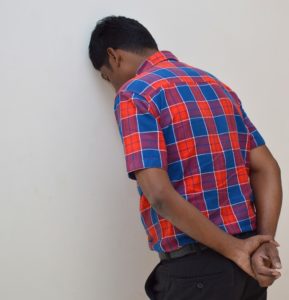 "The improved ability to function observed in the network-centered early intervention group is crucial since this is usually a major challenge for people with psychotic-like symptoms," lead author Docent Niklas Granö told PsychCentral.
"When young people receive real support with things that weigh on them and cause them stress, their mood lightens, their ability to function improves, feelings of hopelessness wane, and their recovery speeds up."
Previous studies have shown the early intervention for young people experiencing their first episode of psychosis can significantly improve long-term outcomes. However, there is currently not enough research to determine which early-intervention models might be most useful. Meta-analyses of different early intervention strategies (including antipsychotics, therapies, omega 3s and alternative supplements) suggest that therapy reduces the risk of a transition to psychosis compared to standard pharmacological treatment.
This study also draws on research into the role of the family and the home environment in adolescents treatments for psychosis. "The emotional atmosphere in the family environment, parental attitudes, behaviour, and coping strategies are associated with functional outcomes and symptom expression in at-risk adolescents," the researchers write.
Drawing on this body of work, the study authors developed the hypothesis that "stress-reducing care carried out in cooperation with family members in the community (schools, home) and with multi- disciplinary workers from the community may have a stronger positive effect on the level of psychiatric symptoms and effectively supports functioning in help-seeking adolescents." Teens in the FCTM intervention would first be contacted by a community professional, like a school nurse or counselor, who was already a presence in the adolescent's life.
The study randomized fifty-six young people, deemed clinically high risk for psychosis, into two groups. Twenty-eight participants received treatment as usual (TAU) at a hospital, and twenty-eight participants were placed in an experimental, home-based program. The groups did not differ on clinical measures at the beginning of the trial but after one year those in the experimental groups showed significantly better improvement.
Young people in the need-adapted Family and Community Oriented Integrative Treatment group had greater improvements in functioning (20% vs. 6%), depression (53% vs. 14% ) and hopelessness (41% vs. 3%), compared to those receiving treatment as usual.
"In the present study among subjects who had psychosis-risk symptoms, we found greater improvement in functioning and level of self-reported depression and hopelessness in adolescents who received need-adapted, Family- and Community-orientated integrative treatment instead of standard adolescent psychiatric treatment," the researchers conclude. "Our findings highlight the importance of grounding and networking in the psychiatric care of adolescents."
More:
PsychCentral: Early, Home-Based Treatment Best for Teens with Psychotic-Like Symptoms
*
Granö, N., Karjalainen, M., Ranta, K., Lindgren, M., Roine, M., & Therman, S. (2016). Community-oriented family-based intervention superior to standard treatment in improving depression, hopelessness and functioning among adolescents with any psychosis-risk symptoms. Psychiatry Research. (Abstract)