A new study in press in the Journal of Schizophrenia Research finds that patients who actively resist the negative stigma associated with mental health diagnoses may have better outcomes. According to the researcher's meta-analysis of previous studies, stigma resistance is related to reduced symptoms and improved functioning, self-efficacy, quality of life, recovery, and hope.
Public opinion studies reveal that negative attitudes about people who have been diagnosed with mental disorders are prevalent. Stigma is often defined by the degree to which individuals express a desire to avoid engaging with a person diagnosed with a disorder. Studies also reveal that self-stigma, when those diagnosed internalize negative attitudes about themselves, can have negative consequences for recovery, decreasing hope, quality of life, and increasing the severity of symptoms.
Theoretical work has proposed that stigma resistance, or actively challenging encounters with stigma and "rejecting a social identity that is tied to stigma," may lead to greater empowerment and an increased sense of agency.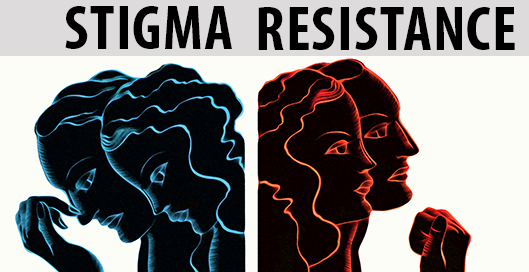 "Understanding the relationship between stigma resistance and outcomes across existing literature is important in order to further shed light on the process of stigma resistance, the link between stigma resistance and some of the negative outcomes that frequently accompany self-stigma, and how interventions might address stigma resistance," the researchers, led by doctoral student Ruth Firmin from Indiana University – Purdue University, write.
To synthesize the existing literature on stigma-resistance, Firmin and her team conducted the first meta-analysis on this topic. After examining forty-eight studies on 8,187 individuals, they found that stigma resistance had a strong effect on overall outcomes, pointing to "stigma resistance potentially having a central role in recovery."
"Stigma resistance was significantly related to each outcome domain in the hypothesized direction, with greater stigma resistance being related to greater overall outcomes, self-efficacy, quality of life, recovery, hope, insight and lower levels of symptoms and self-stigma," the researchers write.
"Given the pervasive impacts of mental illness stigma, it seems important to note that stigma resistance was associated with improved outcomes for individuals across all diagnostic groups; thus, resisting stigma may be an important cross-diagnostic treatment target. Overall, stigma resistance demonstrated notable relationships with a variety of outcomes that are central to recovery and we suggest that further work on stigma resistance should guide intervention development in this important domain."
*
Firmin, R.L., et al., Stigma resistance is positively associated with psychiatric and psychosocial outcomes: A metaanalysis, Schizophr. Res. (2016) (Abstract)