If we could read the secret history of our enemies,


We should find in each man's life sorrow and

Suffering enough to disarm all hostility.

— Henry Wadsworth Longfellow
What would solidarity look like if national peer-run mental health organizations and other national leaders came out with statements in support of other movements' struggle for freedom from oppression?
Doing so before tragedy — or when in need of signatures — shows good will and solidarity.  I saw leaders hop on the bandwagon when mass murders took place in Orlando, if only in the interest of furthering the agenda to fight the Murphy bill.
The appearance of looking out for self-interest has a damaging effect when it comes to others who fight "in solidarity" with us. Forming true solidarity requires more than an occasional blog or a thought piece.
Solidarity is more than a retweet or hashtag!
The Western Mass Recovery Learning Center (WMRLC) has shown amazing leadership around organizing and showing up for people of color, and taking a stance on police brutality and racism.
"The truth is that the RLC is, in large part, about healing, growth and empowerment for people who've experienced psychiatric diagnosis, extreme states, *trauma* and a variety of other life-interrupting challenges … And, Racism *IS* trauma, and it certainly interrupts many lives."

"How could we ever separate healing in general from healing racism?"

—  The Western Mass Recovery Learning Community
Our communities have yet to truly get together.  What would it look like if we were truly unified in solidarity?  We certainly would not have powerful national organizations co-opting this movement and positioning themselves to make millions based on the intellectual property — the thoughts and processes — created by thought leaders of this movement.  We would have community-based centers providing intentional support, open 24 hours a day, instead of crowded jail cells holding people in pain.  It wouldn't be easy, but we have to do it.
Solidarity also helps decrease racism within communities. Racism isn't free, and for those that remain silent in the face of death and oppression the costs are high. Your freedom becomes precarious the longer you are silent, while others are being subjugated to oppression in any manner.  The benefits and payoffs of opposing racism and oppression are getting smaller now than ever before in history.  This is not a club you want to belong to.
As we remain silent in the mental health community, with little public statement or show of solidarity, we continue to erase the voices of many in our community. Make no mistake: we lose as a community.  Erasing and ignoring the struggles of Blacks and other people of color in the mental health communities costs us heavily.  We lose funding for our organizations, we have splintered leadership, and no one is truly speaking for those who truly have no voice.  We need unity and solidarity within our movement and with other movements.
The last three years have been painful for this country.  From the murder of Trayvon Martin, the trial of George Zimmerman, the love letter from Alicia Garza asking us if black lives mattered, to the public humiliation of Mike Brown's lifeless body lying in the street on a hot summer day for hours. This pain is intricately intertwined with the mental health community.
Today marks the second anniversary of Michael Brown's death.  As we are holding Mike Brown in our memory we also ask that we each hold solidarity close to our hearts. We all deserve to be held accountable before our peers, and not face imminent death at the hands of arresting officers.
Only the ability to reach across the divided line of race, and hold each others' pain as our own can lead to true healing.
Many Black folks murdered within the last few years carried diagnoses of "mental illness."  There have also been many white folks murdered by officers across the country as well. We should be standing in solidarity with movements fighting law enforcement oppression — instead of fighting them — because they have announced they will no longer stand for murder, and that their lives matter.
We can form a national community of solidarity, and a shared common destiny — inwardly and outwardly — that can be on the forefront of the fight for freedom from oppression.  We have to first decide what the cost of silence is within the mental health community. Is it a price we are willing to pay? Are we willing and able to model reaching across any and all divides in the pursuit of freedom for all?
* * * * *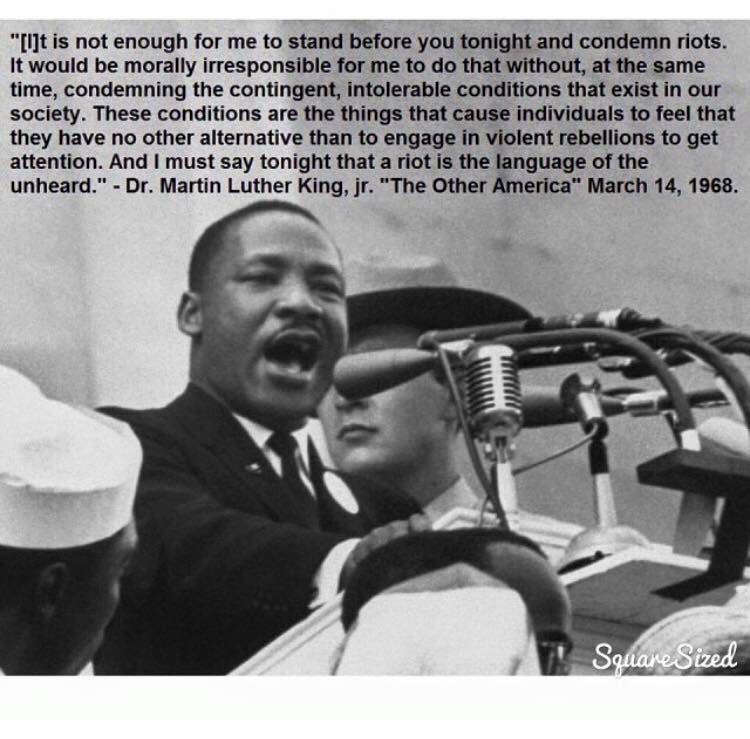 ***
Mad in America hosts blogs by a diverse group of writers. These posts are designed to serve as a public forum for a discussion—broadly speaking—of psychiatry and its treatments. The opinions expressed are the writers' own.
***
Mad in America has made some changes to the commenting process. You no longer need to login or create an account on our site to comment. The only information needed is your name, email and comment text. Comments made with an account prior to this change will remain visible on the site.