In a recent Viewpoint piece in JAMA Psychiatry, Helena Hansen MD, PhD., Joel Braslow, MD, PhD, and Robert M. Rohrbaugh, MD, present a structural competency-oriented psychiatry training model. This new approach aims to equip early psychiatrists with the knowledge and skills needed to understand and intervene in the systems that influence their patients' distress.
"Psychiatrists in training launch their careers in a time of inequalities and structural barriers to their patients' health," the authors write. "These broader forces not only likely contribute to psychiatric disorders but also make living with these disorders significantly more difficult."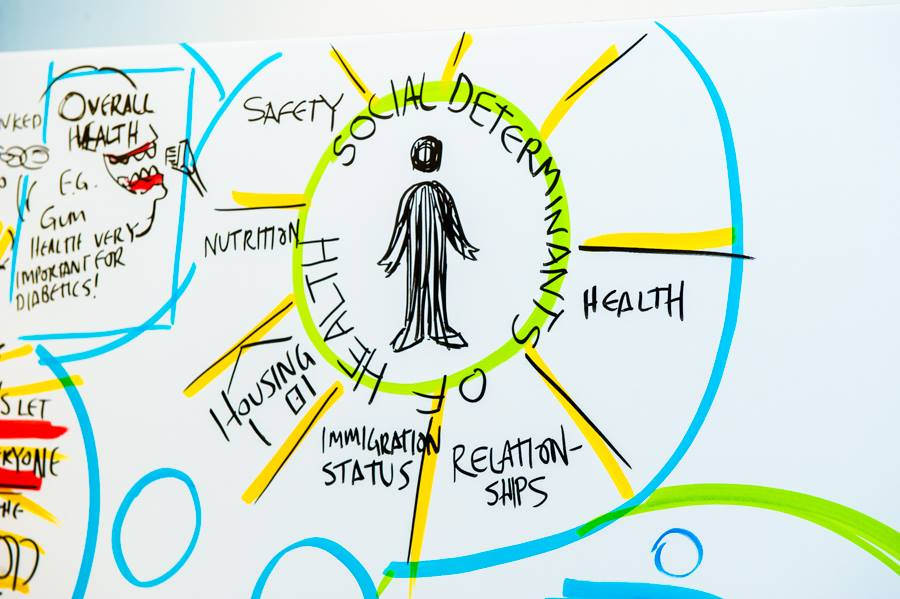 The piece is one in a series on structural competency, covered recently in the MIA newsroom. Structural competency is an approach to psychiatry that moves beyond cultural competency, which focuses on the role of culture in mental illness and treatment, to examine systemic influences on mental health, such as policies and institutional practices that result in social groups' differential access to education, housing, healthcare, and other resources.
Hansen, Braslow, and Rohrbaugh argue that emerging psychiatrists must receive substantial training in structural competency in order to practice ethically and effectively. This need is particularly pronounced now, they write, as the U.S. contends with a number of challenging systemic issues including a health care system in flux, a weakened social safety net, and a rise in racial, religious, and sexual-orientation-based discrimination and hate crimes.
They write that while psychiatry training has done a good job of integrating advances in neuroscience, it has failed to include teachings about the social determinants of health. And the latter, they argue, is equally critical to psychiatrists' education. Furthermore, recent developments in neuroscience indicate that the biological and the social are interrelated.
"We must take the results from neuroscience that show the influence of social environment on biology and symptom expression (eg, in neuroplasticity and epigenetics) and then translate the findings from social science to intervene on the social environment," Hansen and her co-authors write.
When psychiatrists do not have the skills needed to analyze structural factors and intervene at a systems-level, the authors write, not only are they unable to fully serve the needs of their patients, but they also burn out more quickly. Moreover, community mental health systems suffer from provider shortages as a result.
In response to these concerns, Hansen, Braslow, and Rohrbaugh, who all have social science backgrounds in addition to their medical training, have developed and implemented a "structural competency approach" to psychiatry education at their home institutions – NYU, UCLA, and Yale respectively. Their education model's central tenets include conceptualizing patients' illnesses through the lens of systemic conditions, taking steps to act on these conditions at institutional levels, and cultivating "community connectivity" and "structural humility" regarding the slow speed of systemic change.
Their various structural competency-focused curricula share the same guiding philosophy, rooted in the belief that structural competency training is central to becoming a psychiatrist, regardless of whether or not trainees ultimately go on to work in clinical settings.
The authors have designed training courses which are taught by cross-disciplinary faculty from a number of fields, such as anthropology, sociology, medical humanities, and health policy. The goal of these classes is to offer a depth of information about social contributors to mental health while also developing trainees' ability to think critically. Course subjects include the role of race, gender, and socioeconomic status in diagnosis, treatment, and pharmaceutical marketing; the recovery movement; and the relationship between mass incarceration and mental health.
The curricula include activities designed to connect theory with practice, as well. One example of this is a "structural competency rotation" at NYU. As part of this rotation, psychiatry residents spend time working at a state mental health clinic where they receive mentoring from a "peer" who has "lived experience of severe psychiatric diagnosis."
"Ultimately," they write, "the goal is to inculcate an enduring habit of observing patients' living conditions and continuously educating oneself about structural barriers to mental health."
The authors have also incorporated an emphasis on research and advocacy into their curricula in order to instill a sense of hope in residents and build their institutional change-making skills. Related training activities include guidance in analyzing field notes with an eye to patients' "structural vulnerabilities," and a policy advocacy mentorship program, through which students participated in drafting mental health-related legislation.
In closing, the authors write:
"When we incorporate the principles of structural competency, psychiatry addresses the structural problems of communities that make people sick and keep them from getting well."
****
Hansen, H., Braslow, J., & Rohrbaugh, R. M. (2017). From Cultural to Structural Competency—Training Psychiatry Residents to Act on Social Determinants of Health and Institutional Racism. JAMA psychiatry. (Link)