New data from a team of researchers at the University of Queensland in Australia finds that people have the tendency to underestimate the importance of social factors on health. The results of this new study suggest that this tendency may be linked to certain social and political ideologies, such as Right-Wing Authoritarianism.
The authors cite Dr. Melissa Sweet, explaining why attention to social determinants has gone under the radar:
"Perhaps the major barrier [to a belief in the social determinants of health] lies in the kind of health story that dominates the headlines, often reflecting the power of the medical lobby and acute care services, as well as the 'lifestyle choices' meme. The chronic health effects of racism, for example, will never command the media attention reserved for hospital waiting lists or medical 'breakthroughs.'"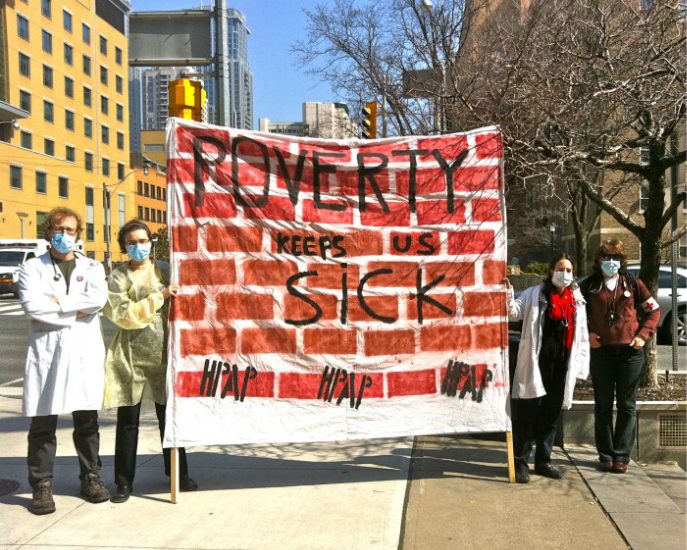 Definitions of health have largely been couched in medical and health science frameworks. Researchers and the public have come to understand health as linked to mortality, and the discourse centers around reducing the "burden" of illness on society through prevention, medication, and behavior change. Whereas behavioral risk factors for health, such as smoking, drinking, and lack of exercise, have been the primary focus of policy interventions, the influence of social factors has been scarcely mentioned.
Recently, however, research has been devoted to understanding social determinants of health, including the structures and conditions people live within as well as the social relationships, networks, and supports people are able to access. A growing body of literature has begun to examine these social factors and their impact on health more closely.
For example, social isolation and a lack of connectedness have been identified as significant risk factors for mortality. Studies have found that people who were less socially integrated were also less psychologically and physically healthy and were likely to die far sooner than their socially integrated counterparts.
"These data thus indicate that social factors are at least as important for mortality as well-established behavioural risks," state the authors.
Despite the compelling evidence, however, attention to social determinants' influence on health continues to be overshadowed by discussion around individual behaviors. Haslam and team note that this pattern may persist, in some ways, simply because people are not being informed of the research on social determinants. Yet, they also contend that there is more at play; that the prevailing ideologies people hold likely influence whether or not this information is understood and disseminated.
They write:
"It is apparent that decisions to disseminate (and to fund the dissemination of) particular forms of health information are not made in a vacuum. Instead, as a number of social and political theorists have noted, they are underpinned by widely shared ideologies that feed into the representation of good (and poor) health and that often have limited anchoring in relevant scientific data."
These ideologies, supported by "certain sections of the medical profession and its supporters (e.g. lobbyists aligned with the pharmaceutical industry)," are outlined by the authors as follows:
Anti-Psychosocial Health Beliefs (APHB). Evidence demonstrates that practitioners vary in how much importance they attribute to psychosocial factors. Those that do, are more likely to attend to these factors in treatment and vice versa.
Right-Wing Authoritarianism (RWA). Demonstrated by traits such as authoritarian submission, aggression, and conventionalism, those who display high levels of RWA are more likely, according to research, to "(a) to recognize established and legitimate authorities in society, (b) to submit to those authorities' will, and (c) to follow social conventions." Researchers contend that those higher on this trait are more likely to adopt rigid conventions around behavior as determining health and may be threatened by evidence of social influences perceived as challenging medical authority.
Social Dominance Orientation (SDO). This trait is demonstrated by beliefs that it is natural and right for certain social groups to hold power and dominate over those groups that are weaker. As a way to maintain group boundaries, those high in SDO are likely to favor hierarchical structures and ideologies. The evidence that health is influenced by social factors holds with it implications to redress inequality, and therefore, may threaten those aligning with the SDO ideology's worldview.
Belief in Biological Essentialism (BBE). People who endorse essentialist views of health see it as determined almost exclusively by genetics and biology. They are then more likely to reject notions of social context as playing a role in determining individual health.
In this study, Dr. Haslam and researchers investigate "whether people underestimate the importance of social factors for health and if so, to what extent?" Additionally, they were interested in examining why people might underestimate social factors.
Although their method does not allow for causal conclusions, they hypothesized that certain associations will exist. They predicted that individuals higher in Anti-Psychosocial Health Beliefs (APHB), Right-Wing Authoritarianism (RWA), Social Dominance Orientation (SDO), and Belief in Biological Essentialism (BBE) will be more likely to underestimate the impact of social determinants.
In July of 2017, a sample of 502 participants were recruited from online communities in the US and UK, MTurk (N = 250) and Prolific Academic (N = 252). Ages ranged from 18 to 72 (M = 36.46; SD = 11.76), with 44.4% male and 55.6% female. Participants were also asked to report their highest level of educational achievement (1% Junior School or below, 2% Junior/Secondary school, 23% School/Secondary Technical, 15% College Degree, 42% Bachelor Degree, 14% Master's Degree, and 2% Doctoral Degree).
Each participant completed a survey which featured questions asking about their beliefs of the impact of social determinants on health and their alignment with the four ideologies delineated above (APHD, RWA, SDO, and BBE). Results found that participants did indeed underestimate the impact of social factors on health. Additionally, while participants were able to accurately identify the risk associated with certain behaviors, their understanding of risks associated with social factors was less than promising, as evidenced by this finding:
"In sum, then, participants were quite accurate when estimating the contribution of behavioural risk factors, but their accuracy diminished — to the point that they became slightly but significantly inaccurate — once their estimations also encompassed the social determinants of health."
Moreover, although the four ideologies were found to be mostly correlated with one another, participants who endorsed high levels of Right Wing Authoritarianism (RWA), specifically, were more likely to underestimate the importance of social factors in determining health.
"This work has generated some compelling findings, but probably the most persuasive evidence comes from studies which show that these social variables are at least as important as behavioural risk factors — if not more so — when it comes to predicting mortality."
Haslam and researchers uniquely investigated the ideologies accompanying the resistance to acknowledge the importance of social context. They found that those with higher Right Wing Authoritarianism traits are more likely to embrace "conventional medical wisdom" and see health in terms of behavioral rather than social origins. One example, reported by the authors, is the way in which a conservative government minister responded to the research on social determinants' powerful influence on health. He remarked:
"I think you know, public health is not enormously practical and, yes, there's this great world movement on social determinants of health but, you know, to what end? We're all going to have a Swedish social democracy? I don't think so."
In this way, the researchers conclude by warning readers that because the evidence on social factors calls for social change and challenges authority, it can be received as threatening. Specifically, research needs to be presented as a problem for "us" and not a problem for "them," they advise.
"It would therefore seem that researchers who are interested in advancing awareness of the potency of the social determinants of health — and shaping policy and practice around this awareness — need not only to make their case as scientifically robust as possible but also to be aware of the various forms of identity threat that their work invokes and to formulate strategies that engage optimally with this in the context of prevailing structural realities."
****
Haslam, S. A., McMahon, C., Cruwys, T., Haslam, C., Jetten, J., & Steffens, N. K. (2017). Social cure, what social cure? The propensity to underestimate the importance of social factors for health. Social Science & Medicine. (Link)
***
Mad in America hosts blogs by a diverse group of writers. These posts are designed to serve as a public forum for a discussion—broadly speaking—of psychiatry and its treatments. The opinions expressed are the writers' own.
***
Mad in America has made some changes to the commenting process. You no longer need to login or create an account on our site to comment. The only information needed is your name, email and comment text. Comments made with an account prior to this change will remain visible on the site.