Last month, Anna Lembke, M.D., Jennifer Papac, M.D., and Keith Humphreys, Ph.D. published a perspective piece in the New England Journal of Medicine detailing the urgent need to address inappropriate prescribing of benzodiazepines.
"Despite the many parallels to the opioid epidemic, there has been little discussion in the media or among clinicians, policymakers, and educators about the problem of overprescribing and overuse of benzodiazepines and Z-drugs, or about the harm attributable to these drugs and their illicit analogues."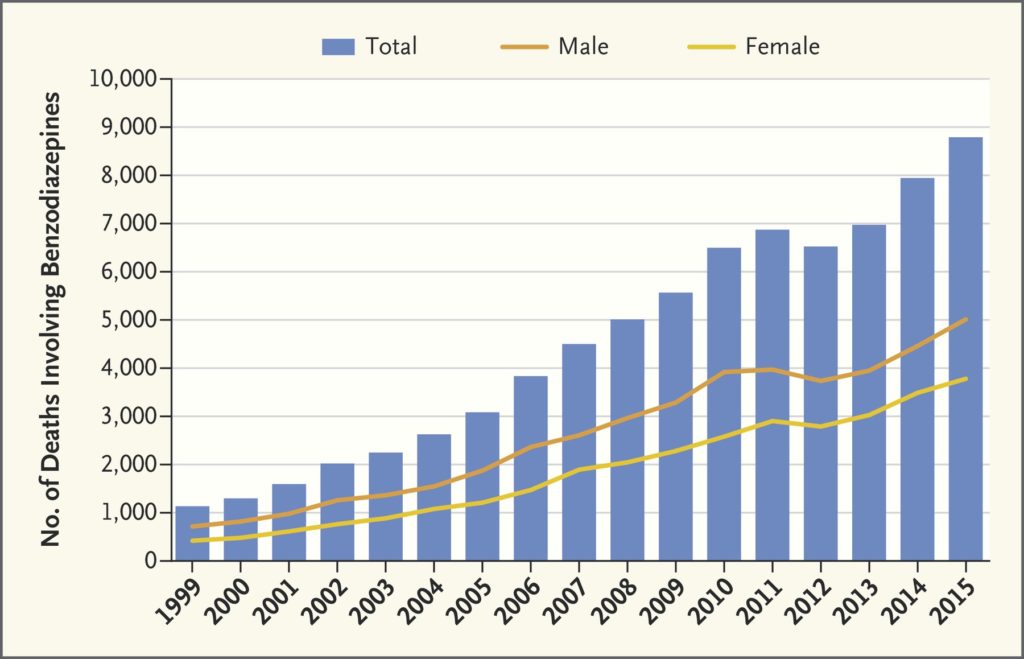 The use of benzodiazepines, which are controlled substances such as alprazolam, clonazepam, diazepam, and lorazepam, has dramatically increased within the past few decades. Between the years 1993 and 2013, the number of adults who filled a benzodiazepine subscription risen from 8.1 million to 13.5 million– a 67% increase.
Prescriptions correspond to the Food and Drug Administration (FDA) guidelines outlining the approval for benzodiazepines to treat anxiety, insomnia, seizures, and acute alcohol withdrawal. Yet, the drugs are also prescribed off-label for a number of reasons, the authors write, including restless leg syndrome and depression.
Alongside the accelerating number of adults filling benzodiazepine prescriptions, deaths resulting from overdose have risen from 1,135 in 1999 to 8,291 in 2015.  The authors note, however, that benzodiazepine overuse, misuse, and addiction go mostly unnoticed.
Part of the reason, they hypothesize, may be because three-quarters of deaths involving benzodiazepines also involved opioids. Yet, rates of co-prescribing benzodiazepines and opioids have nearly doubled since 2001. While the opioid epidemic has appropriately received widespread attention, Lembke, Papac, and Humphreys question why the same attention has not been garnered for similar trends in benzodiazepine use.
"It would be a tragedy if measures to target overprescribing and overuse of opioids diverted people from one class of life-threatening drugs to another. We believe that the growing infrastructure to address the opioid epidemic should be harnessed to respond to dangerous trends in benzodiazepine overuse, misuse, and addiction as well."
Moreover, new highly potent and deadly versions of benzodiazepines have become available through an illicit market. These are known as "z-drugs," and they are associated with increased mortality when taken either alone or in conjunction with opioids.
Given the dangers associated with benzodiazepine use, both in isolation and alongside opioids, the authors suggest prescribers become more aware of the risks involved and aspire toward tapering with clients stabilized using opioid-agonist therapy.
"Many prescribers don't realize that benzodiazepines can be addictive and when taken daily can worsen anxiety, contribute to persistent insomnia, and cause death. Other risks associated with benzodiazepines include cognitive decline, accidental injuries and falls, and increased rates of hospital admission and emergency department visits," they write.
Furthermore, educators and policymakers can address the misuse and overprescription of benzodiazepines alongside efforts to address the opioid epidemic. More specifically, prescribers can be encouraged to check state prescription drug monitoring program before prescribing. The authors specifically address educators and policymakers as they suggest greater attention and education around the safe prescribing of benzodiazepines and encourage immediate efforts to terminate illegal online pharmacies.
"We believe national efforts to reduce overprescribing of opioids and to educate the medical and lay communities about their risks should be expanded to target benzodiazepines. Educators and policymakers could address the overprescribing and overuse of benzodiazepines in tandem with current efforts to curb the opioid epidemic."
****
Lembke, A., Papac, J., & Humphreys, K. (2018). Our Other Prescription Drug Problem. New England Journal of Medicine, 378(8), 693-695. (Full Text)