A new study, published in Mindfulness, explores moderating factors on the effects of mindfulness interventions for young peoples' mental health in school settings. The results of the meta-analysis indicate individual differences in student's ages, teacher's experiences, and the delivery method may influence the receptivity and effectiveness of school-based mindfulness programs.
"Although mindfulness-based interventions have been shown to be effective for mental health and well-being outcomes, many of the mindfulness-based interventions for youth have been adapted from the programs designed for adults," the researchers, led by Dana Carsley from the Department of Educational and Counselling Psychology at McGill University, write. "As such, it is likely that further modifications are required to ensure that the interventions are targeted for youth in the school setting."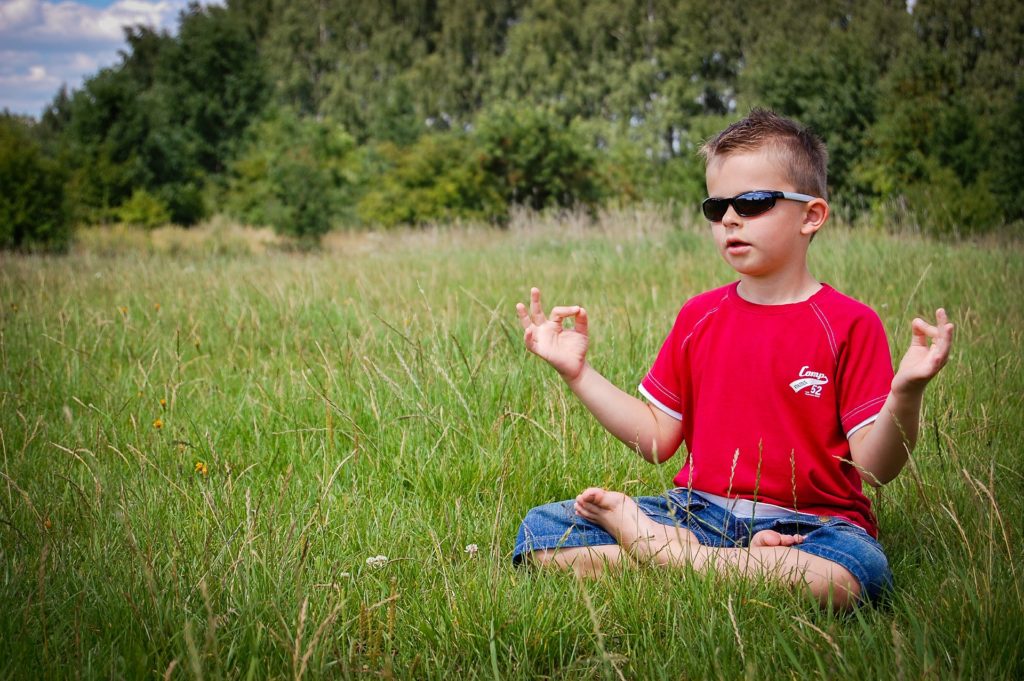 There is a buzz about mindfulness in the current culture as research has demonstrated the benefits of mindfulness practice for psychiatric disorders, resiliency, depression, and burnout.  However, with the majority of research pertaining to adults or college students, more focus is needed to support the adaptation process for school-aged children.
With upward of one in five school-aged children reporting significant mental health concerns, there is a strong argument that can be made for preventative, low-cost, and group-oriented interventions which can be administrated to children in their classrooms. However, ensuring these programs are efficient and effective is essential when considering the time and resource restraints schools often face.
Carsley and her colleagues explain why schools and educational settings may be in a "unique position to support students' mental health as school services," as they are "(1) are extremely accessible, (2) can help decrease the stigma associated with mental illness, and (3) can be cost-effective relative to clinical or hospital support."
In an attempt to distinguish the most efficient approaches for delivering mindfulness-based interventions in schools, the researchers conducted a meta-analysis on 24 studies related to mindfulness-based programs in schools comprising of 3,977 school-aged participants. Among other variables, the researchers examined the outcomes related to the developmental period of children receiving the intervention, type of mindfulness-based intervention used, and the training and type of facilitator (teacher or outsider).
Results of the analysis revealed the greatest effect on mental health and wellness for interventions that were delivered during late adolescents (age 15-18), as compared to middle childhood (age 6-10) or early adolescence (age 11-14). Understanding the age group with the highest outcome levels provides a focus to school administrators when considering adopting mindfulness-based activities for their school.
"Adolescence is considered to be a 'window of opportunity', the researchers explain, "specifically, the plasticity in adolescents' brains and the associated social and cognitive systems essential to development during adolescence are malleable as they co-construct adolescents' identity."
A combination intervention including various mindfulness and yoga-based activities was found to be most effective as compared to just mindfulness-based yoga or a pre-designed mindfulness program. This may have been due to the variety of mindfulness training among in-classroom teachers or the flexibility the method provided for student's needs to be addressed.
The effects of teacher type were mixed, with in-classroom teachers having the best results for mental health outcomes of students and trained mindfulness teachers having more significant effects on mindfulness levels.
"When mental health outcomes and mindfulness outcomes were examined separately in the between-group analyses, the effects on mental health outcomes post-test were only significant when interventions were delivered by a trained teacher; however, the effects on mindfulness posttest were only significant when interventions were delivered by an outside facilitator," they write.
This study provides a significant contribution to the understanding of effective mindfulness-based interventions in school settings. While mindfulness interventions often demonstrate effectiveness across ages and with varying factors, identifying interventions with the most potent outcomes for student's mental health is essential for developing evidence-based school programs.
"The mental health of youth, who spend the majority of their day in school, should always be acknowledged in the education system," the researchers conclude. "Given that mindfulness interventions have become increasingly popular in schools as a way of supporting students' mental health and overall well-being, it is important for schools to ensure that factors critical to school delivery (e.g., developmental period, type of intervention, and identity of facilitator) are considered when implementing the programs in such a way that students experience optimal benefits of mindfulness interventions."
****
Carsley, D., Khoury, B., & Heath, N. L. (2018). Effectiveness of Mindfulness Interventions for Mental Health in Schools: a Comprehensive Meta-analysis. Mindfulness, 9(3), 693-707. (Link)
***
Mad in America hosts blogs by a diverse group of writers. These posts are designed to serve as a public forum for a discussion—broadly speaking—of psychiatry and its treatments. The opinions expressed are the writers' own.
***
Mad in America has made some changes to the commenting process. You no longer need to login or create an account on our site to comment. The only information needed is your name, email and comment text. Comments made with an account prior to this change will remain visible on the site.