"Perhaps when we find ourselves wanting everything, it is because
we are dangerously close to wanting nothing."
—Sylvia Plath
Today is the 10th anniversary of David Foster Wallace's suicide. I discovered David Foster Wallace (2/21/1962 – 9/12/2008) six years after he hanged himself at his home in California. For a while, I was under his spell, but it wasn't his stories that got me. It was his story — one that looked, on the outside, like the classic case of person who has everything shocks friends and family by telling the world it's not enough. Wallace's suicide at the age of 46, after reaching literary immortality and finding a cult-like following most writers only dream of, is most commonly explained by friends, family, colleagues, even the literary community, as "mental illness." The treatment of this "mental illness," as well as what's going on behind the "symptoms," is rarely discussed in mainstream media, except, one Mad in America writer explains, as a cautionary tale: "this is what happens when you stop taking your medication."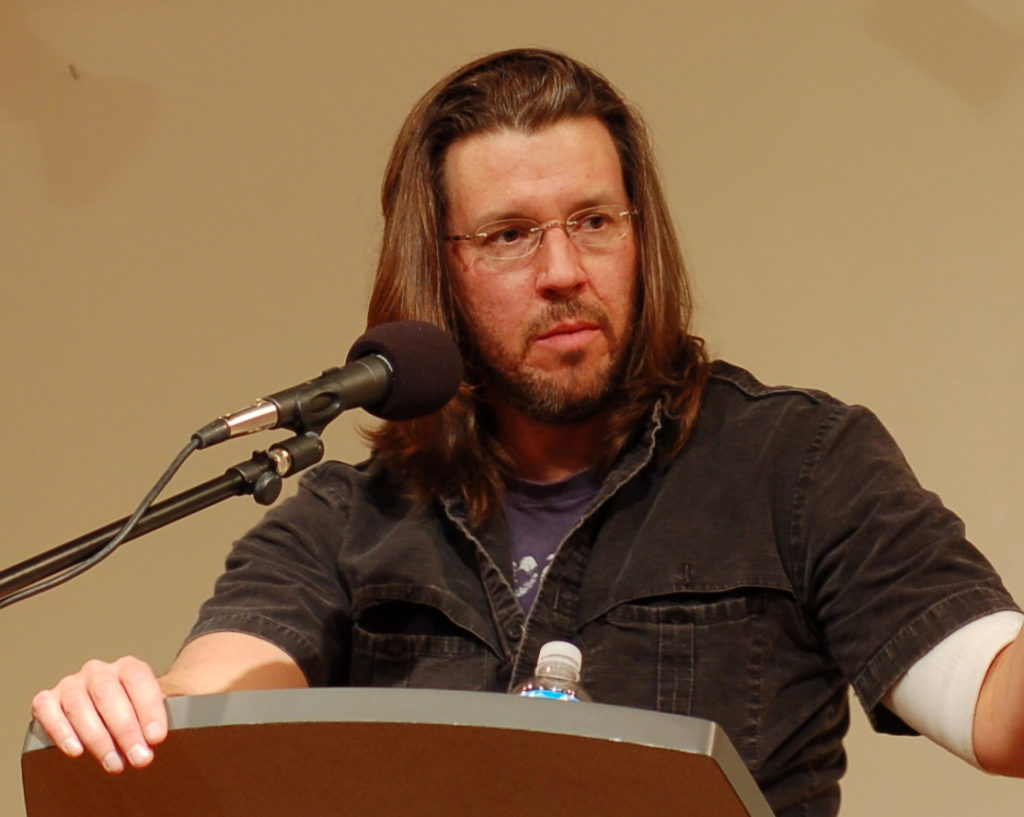 In the months following my discovery of Wallace, I listened to every interview he gave that I could find. In every single one that I came across, Wallace does two things: he makes a "joke" about his experiences with what the establishment calls depression and he dodges any follow-up attempt the interviewer makes (which is alarmingly uncommon). His "jokes" often go something like "If anyone has any ideas for reasons to get out of bed in the morning, I'm taking suggestions." Or they employ sly misdirection: "Here [me and my friends] were, grotesquely over-educated, well-off comparatively, maybe a little bored but stupidly unhappy. I mean, it's not like we were fingering razorblades or anything…" He wrote vividly about depression, his descriptions of suicide in Infinite Jest so visceral I actually vomited, but he didn't speak about it. His writings about depression, which made me feel absurdly seen in a way no living person ever has, are all fiction. We can infer that they're drawn from his significant contact with the mental health system as well as his own subjective experience of what he was diagnosed and "treated" for, but, as his sister, two years younger than him, said in an interview she gave after his death, he was embarrassed by his depression.
She also said that he was brave. This, his bravery, is why she "never once had the thought that [she] was mad at him." Having to face multiple rounds of ECT, a cocktail of heavy medication — one of which was a benzo and another he was only taking because it made him productive, at least until it, he suspected, played in a role in a hypertensive crisis that catalyzed his attempt to get off it — and a litany of professionals who neither listened nor cared to understand what he was going through, would indeed take bravery. So would having to, as he put it, "walk around with your nervous system on the outside of your body." We do not have a world that is kind to sensitive people.
This sensitivity, which does not get him off the hook for the substantial abuse he committed against Mary Karr and others, is what made him such a good writer. Infinite Jest contains passages that absolutely convince you he's in your head, that his voice is your voice — again, something so many of us writers strive ourselves to accomplish. Dave Eggers, in the forward to the 10-year edition of Infinite Jest, writes, "That this staggering work was completed by a writer under 35 in less than three years is painful to think about." I have only unearthed two other people who considered that maybe it was painful for Wallace to think about, too. One was Wallace's sister, who, in a very DFW way of making a statement and providing no follow up, commented that "writing Infinite Jest took a lot out of him." Reading the book, it's hard to see how that wouldn't be true.
The other person was Wallace's roommate at Amherst. Mark Costello sat down with a bunch of writers from The New Yorker to discuss why Wallace killed himself. Costello, who knew Wallace in his 20s, suggested that Wallace's suicide might have been related to his struggle to be the writer he wanted to be, and his increasing inability to write at all. This suggestion was brushed off by both panelists and audience members, one of whom shouted "so go do charity work" after Costello offered his honest assessment. One panelist responded to the remark by encouraging us to have compassion, and initially I thought we might finally reach escape velocity from the "mental illness causes suicide" narrative with her attempt to get listeners to understand what suicidal people might be going through. "It's not like you wake up one morning and go, 'Gee, I think I'll kill myself today,'" she explained. "It's that you wake up every morning thinking 'How can I not?'" Yes, I thought. These are all the words I have been looking for. The relief of validation, that someone saw and understood, felt like IcyHot on a pulled muscle.
And then she had to continue. "This is about mental illness." The insight Wallace's sister so briefly mentioned and the perspective Costello had were obliterated by the massive narrative of "mental illness" that seems to consume everything it can reach. At the same time as "mental illness" is used to sufficiently explain suicide, the way we treat "mental illness" is not thought to have a role in it or the circumstances leading up to a suicide, even by the people experiencing them. D.T. Max reports in Every Love Story is a Ghost Story that Wallace feared the reason he wasn't able to write was because of how much weed he smoked when he was younger — "I was high for a decade," Wallace said. In other words, the mental health system has been so effective at marketing itself and threading its conception of human suffering into the culture that not even Wallace, who was suspicious of easy explanations of depression and overmedicalizing pain, considered that the psychiatric medication, the ECTs, the hospitalizations, likely contributed to his brain fog, struggle to think clearly and inability to write.
But it does seem clear that his inability to be the writer he felt he needed to be, or to write at all, was central to his suicide. It may sound trivial, it may be hard to relate to, but before we suggest charity work as an appropriate treatment for despair, let's give "inability to write" a fair hearing. It's especially important in a culture with a propensity to accept easy answers ("mental illness") or no answers ("we can never know why people kill themselves") above real answers that don't sound good enough ("I can't write").
The reason "I can't write" was so easily dismissed by the audience member listening to Mark Costello is probably because he was thinking about writing the way he was thinking about writing, not the way David Foster Wallace was thinking about writing. That, as evidenced by the many articles, academic and otherwise, debating Wallace's thought process as it related to craft, structure and plot, is deeply complex, involved and invested. It's nowhere indicated that Wallace's ambivalence toward fame — wanting it very much while simultaneously knowing, as he writes in Infinite Jest, that "it is not the exit from any cage" — was resolved. It seems clear that, while Wallace warned of the dangers of ambition, he harbored some pretty large ones himself. You don't have to be a writer or think writing is 'worthy' to really get this: think of something you really, really want. Now imagine that thing is really, really hard to get. Maybe you want biological kids and you're struggling with infertility. Maybe it's to be an astronaut but you don't meet the physical requirements for the job. Maybe it's relief from despair and anxiety but we have the world we have. Consider what it's like to want something deeply, more than you want to breathe, that's very hard to get. It seems to me that that's how Wallace related to his writing aspirations.
While it's not fair to build an entire theory on an incredibly complicated issue like suicide around one person, Wallace's death should challenge the common narratives of psychiatry. People attempting to get off psych meds probably shouldn't be prescribed ECT. People probably shouldn't be prescribed ECT at all since it causes brain damage. People shouldn't have to give up power — Wallace was involuntarily committed at least once to a hospital and vowed that he would "do anything to avoid the psych ward" — in seeking whatever they've defined for themselves as help. People should get to define what help means to them. People should not have to subject themselves to the assumption that they're wrong and the clinician's always right.
Wallace's death should also challenge the narratives around suicide — that "mental illness" causes it and that "we can't ever know why people do it." Both of these are self-serving platitudes that are simply not true. People leave notes — Wallace did; a two-page one for his wife to find along with his unfinished manuscript, and though I haven't read it, the suicide notes I have read lead me to think there is at least the possibility of an explanation of some kind in those two pages. No one has the right to judge whether the person's reasons for suiciding are valid; if you ever have the experience of reading a suicide note, your job not to assess mental status. Your job is to believe the author.
Jeffrey Eugenides, who knew Wallace, said through the narrator of The Virgin Suicides that "suicide is deeper than death." And this is the reason "mental illness" is too easy and convenient an answer. To say that suicide is caused by mental illness is both a circular and a meaningless thing to say, and suicide is too complex an issue to be brushed off so easily. In the first place, the mental health system, and thus mainstream culture, only think "mental illness" causes suicide because the system has already defined suicide as a "mentally ill" thing to do. "No one in their right mind would take their own lives," the system has already declared; thus, anyone who kills themselves is not in their right mind by definition. Second, what even is "mental illness?" In a system where certain people (those who have enough money to get licenses and certificates after years of study) profit off the "unwellness" (which they have codified and defined according to reimbursement schedules and whatever needs to be controlled so as not to threaten the livelihoods of the powerful), "mental illness" is not just whatever is outside a predefined "normal," but also what can be made chronic (to guarantee income), intolerable (to guarantee continual seeking of assistance) and externalized (to guarantee trying different approaches since each person responds to medication differently, each person's depression is different — if the meds don't work, it's not because the biological model is bunk; it's because we haven't found the right combination, of which there are, conveniently, an endless number).
But if Mark Costello is right and Wallace couldn't live with himself for being the writer he was rather than the writer he wanted to be, then maybe the most important narrative Wallace's death challenges is the story of objective value, if it exists and who gets to determine it. Wallace's suicide forces us to ask: Is life worth more than literature? Robin Williams' character John Keating in Dead Poet's Society says that "poetry, art, beauty, these are the things we stay alive for." But do we stay alive to read/view/consume them, or to write/create them? Robin Williams, another genius creator, took his own life, as did the protagonist of Dead Poet's Society, both presumably for the same reason: they couldn't make their chosen art. Robin Williams was diagnosed with Parkinson's, which robs you of your ability to control your body. Neil, the protagonist in Dead Poet's Society, lost agency via an overly controlling father who forbade the "frivolous" practice of thespianism. If Wallace's suicide was a result of some form of inability to participate in his chosen craft the way he determined he needed to, he wouldn't have been alone.
He also wouldn't have been "mentally ill." Agency, the ability to make your own decisions about your life, is a big deal. Stripping that from people by involuntarily committing them might be why there is not "a single shred of empirical evidence showing that hospitalization prevents suicide." Wallace, who at one point wanted everything for his writing, ended his life unable to see how he could get it. Whether it is physical illness, authoritarian parents or a parochial treatment system insistent on the preservation of its own power, flaying people of their ability to create and to choose has lethal consequences. This is not about how Wallace's suicide could have been prevented — after all, what I'm advocating for is free choice.
In a system where few alternatives are presented as equally acceptable and effective as medication and traditional therapy, it's hard to see how Wallace could have made a free choice to take the pills, to undergo the prescribed treatment. Because he did so, it's questionable whether his suicide was a free choice as well. And that's exactly the problem: treatment without informed consent is abuse. And when I say that the system is looking out for its own power, that includes ways to protect itself from the liability of using humans in pain as its source of revenue. ECT, even without interacting with medications, damages the brain. Wallace was subjected to multiple rounds of it twice in life, once while attempting to withdraw from medication he'd been on for 20 years, and it very well could have robbed him of his ability to write — it doesn't matter how smart you are, you can't think your way out of brain damage. Saying Wallace willingly chose the ECT treatment only points out the larger problem: a system that problematizes human suffering, that manufactures the belief in and need for quick, easy solutions and the willingness to trade the everything that is life — despair included — for the nothing that is short-term monetary gain for a self-selected few.
***
Mad in America hosts blogs by a diverse group of writers. These posts are designed to serve as a public forum for a discussion—broadly speaking—of psychiatry and its treatments. The opinions expressed are the writers' own.
***
Mad in America has made some changes to the commenting process. You no longer need to login or create an account on our site to comment. The only information needed is your name, email and comment text. Comments made with an account prior to this change will remain visible on the site.