In their article published in Society and Mental Health, Monique Botha and David M. Frost apply the minority stress model to an investigation of quality of life and mental health in a sample of adults self-identified as having Asperger syndrome (AS) or high-functioning autism (HFA). Individuals with AS and HFA are understood as "neuro-minorities" in the publication, and their experiences are examined through this socio-contextual framework.
"Increasingly, autistic people themselves are beginning to consider AS and HFA as forms of neurodiversity and a key part of their identities, as central as other social identities such as sexuality or race," Botha, a doctoral student in psychology at the University of Surrey, and Frost, a social psychologist at the same university, write.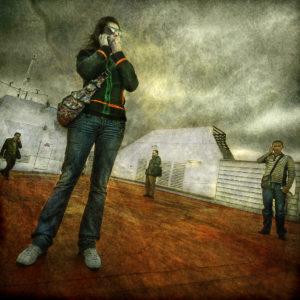 Consistent with patterns associated with the social stress and stigmatization across other minority groups identified in past research, the authors found a significant connection between everyday discrimination and the expectation of rejection among participants. Being "out" and open about one's AS or HFA status was linked to lower psychological well-being, indicating that the consequences of autism-associated stigma may negatively impact an individual's interpersonal experiences. Botha and Frost's work challenges the notion that poor quality of life and autism are intrinsically related, and emphasizes distress associated with external factors and social stigma.
"In the present study we extended the minority stress model to examine the extent to which stigma-related stressors are associated with diminished well-being experienced by the HFA and AS population," they write. "We hypothesized that there would be a relationship between minority stressors and poorer mental health outcomes, such that greater amounts of reported minority stress would be associated with poorer mental health and well-being."
In recent years, some have challenged the perceived "medicalization of autism," instead conceptualizing autism spectrum disorders as a "[fact] of culture rather than a fact of nature." Because there isn't a go-to, formal pharmacological intervention tied to autism, opposition to the label hasn't had the same traction compared to something like attention-deficit/hyperactivity disorder (ADHD). However, autism is often framed as a "deficit" despite research indicating that characteristics of autism, particularly in individuals identified as having AS or HFA, belongs on the same plane as behaviors widely considered normal.
Others have argued that autism would be more appropriately considered a "hypersensitivity" than "deficit." Additional controversy exists as to whether or not autism constitutes any one underlying "disorder" given the breadth of the spectrum within the autism umbrella.
"The minority model of disability is underpinned by the notion that one can have a condition the medical model considers a disability, but in actuality, it is a society with restrictive notions of normal that creates disability," Botha and Frost write.
In laying the groundwork for their investigation, the authors highlight that autism among adults gets limited attention in research and that less than one percent of funding for autism-associated research in the United States and the United Kingdom is devoted to understanding the social factors contributing to psychological distress experienced by those with autism. They cite one study that found that 9 of the top ten words used to describe characteristics of AS were negative.
Botha and Frost assert that stigmatization begins with the process of labeling. Then, "labels absorb the meaning society gives them, and […] assigning value-based meanings to labels can often perpetuate stigma." Most adults with autism are conscious of differences between themselves and others without the label. Social rejection, victimization, workplace discrimination, and a number of other challenging quality-of-life associated hurdles have been linked to autism. Although past research has examined social "deficits" tied to autism, the effects of stigma have been understudied.
The minority stress model emphasizes that minority groups have been deemed less valuable on the basis of social norms and that "disability" is the product of societal rigidity rather than within-individual deficits. It has been most frequently applied in the examination of health disparities across a range of minority groups.
Health disparities and higher rates of psychological distress linked to autism prompted researchers to examine stress, mental health, and well-being in relation to social factors, and to determine the extent to which distress and health outcomes could be linked to social circumstances after controlling for other known contributing factors.
Results were based on responses to an online survey from a sample of male and female adults (N = 111) self-identified as having AS or HFA. Questions addressed demographic information, general stressful life events, victimization and discrimination events, everyday discrimination, an expectation of rejection, outness, physical concealment, internalized stigma, well-being, and psychological distress.
Consistent with hypothesized outcomes, Botha and Frost linked increased stress associated with minority status to unfavorable health and quality of life factors. Additionally, while "outness" is associated with positive psychological outcomes for sexual minority groups, the opposite was found to be the case for individuals in this sample of individuals with AS and HFA. In essence, external factors associated with the stigma associated with autism may have detrimental effects on those with AS and HFA.
 "In light of the results, the findings of this study, if upheld in further research, could mark a change in the way we consider mental health and well-being in the autistic community," the authors conclude. "This reframing of perspectives on autism can reflect a movement in which mental health problems such as depression, anxiety, and suicidal ideation are no longer considered inherent to autism."
This small study only begins to paint a picture of the impact of external social variables on the experiences of those with AS and HFA but hints at compelling possibilities for the future of autism research.
****
Botha, M., & Frost, D. M. (2018). Extending the Minority Stress Model to Understand Mental Health Problems Experienced by the Autistic Population. Society and Mental Health. (Link)