Author and psychotherapist, Dr. Farhad Dalal, recently published a book that critiques the philosophical and scientific bases of Cognitive Behavioral Therapy (CBT). Frequently upheld as an alternative to psychiatric drugs, CBT, according to Dalal's investigation, is derived from the same flawed scientific and philosophical understandings that are less concerned with the origins of one's distress, and more apt to reduce suffering to medicalized explanations and institutional treatments.
The book, titled CBT: The Cognitive Behavioural Tsunami, examines the influences of managerialism, politics, and the corrupt science that endorses particular views and responses to human distress. The book's introduction features the following statement:
"The rise of CBT has been fostered by neoliberalism and the phenomenon of New Public Management. The book not only critiques the science, psychology and philosophy of CBT, but also challenges the managerialist mentality and its hyper-rational understanding of 'efficiency', both of which are commonplace in organizational life today."

"The book suggests that these are perverse forms of thought, which have been institutionalized by NICE and IAPT and used by them to generate narratives of CBT's prowess. It claims that CBT is an exercise in symptom reduction which vastly exaggerates the degree to which symptoms are reduced, the durability of the improvement, as well as the numbers of people it helps."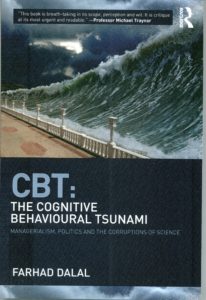 The central question tackled by Dalal is: "Is CBT all it claims to be?" In response to this, Dalal outlines several arguments that illustrate the falsities underlying CBT's support. First, he argues that CBT has arisen out of an entrancement with hyper-rationality and a very confined notion of what is included under the umbrella of "science." CBT's attempt to understand human distress is modeled after the notion that everything must be precisely measurable in order to count, and further, that it must be documented to be legitimate.
"The activity of science is supposed to be the production of objective knowledge by rational means," he writes. "The 'means' themselves are a mix of observation (empirical evidence) and logical argument. CBT claims to produce scientific knowledge in this way, and on this basis assert that its claims are rational, objective and value free. In short—that they speak the truth."
In this way, CBT is presented in a way that denies cultural embeddedness. However, Dalal conveys the connection between this approach and a culture of efficiency that promotes neoliberal capitalism. Neoliberal institutions and structures promote efficiency through forms such as austerity measures that effectively result in greater levels of distress. However, human distress is then conceptualized as illness, through a CBT framework and, as such, the same cultural policies that contribute to distress are the ones that offer CBT as a solution.
Dalal expands upon his framing of CBT as hyper-rational:
"The watchword of hyper-rationality is 'command and control'; its expectation is that we should be able to control everything: not only the world, not only the functioning of organizations, but our very beings."
CBT's grounding in a positivist scientific framework dictates the conditions by which CBT is studied and promoted, argues Dalal. He asserts that the CBT narrative is one that uncritically accepts the existence of "mental disorders" in the DSM. CBT as a treatment is studied and promoted alongside the reification of mental disorders. He elaborates:
"On this basis, treatments for mental disorders are tested under controlled conditions by scientists. This produces scientific evidence regarding whether or not the treatment actually works (the evidence base)."
Once this evidence is established and interpreted as convincing, institutional bodies that regulate treatment recommendations, such as the National Institute for Clinical and Health Care Excellence (NICE), develop manualized guidelines for disseminating similar treatments.
Dalal brings up a reason for concern however, with the seemingly unproblematic and linearity in the evidence and promotion of CBT. His main argument involves examining and questioning the ideological underpinnings of this process. He writes:
"Ideological readings edit out the twists and turns, as well as the complexities, contradictions and power struggles to make it appear that they were never there in the first place. The fact is, CBT's narrative about itself is a political narrative that masquerades as a scientific one."
Dalal's book centers on unpacking this ideological reading. He discusses the influence of utilitarian philosophy on the popularizing of CBT, or what he refers to as the "CBT tsunami." This involves an exploration of conventional understandings of happiness.
Further, he deconstructs the politics of identity formation. This refers to the ways in which the psy-disciplines (psychology, psychiatry, and psychotherapy) have wielded positivism to medicalize and individualize suffering. In doing so, they have accepted diagnostic framings of distress as individual disorders.
Dalal goes on to explain the genesis of cognitivism and its connection to neoliberal economics. He relays one example of this, describing the conceptualization of distress (framed as depression) as the inability to work. Governmental bodies fail to see the ways in which this "burden" is a result of austerity measures. The logical solution to this problem, when framed in this way is, according to Dalal:
"Treat the illness and they will get back to work."

"On the back of this, new diagnostic categories have appeared in speeches and papers emanating from the Department for Work and Pensions (DWP), for example 'psychological resistance to work' and 'entrenched worklessness.' The DWP is offering lucrative contracts for providers of treatments for 'mental illness' of this kind."
The link between cognitivism and neoliberal economics is played out in the "dispensing" of CBT as well, he contends. In this process, the task of examining the evidence and scientific base of treatments is one riddled with corruption and deceptiveness as a particular framework is forwarded without acknowledgment of its cultural-embeddedness nor its ideological framing.
Dalal takes the stance that the support for CBT is amplified by overgeneralizations, spinning, lying, and hacking all rooted within the objectification of subjectivity. Research is restricted and results are desire-driven.
"When stripped of jargon," he writes, "CBT treatment amounts to little more than the injunction: think different, feel different."
He goes on:
"These practices not only end up short-changing patients by significantly diluting the intensity and duration of treatments that they are entitled to, they also put practitioners under unbearable amounts of stress. But the art of managerialism is one of making it appear that none of these things are happening and that the institution is meeting all its goals and targets."
In his conclusion, Dalal warns against the third wave of CBT which includes the promotion of Mindfulness-Based Cognitive Therapy (MBCBT). Although the evidence of this approach as an efficacious remedy for depression has been embraced by NICE and the IAPT, he points out that it is not the CBT success story that it may appear to be on first glance.
Rather, he looks closely into these studies to demonstrate the ways in which statistical spin and linguistic obfuscation create a story that matches a CBT narrative. Dalal concludes that CBT itself is a delusion, buttressed and sustained by surrounding managerialist beliefs, systems, and structures:
"The cognitivist delusion is exactly that: the delusion that modern humans are primarily cognitive, rational-decision-making beings. The delusion continues: thoughts precede emotions and are separable from them…Once corrected, once cognition matches reality, then the emotional life falls into line and the person is in recovery. This is readily achievable in anything between six and twenty sessions. Here endeth the delusion."
**
Videos of Dalal presenting on this issue:
****
Dalal, F. (2018). CBT: The Cognitive Behavioural Tsunami: Managerialism, Politics and the Corruptions of Science.