A recent study, led by the researcher, Dr. Anne Cooke and her team in the UK, investigated the experiences of psychosocially oriented practitioners who work within systems dominated by the medical model of mental distress. The researchers qualitatively analyzed interviews conducted with psychologists that were designed to understand their first-person accounts better navigating the dilemmas that arise a result of the tension between these two models. Their findings were published in the journal Psychosis. Overall, Cooke found that psychologists face difficulties when attempting to challenge the medical model, even when they identify that as a crucial responsibility:
"The current study has illustrated how in a medicalized system, offering an alternative perspective can be difficult, despite many psychologists seeing this as one of their key roles," they write. "It has implications not only for clinical psychologists but also for other psychosocially oriented workers."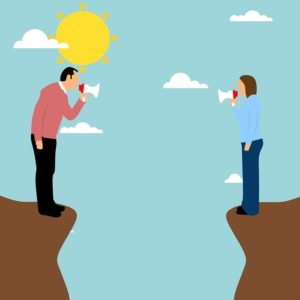 Cooke and colleagues summarize the medical model as the view that mental health problems are "illnesses like any other." Such problems, therefore, are understood as arising out of pathologies in the brain or as genetic abnormalities. In alignment with this view, the medical model approaches center around diagnosing individuals' behavior/presentation, the reduction of pathological "symptoms," and medical intervention.
Critics of the medical model have outlined essential critiques of the theory.  These include the lack of evidence for biological causation, the problems posed by a structure in which a panel votes into existence diagnostic categories, and numerous other scientific, ethical, and practical issues. The importance of integrating alternative frameworks has been one response to these critiques. However, Cooke and colleagues point out that the medical model remains dominant.
"Despite the attempts at integration," they write, "the medical model arguably remains dominant within most Western mental health systems and is reflected in both their structure – with services delivered from hospitals and clinics – and their legislative base."
The psychosocial model has been put forth as an alternative theory and approach. Rather than centering around biology, the psychosocial model prioritizes the role of relational, interpersonal, and social factors that shape individual wellbeing. Cooke and team argue that this not only counters a medical model but represents a counter-cultural approach that challenges the status quo. Essentially, the psychosocial model contends that all behaviors and experiences are understandable and meaningful within context, even if the behaviors themselves are problematic.
These differing viewpoints can create tensions and obstacles for professionals. Not all professionals believe that conflict exists between psychosocial and medical approaches; however, some senior psychologists "have urged their colleagues not to 'jump ship' from psychological to medical explanations and to resist the pressure to adopt medical discourse and practices."
Although there is little information on the experiences of clinical psychologists or other practitioners who work in medical model dominated systems, they are nevertheless encouraged "to engage in 'constructive conflict' with colleagues in order to acknowledge and address theoretical differences and to offer an authoritative and constructive counter-balance to the medical model."
To address the gap that exists between this recommendation and the information known about practitioners' real-world experiences, Cooke and colleagues sought to investigate the latter in this study. They aimed to systematically explore the experiences of psychosocially oriented practitioners who worked in these systems and questioned: "what the implications of engaging in 'constructive conflict' could be."
They asked the following overarching research questions:
How do clinical psychologists who are critical of the medical model experience working in teams where it is dominant?
How do they experience challenging it in their teams?
What are the associated personal and professional challenges?
How do they respond to these challenges and what enables them to remain committed to working in the mental health system?
Cooke and team utilized a grounded theory analysis to develop a theory that is systematically derived from the lived experiences of the interviewees. They conducted this analysis through the lens of a critical realist epistemology which recognizes that although perspectives represent a particular lens of viewing the world, they contain valuable data about participants' real world "experiences, views, feelings, and actions."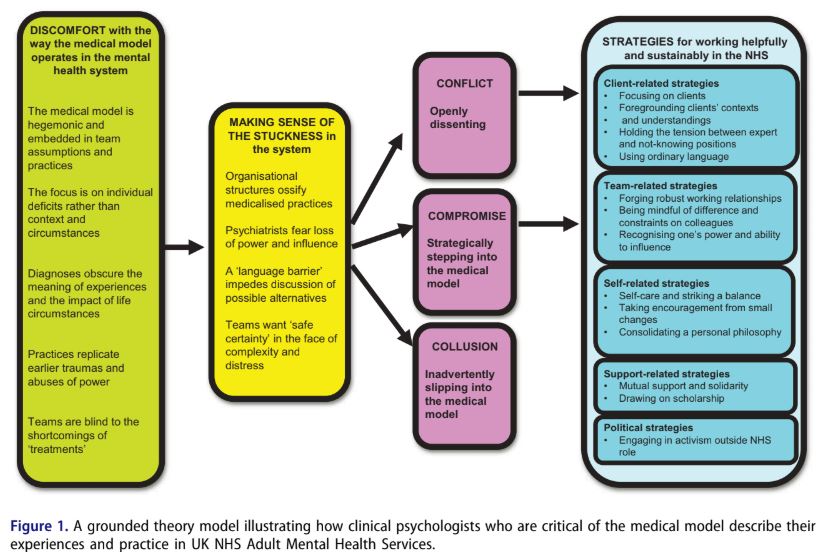 Psychologists shared that they felt a general discomfort with the hegemonic embeddedness of the medical model within their place of work. They noted that this dominant perspective trickled into clinical team assumptions and meeting discourses. The researchers describe this discomfort:
"They felt the focus was predominantly on individual deficits rather than on people's context and circumstances, and that diagnoses obscured the impact of life events. They worried that many practices replicate wider power imbalances and earlier traumas and abuses that people have suffered. They felt that teams are often blind to the shortcomings of treatments."
Upon experiencing this discomfort, the psychologists were left to engage in an experience of "making sense" of these practices. This involved reflecting on the difficulty involved in changing systems and the language barrier that poses additional complications in the endeavor to subvert a dominant discourse.
In addition, the psychologists' discussed that the "stuckness" of systems in a medical framework can also be attributed to psychiatrists' fear of losing power and influence as well as the overall tendency of practitioners to want to fall back on a purportedly "safe" and "certain" option, even if false, in the face of "complexity and extreme distress."
Finally, the interviews demonstrated that there were three ways that psychologists tended to respond to the hegemony of the medical model:
"The first was open dissent ('conflict'). The second was strategically 'stepping in' to the model ('compromise'). Thirdly, some participants described at times inadvertently slipping into 'colluding' with the medical model."
These three responses were discussed further by the researchers alongside the strategies that practitioners disclosed enabled them to continue their work in ways that they hoped were constructive.
Cooke and team point out that these findings provide evidence that practitioners are finding ways to survive and help despite the hegemony of the medical model:
"It is nevertheless clear that it is at least possible for practitioners critical of the medical model to find ways of surviving and making a difference within our current, medically dominated mental health system."
They conclude:
"We hope that not only psychologists but other workers will find it useful when grappling with their own dilemmas."
****
Cooke, A., Smythe, W., & Anscombe, P. (2019). Conflict, compromise, and collusion: dilemmas for psychosocially-oriented practitioners in the mental health system. Psychosis, 1-13. DOI: 10.1080/17522439.2019.1582687 (Link)