Teachers are on the frontlines of the debates surrounding Attention-Deficit/Hyperactive Disorder (ADHD) identification and classification. New research, from an interinstitutional team of researchers from Sweden and the Netherlands, analyzed interview data to assess teacher thought processes regarding ADHD overall, and attitudes towards medication prescription associated with ADHD.
Thirty teachers were interviewed, most of whom had some experience working with students with prescriptions for ADHD medication. Results from thematic analysis of semi-structured interviews suggested that teachers harbored overall "ambivalent" perspectives regarding medication for ADHD-type behaviors, but that they reported perceptions of more positive outcomes associated with ADHD medication among their students than negative symptoms.
The researchers, Maruschka N. Sluiter, Albert W. Wienen, Ernst D. Thoutenhoofd, Jeannette M. Doornenbal and Laura Batstra, concluded that many teacher perspectives regarding medication for ADHD had been informed by anecdotal experience instead of empirically-supported information, revealing a need for teacher "-access to verified and up‐to‐date information on ADHD and medication."
"Over the past decades, a large and controversial increase in Attention Deficit/Hyperactivity Disorder (ADHD) medication use by children has been observed in many studies worldwide," they write.

"This corpus of evidence can be divided into (a) empirical research about the efficacy of medication— sometimes studied in comparison to other interventions—on for example symptom severity or social and school‐based outcomes and (b) more general critique of the benefits of medication use."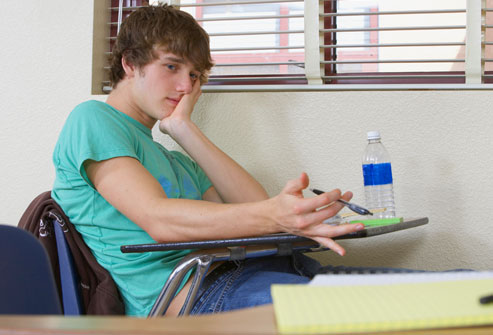 While prevalence estimates vary, and there has been much debate regarding the validity and parameters of ADHD in general, the authors suggest that 8.4% of children in the US received stimulant medication for ADHD in 2016. Similar trends are visible in many other countries throughout Europe.
Many experts and researchers on a global scale have raised concerns that typical childhood behaviors, such as restlessness and inattention, have been pathologized based on incompatibility with externally imposed expectations (e.g., educational standards and structures).
As in the research arena, variability in perspective (and knowledge) can be seen across families, teachers, and counselors regarding the function and treatment of ADHD-type behaviors. One recent US-based study highlighted that teacher perceptions of the value of ADHD treatment varied as a function of teacher race and school socioeconomic status (SES), with less skepticism among white teachers in higher SES school communities compared to African American educators and those in lower SES communities. Due to the study's small sample size, the need for continued research was indicated. Research has also shed light on common misconceptions assumed by school personnel regarding ADHD.
Sluiter and colleagues work, evaluating interviews that occurred with teachers in the Netherlands, contributes to a growing body of research associated with school personnel attitudes surrounding student ADHD diagnosis.
This publication reflects explicitly the results of a post-hoc reanalysis inspired by a first review of the data suggesting that "-teachers that were interviewed about ADHD spontaneously associated ADHD with medication." The inclination to link the occurrence of ADHD-type behaviors with medication prompted a more thorough dissection of teachers' concepts of this link.
Thirty interviews (one per primary school-level teacher participant) were examined using a qualitative, grounded theory approach to thematic analysis. Responses to four interview questions related to medication for ADHD were pulled for analysis in this study, resulting in a systematic review of 218 total relevant interview fragments.
The findings are consolidated in the following summary by authors:
"Many of the teachers link ADHD to medication. They sometimes even make this association immediately or talk about ADHD and medication as if inseparable, two sides of a single coin. In some cases, they are actively involved in the process of distributing medication."

"Furthermore, while the teachers' talk seems overall ambivalent towards medication, individual respondents mainly report positive effects of it. Finally, the teachers' talk suggests that they access many different sources for their knowledge about medication, including their own experiences, others' experiences and media."
Of note, Sluiter and team emphasize that in none of the interviews did teachers mention seeking research-based resources regarding ADHD medication. As observations and suggestions by teachers often prompt evaluation processes for ADHD and teachers are sometimes entrusted with medication administration, a lack of training and knowledge-base in this area could be interpreted as a cause for concern.
"The findings from this study suggest that teachers should be better educated in relation to ADHD, ADHD medication and its effects on the short and long term and be more knowledgeable about alternative approaches and interventions for hyperactive and unruly behavior, especially those that are directly relevant to pedagogy. This training should be based on scientific evidence that adequately reflects scholarly agreements and disagreements on the topic."

"If teachers are made aware of [some of the] negative effects [of medication] and of effective alternatives to achieve the goals and know how to administer them, they may be more inclined to consider what optimal balance may be obtained between medical and nonmedical, perhaps also more pedagogical, alternatives to medication."
****
Sluiter, M. N., Wienen, A. W., Thoutenhoofd, E. D., Doornenbal, J. M., & Batstra, L. (2019). Teachers' role and attitudes concerning ADHD medication: A qualitative analysis. Psychology in the Schools. (Link)
***
Mad in America hosts blogs by a diverse group of writers. These posts are designed to serve as a public forum for a discussion—broadly speaking—of psychiatry and its treatments. The opinions expressed are the writers' own.
***
Mad in America has made some changes to the commenting process. You no longer need to login or create an account on our site to comment. The only information needed is your name, email and comment text. Comments made with an account prior to this change will remain visible on the site.