In a new study published in JAMA Psychiatry, researchers investigated whether they could use EEG (electroencephalograph) technology to predict whether people would feel better after taking an antidepressant medication. They found a number of slight correlations in their EEG results, but the predictive value was almost nothing (about 5%). A somewhat more stable correlation was found for better placebo response, rather than better antidepressant response. However, most, if not all, of the results might have been due to statistical noise and might not represent true results.
The researchers write, "The effect sizes were small for most of the significant features found to moderate treatment outcome and, therefore, call for replication."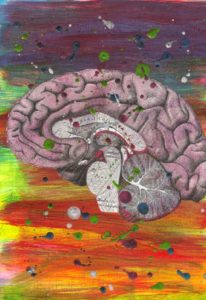 The analysis was led by Stanford researcher Camarin E. Rolle. The team also included high-profile Harvard researcher Maurizio Fava, known for being the co-principal investigator on the STAR*D antidepressant trial. The study was a post-hoc secondary analysis of data from another trial, and was not prespecified by the researchers—which already means that the results should be interpreted with caution.
The study participants were 221 people at four different clinics. All had a depression diagnosis but were not already taking antidepressant medication. They were randomly assigned to receive either sertraline (Zoloft) or placebo. Researchers performed an EEG on each participant before treatment, and this data was connected to the participants' score on the Hamilton Depression Rating Scale after eight weeks of treatment.
Adrienne Grzenda at UCLA, and Alik S. Widge at the University of Minnesota, wrote a commentary about the study, also published in JAMA Psychiatry. They provide important context for the results.
"A recent meta-analysis found that no published EEG biomarker met standards for clinical reliability in predicting antidepressant response, largely owing to poor methods," they write.
But the analysis by Rolle and colleagues was superior in that it used data from four different sites, and provided a cross-validation analysis to test whether the results would be stable enough to generalize outside of the small dataset in the study.
Unfortunately, according to Grzenda and Widge, the cross-validation "suggests that many of the observed features may not be fully stable." The results found by the researchers might be due to "overfitting." That means that a statistical model successfully explains some of the initial data it was tested on, but doesn't work when exposed to new data.
Another problem with the study, according to Grzenda and Widge, is that it's impossible to precisely measure every single participant's brain structures. Variations in the placement of electrodes for an EEG, and variations in the structure of individuals' brains, mean that it's impossible to compare EEG results with certainty.
Although Rolle and colleagues used their best methods to account for this, that still involves comparing individual brains to a standardized model brain, which is almost certain to be different from the actual structures of an individual's brain. All individual physical characteristics vary to some extent between people, and there's no real way to capture that variation in brain scan studies.
According to Grzenda and Widge, "With a limited number of scalp electrodes, an infinite number of brain patterns could produce the observed EEG, depending on one's assumptions about the conductivity of bone, skin, and cerebrospinal fluid."
The actual findings of the study were the following, according to Grzenda and Widge:
Although frontal lobe regions are theorized to be involved in depression, none of those regions were correlated with improvement after treatment;
Although connectivity within brain regions is one mechanism by which antidepressants are theorized to work, that was not correlated with improvement after treatment; and
"None of the identified features changed during treatment, a puzzling disconnect between moderation and mechanism."
Grzenda and Widge write that even for the moderators that were found, the effect size was small enough that "their ability to explain response variance may be quite modest." They also write that depression is a heterogenous construct that is difficult to operationalize, as is the notion of "treatment response," and that a study like this could "obscure" crucial differences, rather than providing helpful information.
Nonetheless, Rolle and colleagues conclude that their study might help elucidate the brain pathways by which the placebo effect works to improve mental health. "From a treatment perspective, capitalizing on the therapeutic components leading to placebo response differentially from antidepressant response could provide an alternative direction toward clinical treatment of patients with depression."
****
Rolle, C. E., Fonzo, G. A., Wu, W., Toll, R., Jha, M. K., Cooper, C., . . . & Etkin, A. (2020). Cortical connectivity moderators of antidepressant vs placebo treatment response in major depressive disorder: Secondary analysis of a randomized clinical trial. JAMA Psychiatry. Published online January 2, 2020. doi: https://doi.org/10.1001/jamapsychiatry.2019.3867
Grzenda, A., & Widge, A. S. (2020). Electroencephalographic biomarkers for predicting antidepressant response: New methods, old questions. JAMA Psychiatry. Published online January 2, 2020. doi: https://doi.org/10.1001/jamapsychiatry.2019.3749