The psychiatric hospital of today might appear as a foreign, scary object to the mind who has never visited the institution. It represents the unknown, the territory that one is terrified of, but at the same time attracted to with natural human curiosity. Let's be frank here: we want to know what is inside and who is "hiding" there.
In the eighteenth century, in Europe, many mental institutions called "asylums" were open to the public. In exchange for some entrance money, interested visitors could have a peek: they could stroll in the corridors and observe the patients inside. It was a popular destination by all accounts. People found "madness"—or rather, what is assigned to the term—interesting and irresistible.
Michel Foucault wrote about it extensively, presenting a picture of a typical Sunday morning in Paris for a middle-age couple. They wake up, have breakfast, and then go for a visit to a local asylum for entertainment. Doors were open to the eager public, and the asylums never lacked in visitors. It is indeed interesting, and probably more attractive than going to a theatre or the modern cinema. People aren't acting there, and they are real.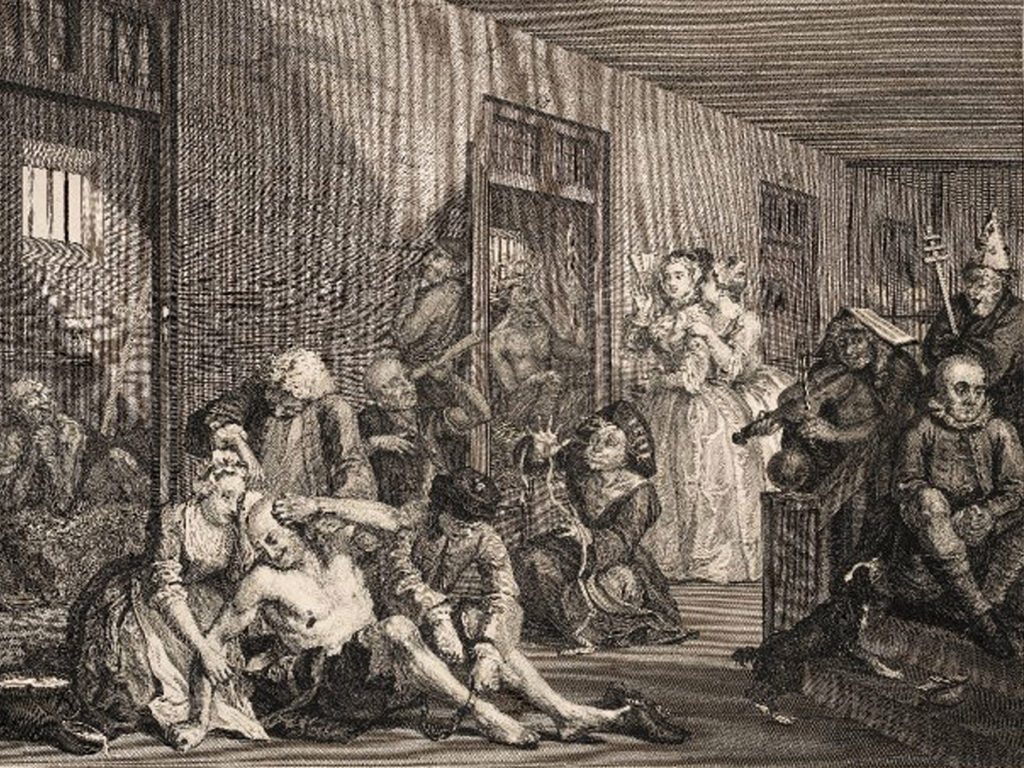 Today, that same curiosity about manifestations of "madness" is satisfied via books or, more often, via movies. It isn't by accident that such movies as Girl, Interrupted and A Beautiful Mind were such a big success: "madness" has always been fascinating, and will always attract and terrify the human mind at the same time.
But let's look at the psychiatric institution of today. It isn't by accident that doors to it are closed to the curious mind, and only those who are unlucky end up being inside, on the wrong side of the equation—being a patient. The psychiatrists are the ones who walk really free there, looking, observing, analyzing, and then administering the cocktail of modern drugs. We read some stories, we get some news, but it is all presented to us as "mental illness," part of the bigger discourse on "mental health."
These stories hide the truth of the modern psychiatric narrative: that real, nice people end up there, and the psychiatric experience is likely to ruin one's life for good. The drugs they prescribe don't help with anything, and the stigma which gets attached after one receives a label or diagnosis is forever a scarlet letter on one's life CV.
I have been unfortunate enough to deal with the psychiatry from "inside" and thus, am an unfortunate witness to the horrors behind the machine. I am also an academic and thus, am interested in the narrative—how my own personal story becomes part of a bigger picture. My story is unique, as are many others, but we all become just statistics in the psychiatric tale. We are all "patients" and we are all "insane."
The mental health narrative of today is the continuation of the history of the psychiatry, beginning with the age they call "enlightenment," when the doors were closed to the curious, and only the patients and treating "doctors" were allowed inside. I am not sure it was done out of good will, because it banned the witnesses of the injustices happening there. It is really taking the truth out of the terrifying tale hidden in the modern mental health narrative. People are often held against their will inside these institutions, though their only "crime" is that they dared to have weird thoughts or hear voices.
The modern mental health narrative is the recycling of the psychiatric song to present it to us as something innocent, mundane and even good. Yes, we should think about the sanity of our minds, take care of our bodies, sleep, eat well, and exercise our bodies and minds. However, this tale that appears innocent hides the fact that it simply scares people into a pattern of normality. A pattern where everyone should be the same, behave the same way, and do the same things as everyone else: think about which car to purchase, where to spend the next holiday, and whether to swipe left or right on Tinder. Once you start questioning the so-called normality of student loans, paying mortgages, marriage, kids, gym membership and the like, you will exhibit "abnormal" behavior, I can guarantee you that. You will start questioning things and stop and wonder: Why are there so many homeless people on the streets? Why is Africa so poor? How can I think of the next holiday when there is so much poverty in my otherwise rich land?
Your weird thoughts will scare you, and you might become what they call "depressed." Depression is definitely not an illness, but it is a fact. It is nothing else but a natural reaction of a mind that wants more from life than the boring tale of "normality." If you dig deeper, you might even get onto the scale of what they call "bipolar," and if you embrace your weird thoughts with zeal, and voices finally reach you (the real spirit world hiding behind our "normality" narrative disguised as "the age of reason and enlightenment"), then you might get the label of "schizophrenic."
All these labels are just words invented by the twisted tale of psychiatry to deceive our minds and prevent us from thinking and behaving differently. There is no mental illness, and there never was. People simply get unwell, and bad things happen in life.
But the psychiatric institution of modern times, with its closed doors, lingers on top of our minds as the forbidden bad fruit that no one should touch, terrifying us and scaring us, because let's be frank and honest here: no one wants to end up there. And not because one is afraid to become "ill" (we are all prone to "madness," let me assure you), but because of the narrative of mental health.
Trump demonstrated the scariness of the narrative to perfection when he condemned all "mentally-ill" people. He showed how strong the stigma is and that the slogan "mental illness is like physical illness" is just words into the air. Trump demonstrated the real attitude toward people with "mental illness." He simply doesn't know who they are, and what is really taking place—behavior and thought control by the psychiatric institution.
And only a few of us know and see the truth.
The psychiatric institution is mostly an abstract body hanging over our head, sort of a bad headmaster telling us what to do and how to act—a behavioral control manager. It terrifies us with its promise of inflicting a label on the innocent mind, but at the same time, lures us for a peek inside.
Today we don't have the possibility for a peek inside, but we remain, nevertheless, very curious. We do wonder what is taking place inside, who is held inside, and what it looks like. Mental health patients are your biggest celebrity story, hidden behind the bars of the psychiatric system, which doesn't want to reveal its badly written script.
I was once inside and thus, am inviting you to have a look. I will take your hand, and encourage you to join me, on an exploration of the inside of the psychiatric institution.
Let's open the door.
Once we manage it (and it isn't easy as the doors are really locked), we proceed along a corridor. Psychiatric hospitals operate according to the principle of the panopticon, as Michel Foucault describes in his brilliant book, Discipline and Punish: The Birth of the Prison. He tells us about the emergence of the modern prison system, operating according to the principle of surveillance. "He is seen, but he does not see; he is an object of information, never a subject in communication," Foucault tells us, referring to the fact that in our current behavior surveillance system, we act like everyone else due to fear of being observed and punished if we do something wrong. The panopticon has a structure: you have a central vintage point through which you can see everything, scaring the subjects into compliance. The subject is always observed.
Modern psychiatry operates according to the same principle, and so do its facilities, such as mental health institutions. In each long corridor of its facilities you have a central point, where psychiatric nurses hold their watch. It is indeed a watch, and if you think that they provide care and show love, then you are wrong. Most of the time they write notes and if we glance inside the notes we will see the following: "Today M dressed more appropriately and was nice to the staff," or "This morning G stopped his uncontrollable laughing and showed some insight into his behavior."
Trust me, school is a piece of cake to pass in comparison to what is happening in the notes and observation techniques of the staff in psychiatric hospital, and none of them ever shows any insight or comprehension into their own idiocratic stance. They simply don't know what they are doing and why, because of the system of the psychiatric establishment. Those who show any weird thought pattern or exhibit strange behavior should be put inside the mental health institution and be re-trained as to how to behave normally.
The nurses sit at their central point, visibly bored and annoyed. They don't like the patients who come with constant demands, which are always the same and don't change. "Can I go out, please?" "Can I have a bath?" "Can someone, please, take me on a walk?" "Can I call my friend R?" "When can I see the doctor?" "When will I be discharged?" These are the irritating demands of the patients, taking the attention of nurses away from their notes—and notes take most of their time and attention, because of someone out of their mind who invented psychiatry: it isn't the patient that matters, but what is written about him/her in the notes. The notes are shown to the treating psychiatrist and stored on shelves, although no one will ever glance a second time into the books and volumes describing us, describing the behavior of those unfortunate enough to step outside the scales of normality.
But let's move away from the central post and look at the room next to it. It is a room with a phone, where patients queue (when they are allowed) to make a call, and where the treating psychiatric consultant deals with the patients, if other rooms are occupied. It is a small, stinky room, with a closed window, where both the consultant and his patients feel suffocated and mal-at-ease. The doctor doesn't want to be there, it is the patient who asks to see him again and again, with the same annoying demand as always: "When can I go home?" she asks.
You might think it is funny, but it isn't funny at all for the patient on the wrong side of the equation. The power machine is firmly in the hands of the consultant psychiatrist and only he can decide on your fate. And it is indeed a fate: one day longer and the patient can be driven to such a despair that he will try to take his life. And if this happens, the cycle becomes much longer, because in that case, the patient is proclaimed as a risk to himself, and is kept behind the doors for much longer. Then it is just survival instinct that might save the patient and give her the strength to endure it all longer.
Let's walk away from the room and have some fresh air—in the garden that is usually present (thank god) in the facilities. The garden is used for the patients to have a cigarette and to pray. It is here that most interesting conversations take place, away from the observational post of the nurses. It is here that they dare to quickly exchange their own thoughts, such as sharing the voices they hear and the visions they see. It is here that they also get advice from someone who is more advanced in their knowledge of the panopticon, such as, "Don't say all this to the doctor." One needs to comply, behave as normal as possible, and not reveal one's mind to the psychiatrist. Following the rules also means being extra-nice to the nurses who are not nice back to you, wearing presentable clothes, and acting like you are at an office meeting, definitely not as if in the hospital, oh no. I feel much more relaxed in my working place than I ever was inside a psychiatric hospital.
The psychiatric hospital of today, to conclude my narrative, is a panopticon, a modern prison for the daring mind and for weird behavior. We had a small peek, but in reality, it is much more distressing for the one who is being observed. In some hospitals they have cameras in the rooms to supervise the "patient," and in some establishments, there are people who stay there for years, injected with drugs against their will, losing all hope and desire for living.
It isn't funny, it isn't entertaining, and it is bad.
But all who are lucky enough not to end up there march past this monstrosity, oblivious to the torture of the mind happening behind those walls.
***
Mad in America hosts blogs by a diverse group of writers. These posts are designed to serve as a public forum for a discussion—broadly speaking—of psychiatry and its treatments. The opinions expressed are the writers' own.
***
Mad in America has made some changes to the commenting process. You no longer need to login or create an account on our site to comment. The only information needed is your name, email and comment text. Comments made with an account prior to this change will remain visible on the site.