It is uncomfortably difficult to look at Phoebe Sparrow Wagner's art.1 That much is intentional—it is unlike so many soft and serene scenes dotting the history of art. Instead, the artist relies on the ability of the image to shake up the viewer's sense of wellbeing and security. The reason: to allow the average individual to better identify with the plight of a mental patient.
Diagnosed as schizophrenic, Wagner has railed against psychiatric labeling, psychotropic drugs, and dubious methodologies used to "treat" mental illness. At one point, a hospital doctor tried to force a designation upon her, when she replied quite simply, "Look, I'm not schizophrenic and I don't like medication. It makes me feel drugged."2
However, she also learned the hard way that, in those environments, argumentation (and even mere questioning) might lead to an excuse to dole out still more mind-numbing drugs or impose heavy-handed monitoring, including seclusion and restraint. Indeed, for patients like herself, psychiatric "care" has often relied upon a dialectic of fear—the exact opposite of what is needed for those already traumatized by psychosis and problems in living.
Certain pictures rendered by this artist problematize that trope and simultaneously defy the viewer's desire to peer deep into space. In works like Not Waving but Drowning, all the visual information is made parallel to the picture plane. It is littered with a robust feast of psychological iconography: an eye dominates the upper field, as bloodshot as it is "all-seeing" or "provident"—perhaps a side effect of so much drugging. A cross wrapped with barbed wire is inserted into a chemical beaker at the right-hand side, seemingly signifying an unholy experimentation. There is a human head in profile commanding the center of the work; and the titular drowning figure emerges from a brain/body of water inside it. (No one seems to be coming to her aid.)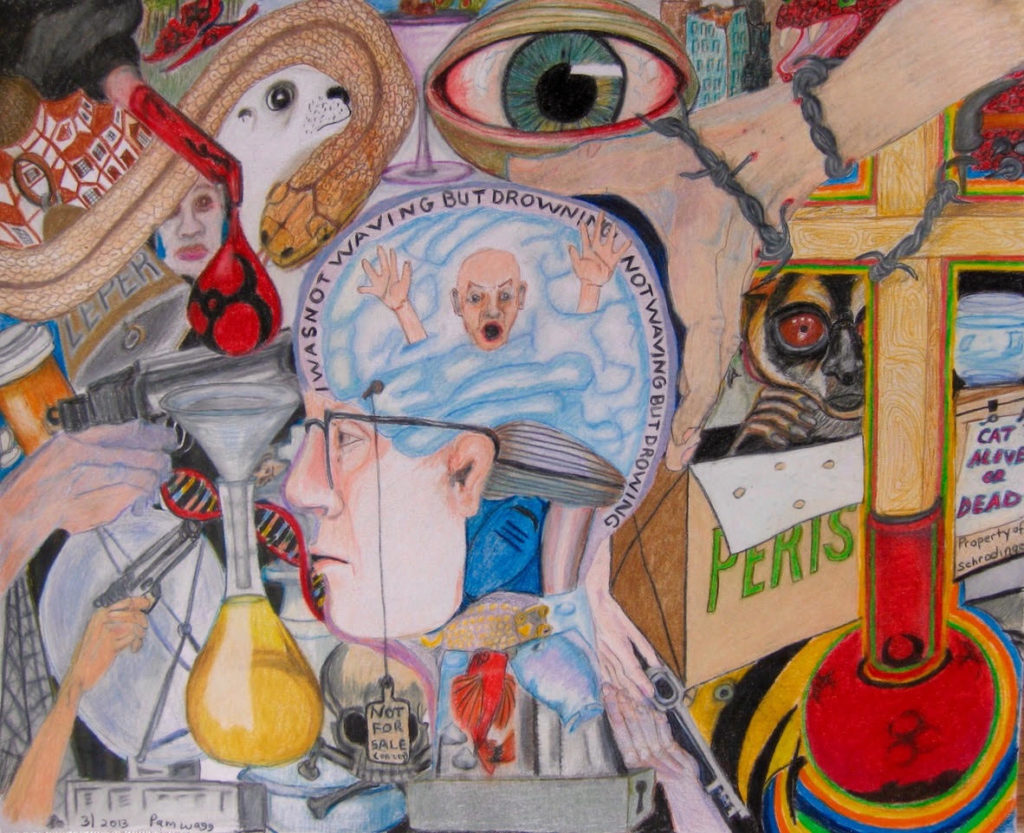 The viewer may be struck by certain text wrapping: "leper," for example, distinguishes a bell at the left—a biblical symbol of alienation. Meanwhile, a heightened feeling of both danger and ennui spreads like a disease, and any relief is quickly blocked out. Red liquids with black "bio-hazard" indicators repeat in the upper-left and lower-right corners, symbols that the sufferer may have "contaminated" the environment somehow.3 Through these collected clues, the artist lets us know we are in an entirely different societal domain, one where common goodwill toward the Other and basic human rights can quickly diminish altogether.
A further look at Wagner's work will bear out Not Waving's complex, planar design. In the drawing Everything You Touch You Destroy, we are given a glimpse into the horrors of psychosis and dysfunctional psychiatry, combined. The very title likely refers to the befouling "voices" that the artist has suffered.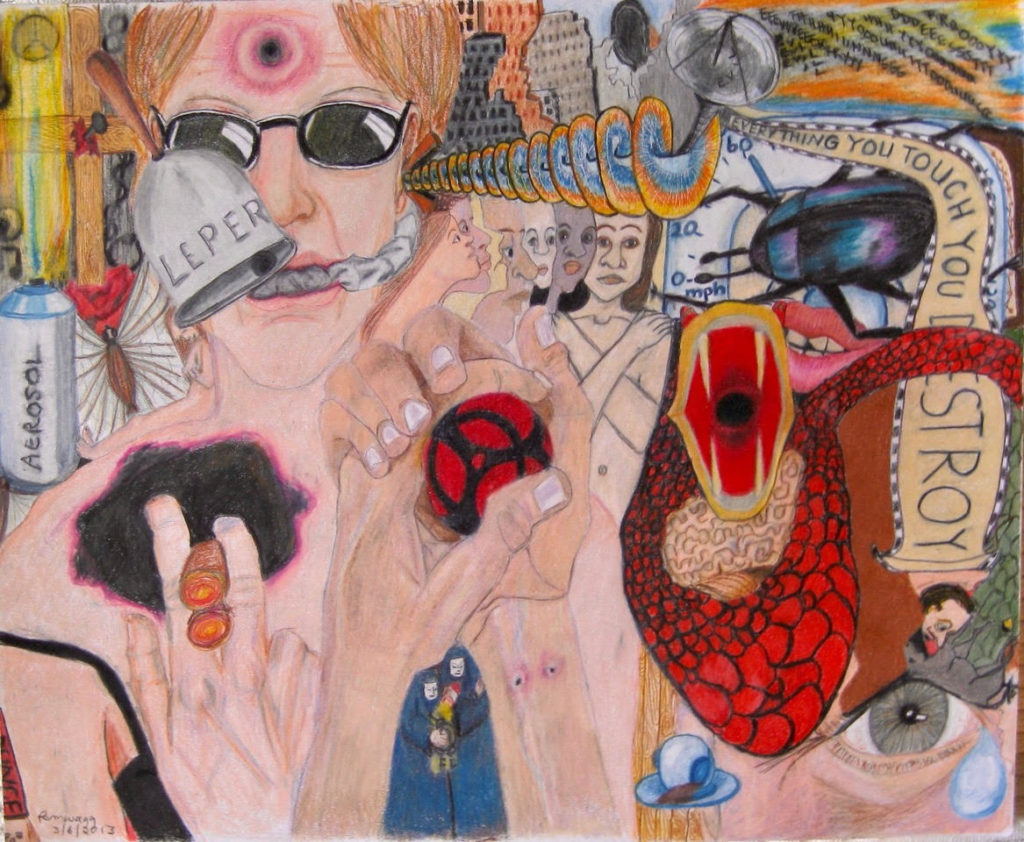 In 1999, a psychotic episode involved the idea that the world was ending, that that was her fault, and that she "didn't try hard enough to warn people" of the perils of the end.4 Guilt over sins not committed has plagued Wagner, sometimes manifested as voices. Here they appear as a narrative on a script that turns into a spiral, winding into a tortured figure's ear. (She is gagged by an unseen authority and cannot speak to her plight.) The voices accuse, negate, and tell her to do strange things, like self-harm.  They are not neutral or benign: "Will you kill you Pam Spiro, Spam pam pam, kill you will you…"5
The serpentine quality of the spiral is echoed by the blood-red, venomous snake at the right—iconographical symbol of evil and temptation, stemming from archetypal descriptions of the Garden of Eden. Snakes also appear on the Caduceus of Hermes, typically used as a symbol for medicine in the U.S.—a fact the artist has emphasized.6 The "leper" bell repeats here, as do the cross and eye motifs, the latter now with a tear. One is reminded of Wagner's poem "Fusion," which reads: "If I looked you in the eye I would die."7 A "peace" symbol is barely visible in the far-left corner, but it is drowned out by the white noise of so many traumatic visuals.
Another body of images by Wagner highlight the crudity of forced psychiatric treatment. Optics of Involuntary Treatment: What They Don't Want You to See… depicts the use of 4-point and 5-point restraints, among other abuses. Special glasses and lenses are used to "frame"—and thereby actually see—what is ordinarily not seen. One pair of glasses reveals an individual on a hospital bed with restraining belts around her feet, hands, and chest. Another vignette shows a police officer escorting a shackled figure. Elsewhere, five people pin down a naked individual in order to restrain her (and, presumably, forcibly medicate by injection).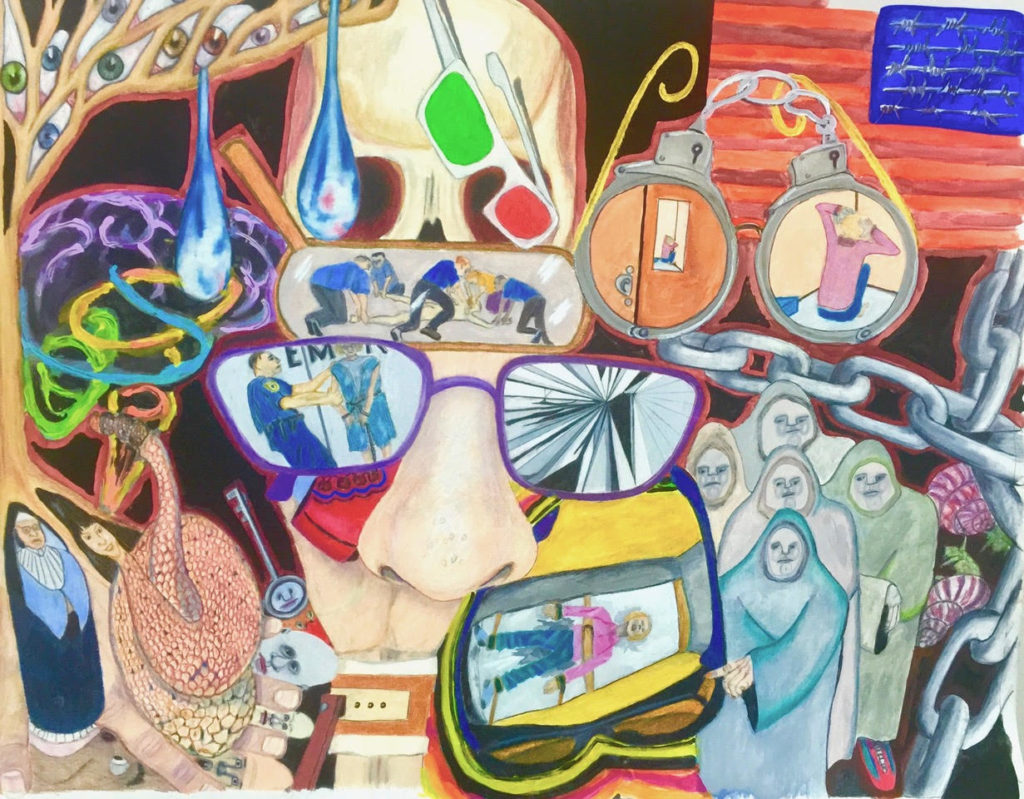 Handcuff openings act as "windows" into worlds of seclusion. The U.S. flag appears above in reverse, as like a mockery of the civil liberties it is so often associated with (e.g., freedom or due process of law). It might also be an allusion to the artist Jasper Johns, who famously incorporated flags into his work. Alternatively, as part of her psychosis, Wagner once had to signal a patriotic salute to the flag, as spies were hunting her down for capture.8
Five "watchers" seem to preside over the scene—figures who were part of Wagner's hallucinations, governing her actions on earth and appearing in her Watchers at the Tree of Creation. In the poem "Paranoia," she wrote: "Someone is always watching you, watching / and waiting for whatever is going / to happen to happen."9 A snake-like figure makes another appearance, this time with a human head and rattle. As "optics," these do not bode well.
It is the aforementioned works, those bejeweled with so many visuals, that we need to examine first in order to better understand other, more spartan pictures by Wagner.
By the time we come to her hospital imagery, we are still somewhat ill-prepared for the minimalistic tableaus presented to us. Indeed, little, if anything, can prompt us for the jarring visions of the wholesale loss of civil liberties—personal violations that, sadly, regularly occur in Western hospitals and treatment facilities. Chemical restraints are often met with physical restraints in what can only be described as a medical torture chamber.
In 4-point Restraints for Breaking the Rules at IOL presents such a dilemma. The patient is the lone figure in the room, splayed out over a soiled bed. Her hands and feet are locked into restraining belts. She is alone, vulnerable, and completely at the mercy of a not-so-neutral hospital staff.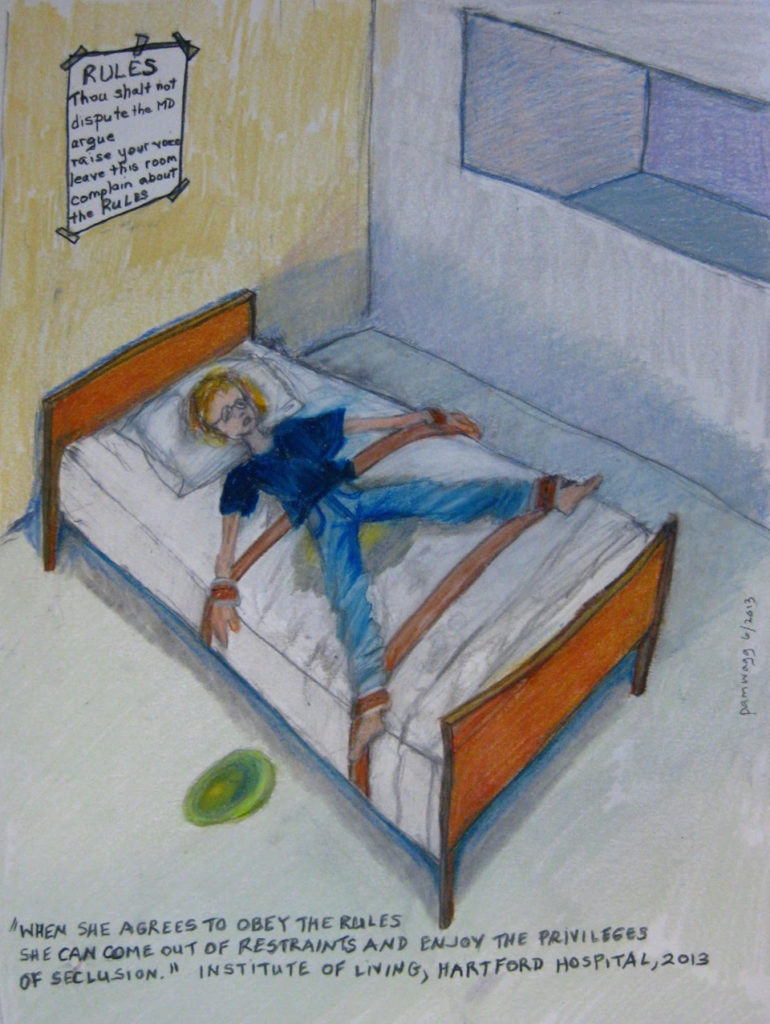 The "writing on the wall" belies its "authority" and suggests that the use of restraints was uncalled for, as over a trifle rather than a mountain. Ancient Hebrew script is invoked with a dominating "command": thou shalt not dispute the MD or even complain about the rules. We are given a power dynamic that is highly askew, one that should be quite bothersome to most any viewer's conscience. Why must the degrading techniques be used? Where is the all-seeing "eye of wisdom" ever-present in her other works? How is justice in any way served by such an egregious lack of personal autonomy? Why the added trauma for someone already in distress? (Never mind ethics or oversight, just obey.)
"Seclusion" is suggested as a "reward" for the patient if she obeys the paternalistic, patronizing rules. Perhaps a notch better than restraints, it is yet not a situation one would wish upon anyone else. We see a glimpse of this suffering in her Ice Hospital. Here, the eye has even less to go on—we are cornered into the two joining walls, along with the sitter.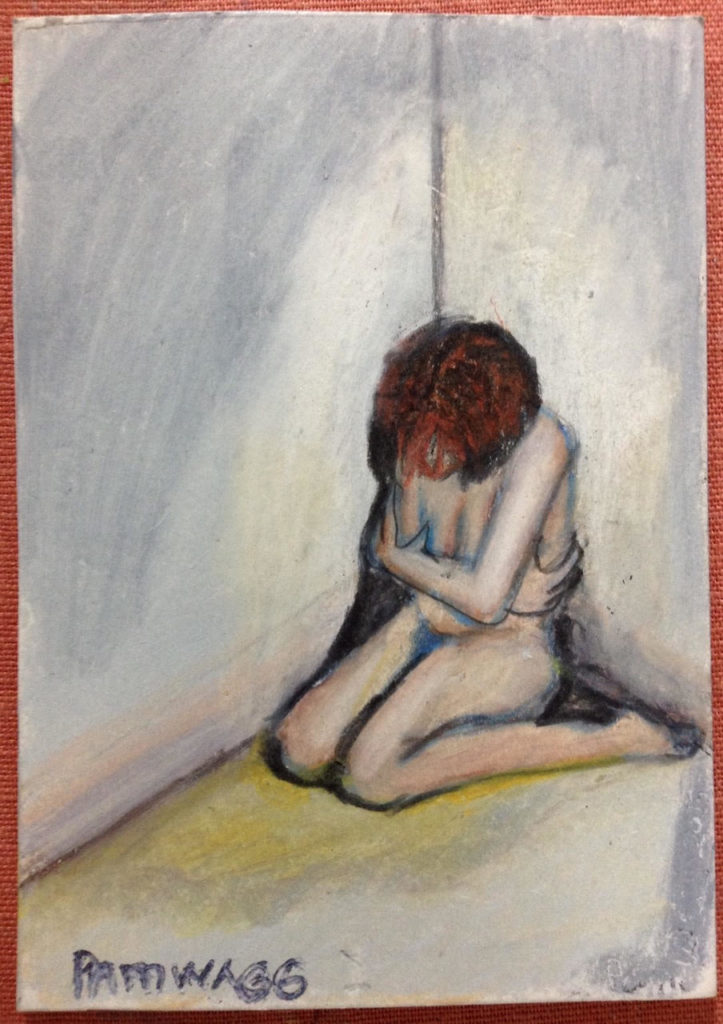 Wagner wrote that she has spent long blocks of time in seclusion—e.g., six weeks—and that, at one hospital, patients were regularly denied clothes, phone calls, visitors, or mail—conditions she calls "useless and cruel," particularly since she herself needs such distractions in order to quell the voices.10
Unlike so many female nudes in the history of art, the main figure in Ice Hospital appears not as a symbol of beauty but of institutional betrayal. The monochrome tones and haunting mood might recall such realist painters as Edward Hopper, known for making the idea of loneliness into a solid visual fact. But if there is a mild ennui present in his Morning Sun (1952), it is relieved by the presence of the natural light and physical beauty of the sitter. There is a window with a view. Ice Hospital is absent of such transcendent light—any suggestion of illumination here is but the slightest glow of what surely is artificial light. (Psychiatric patients are often not let outside.)
We understand that the individual is not only violated (as naked, not nude) but cold, shivering—and her pose represents all she can do to keep warm. It is a marked contrast to Hopper's poised figures. There is little here in terms of self-defense against the elements, not even a blanket—and Wagner's figure becomes one with the chromatically cool colors of the hospital wall and floor. Head down, she does not return our gaze.
Crucified #1 presents us with charged emotion and a sense of psychological urgency. A figure, seen crying out, is laid atop a cross on a hospital bed, with restraining belts where traditional crucifixion spikes would be. She is being crucified, it seems, but not by nails: the very instruments of hospital "treatment" are being indicted in what becomes something akin to a capital punishment.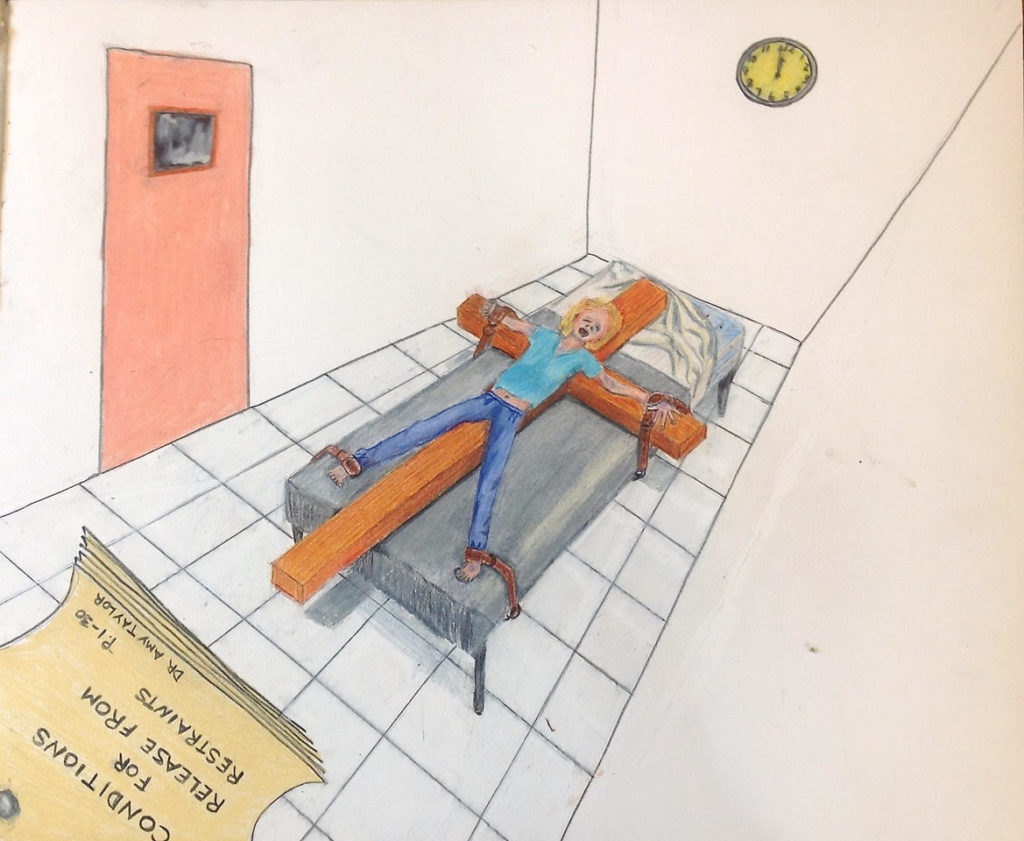 It is a keen, succinct synthesis of historical religious painting, modern death penalty imagery, and socially engaged art depicting captive populations. Van Gogh's paintings of the asylum of Saint-Paul-de-Mausole at St. Rémy are important precedents, and his forced perspective and heightened colors are significant for us here, too.
The intense mood in Wagner's Crucified #1 is not conveyed so much through color, though, but its absence—bare white walls, one with a clock just about to strike midnight, the proverbial "last minute." Again, we find some script: this time it confronts us in the left-hand corner—it impedes the eye's easy escape from the unit. They are "conditions for release," but they hardly seem as important as the main action: Why is someone being effectively tortured in a hospital? What (little) was actually done to deserve a punishment so severe? Who wouldn't cry out in horror in such a situation (and thereby violate the myopic, sadistic "terms")? Why the legalese for an innocent victim? It matters not—door closed and presumably locked, there is no way out of this white martyrdom.
Wagner once wrote of others what might be fittingly said of her figure here: "Whatsoever you do unto the least of these, you do unto me."11 Furthermore, we do well to acknowledge that both psychosis and deep spiritual connection can foster the notion that "you yourself [are] God"—something that isn't interpreted by medical doctors, which therefore must be "treated, medicated, controlled".12
Such difficult, inconvenient truths about the realities of interventional psychiatry are further made evident in Michael E Balkunas MD Giving Shot of Haldol to Terrified Psychiatric Patient. This piece happens to have a notable precedent in modern art. In 1922, the German artist Otto Dix painted clinical psychologist Dr. Heinrich Stadelmann in clashing and garish tones. Green wars against a backdrop of red and orange in the picture. The figure's face is not normal flesh; the colors are skewed. It looks like a cross between neon lighting and jaundice—the fantastical eyes are yellowed, and his face is glowing in an abnormal way. He appears far more psychotic than any individual he might treat.
Similarly, Wagner's Balkunas is presented as "mad": the eyebrows are pitched, the forehead is furrowed, and the eyes are beady red. Purple drool stems from either corner of his mouth. He seems intent only on his terrible injection and lacks all humanity. The exaggerated size of the doctor shows his "importance" in what is known in art as hierarchy of scale. The patient puts a hand up, but it is futile. His or her fate seems, instead, to be spelled out by the restraining bed in the background. An array of onlookers completes the scene—a somewhat judgmental looking group, aiming only to satisfy their visual curiosities rather than be of any serious "help".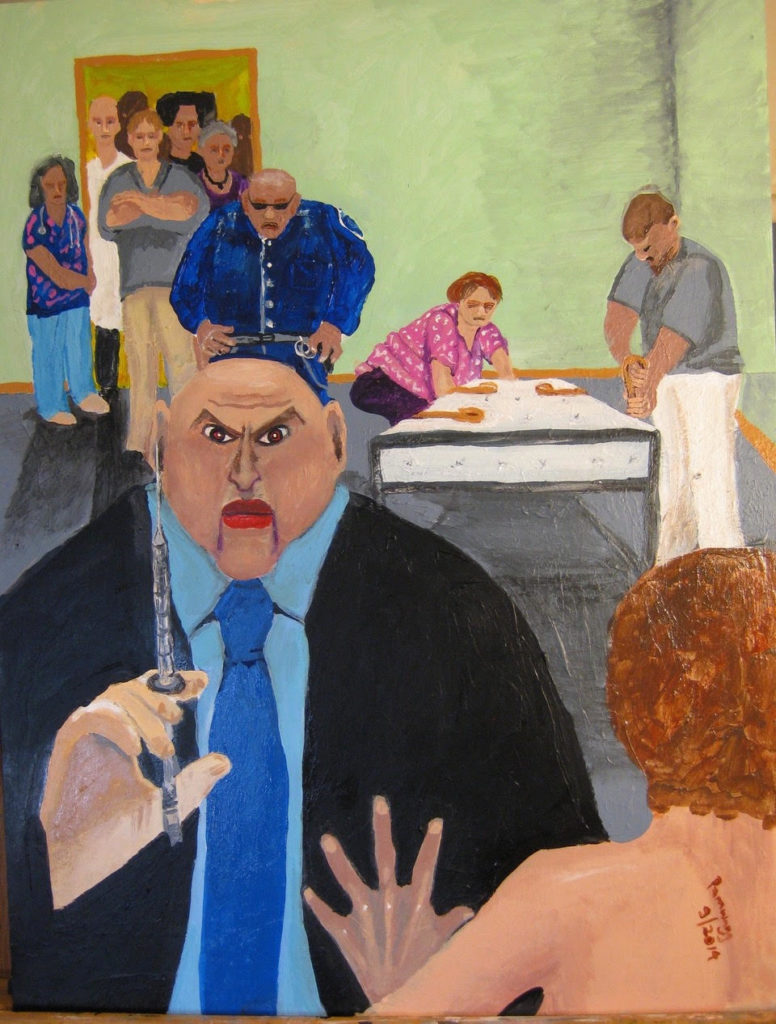 Such was the reality for Wagner and for so many others who have suffered at the hands of the powerfully complacent. Her actions here as artist—in contrast to patient—is the one modality that restores agency to an otherwise unwilling subject. It is nearly Shakespearean:
"And all lingers even so beyond the power of words … and the mirror repeats the visible world."13
***
Mad in America hosts blogs by a diverse group of writers. These posts are designed to serve as a public forum for a discussion—broadly speaking—of psychiatry and its treatments. The opinions expressed are the writers' own.
***
Mad in America has made some changes to the commenting process. You no longer need to login or create an account on our site to comment. The only information needed is your name, email and comment text. Comments made with an account prior to this change will remain visible on the site.