My name is Daniel and I am 25 years old.  I hold a Bachelor of Science degree (pre-health professions/Kinesiology) and am in my last term of a Master's of Science in secondary education/science program.   Because of mental health issues, I currently take 20 mg of Prozac (fluoxetine) and 2.5 mg. of Zyprexa (olanzapine).  For the past several months, I have suffered from what I believe is a reaction to the drugs I'm on: mouth ulceration.  I have had mouth ulcers in the past, but not like this.  Since 2020 began, I have had a minimum of two to five ulcers in my mouth most of the time, with a grand total of about 40 ulcers during this period.  At some points, I've had five to seven ulcers at once.  I am not 100% certain if this is due to my medications, but I strongly believe there is a relationship, and that motivated me to tell my story.
My Backstory
When I was coming home from school one day when I was in the eighth grade, I was attacked by a gang of about a dozen middle-school kids.  The gang beat me up pretty badly, and I was left with a huge lump on my head and quite a few large bruises.  My parents took me to the emergency room and the hospital filed a police report.  No one was ever apprehended.  Since then, I have suffered from emotional distress.
Although I've had migraines since I was about nine years old, by age 15, they were coming regularly—one to three a month.  After being attacked, I began to suffer from extreme migraine episodes when, in addition to getting a terrific headache, I developed gastric stasis problems. Also, the left or right side of my face plus my hand and leg on that side would often get extremely numb.  The numbness persisted over the years and gradually got worse.  I finally visited a neurologist when I was in tenth grade.  I had a headache the day before my appointment (it was not as severe as at other times and I didn't think it was a migraine).  The neurologist administered an EEG in his office, and we learned that my headache had been a hemiplegic migraine, which mimics a stroke.
I became terrified of what was happening to me and how numb parts of my body would become.  Sometimes I would wake up with numbness down half my body and heave over the toilet many times until I finally vomited.  During high school, I felt like I was a burden to the nurse's office because my frequent illness made it look like I was gaming the system to get out of class.  I assure you, I was not.
In high school, I struggled with emotional problems.  When I went inpatient during my junior year, I was put on the neuroleptic Risperdal.  I was told little about the drug or its potential effects, so I researched them myself. I believe every patient must be knowledgeable of the side effects related to his or her medications, since in my experience psychiatrists generally are not forthcoming with this information.  Meanwhile, the migraines continued, growing more and more severe over the years.
As I approached 24 years of age, I started to wonder if maybe I didn't need to be on the Risperdal any longer.  No mental health diagnosis had been provided to me when I was discharged from the hospital at 17, so I wasn't really sure why I was taking it.  I had been seeing the same psychiatrist since I was hospitalized. However, the hospital where he worked had been sold and no longer took my insurance, so he advised me he was dropping me as a patient. He explained that he handled children and, since I was no longer a child, he suggested finding another psychiatrist nearer to where I lived.
Eventually, I was accepted into a behavioral health group and provided with a new psychiatrist.  As it turned out, she had a preconceived notion of what was going on and did not want to listen to me.  Without even taking a look at my medical records, she told me she wanted to put me on a particular medication.  Period.  Because of her attitude, I didn't see her again, but one good thing did come of that visit: She ordered blood tests.  When the results came back, they showed that after about seven years on Risperdal, the drug had backfired, dangerously raising the prolactin levels in my endocrine system.  That meant I had to come off of it.  Incidentally, the psychiatrist never actually mentioned this fact. Luckily, I had obtained a copy of my labs and brought the results to the attention of my primary care physician.
While discussing the prolactin level issue with her, I brought up the fact that I wanted to withdraw from the Risperdal and mentioned my lack of success in getting an empathetic psychiatrist to help me.  She said she would work with me, not realizing how far in over her head she would get.
Risperdal Withdrawal
Risperdal withdrawal was the most powerful, daunting experience of my life. During that process, I often felt intense numbness and severe muscle pains in my arms and legs that would wake me up at night.  At the time, my primary care physician suggested getting an electromyograph (EMG) to help find the cause.  When I eventually had one, the physician administering the test asked me if I had been in a car accident.  I was surprised, but expected something to be wrong because of how numb I was getting.  He later told me the EMG results showed that I had cubital tunnel syndrome (a problem with a nerve in the elbow) and a compressed peroneus muscle (in my lower leg and ankle).
Meanwhile, I dropped down on the Risperdal by about .5 mg every month.  By the time I got down to .5 mg of Risperdal daily, my behavior had become obnoxious.  I was nasty to my family.  I didn't want to eat with anyone.  I would go for drives and just park and sit and not come home until after sundown.  Even my primary care physician observed that I was hyper-fixated on things and talking incessantly.  Acknowledging she could not continue to work with me on my withdrawal, she recommended I get an appointment with a psychiatrist, which I did—surprisingly quickly this time.
This psychiatrist just wanted to tell me what he saw and wanted to do.  He would ask me a series of questions to which I was to give "yes" or "no" answers only.  He decided to keep me on the .5 mg of Risperdal and added 20 mg of Prozac daily.  As the Prozac kicked in, I felt as if I had woken up from a dull perception of life and returned to my childhood self.  But those euphoric feelings were short-lasting.  Once the psychiatrist raised me to 40 mg of Prozac, I began to perspire incessantly and my mouth became extremely ulcerated.  So he dropped the dose back to 20 mg.
After a short period, my behavior degenerated again.  I became severely agitated toward my family and, for the first time ever, I had suicidal ideation.  On a day that I was scheduled for a therapy session, I began to rant and rave, so my psychiatrist called an ambulance that took me to a crisis-response center.  From there, I was transported to a mental hospital.  Sadly, I had rescinded my authorization for doctors to share medical information with my family, so when I didn't come home that day, my mother and sister had no idea of my whereabouts.  Fortunately for me, the admissions nurse eventually convinced me to give permission for my mother to be notified.
In the hospital, I was prescribed 2.5 mg of Zyprexa, along with the usual Prozac plus 50 mg of the antihistamine hydroxyzine to help with stress reduction.  I was in the hospital for a grand total of five days.  This was at the beginning of the pandemic; I'd only agreed to a five-day stay, and when another patient in the facility was taken to a medical hospital with a suspected COVID-19 infection, I demanded to be released. With my mother asking that I be released as well, they let me go home.  I later learned that the mental hospital had originally planned for my stay to last 20 days.
Soon after my discharge from the hospital, my psychiatrist decided I should try Tegretol (an anticonvulsant) instead of Zyprexa.  Unfortunately, within a couple of days of starting the Tegretol, I exhibited a rash on my foot, which I learned is a pretty serious side effect.  So, I went back to the Zyprexa, Prozac, and hydroxyzine cocktail.
Painful Mouth Ulcers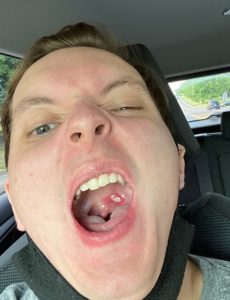 Once home, I began to feel like my old self. But the mouth ulcer problem persisted. From about February until April of this year, I lost a tremendous amount of weight (I am 6'3," but was down from about 200 lbs. to about 145 lbs.).  Part of my weight loss was attributable to the mouth ulceration, as the ulcers made eating excruciating.  The problem persists, and sometimes it is pure agony.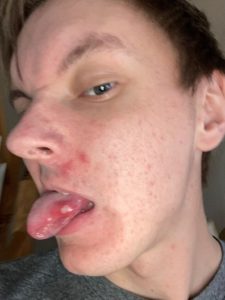 I consulted with my primary care physician about the ulcers.  She suggested that they were caused by the hydroxyzine, so I stopped taking it.  I experienced a very brief reprieve, but then the ulcers returned with a vengeance. As you can see from these photos, they are large, inflamed, and nasty and sometimes occur three to four at a time.
Because I'd never received informat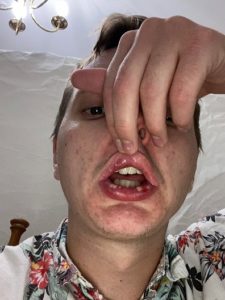 ion about possible drug side effects, I began researching the topic online. I found a case study that documented ulceration in an adolescent who was taking fluoxetine (Prozac).  Additionally, I found research showing some associations between ulceration and the use of Prozac and Zyprexa.
Seeking Validation
I feel that this country invalidates the experience and insights of those who are maladjusted.  Based on my experiences, I'd advise any patient, particularly someone who struggles with physical distress either from an ailment and/or as a result of medication side effects, to investigate their body and what they are putting into it.  For me, one of the best things I did was to take start taking Vitamin B-12 supplements after researching online what might be causing my numbness episodes and migraines.  Not only did my episodes lessen, but I haven't had a migraine now in months. My neurologist later gave me a pat on the back for doing that and attributes the diminishment of my headaches to the B-12 alone. And now that I am off the Risperdal, the brain MRI I had this past summer showed no indication of the nerve issues seen in the EMG during my withdrawal from that drug.
Even though some of my medical issues have resolved, I now believe the universal law for a mental health patient is similar to Murphy's Law—whatever can go wrong, will go wrong.  One extreme, bad situation is transformed into another.  So, if you have numbness and tingling from drug A, and switch to drug B, drug B might cause extreme mouth-related ulceration.  Some of these side effects can lead to depression.  For me, the ulceration is too intense to bear and very demoralizing.
Professionals' attitudes toward my suffering and its causes are also demoralizing.  I can complain about side effects, but because of psychiatry's belief in anosognosia, a patient's unawareness of their mental illness, something can actually be wrong but people will react negatively to my pointing it out, or respond in a stigmatizing way.  In Stephen Soderberg's 2018 movie Unsane, the main character is stalked by an individual from earlier in her life.  This person just so happens to be a mental health nurse at a facility where she had been an inpatient.  When the main character complains about the stalker, the psychiatrist concludes that she is paranoid and needs "more lithium!"
I feel much the same way about my own concerns.  I have shown photos of my ulceration to my health care providers and, except for taking me off of hydroxyzine, they didn't really do anything to accommodate my need for relief from the ulcers and the concomitant pain.  Since when do someone's side effects invalidate his or her human rights?  I'm not a doctor, so how can I know what to look for if I have a bad reaction to a medication?  It's almost as if modern medicine couldn't care less.
***
Mad in America hosts blogs by a diverse group of writers. These posts are designed to serve as a public forum for a discussion—broadly speaking—of psychiatry and its treatments. The opinions expressed are the writers' own.
***
Mad in America has made some changes to the commenting process. You no longer need to login or create an account on our site to comment. The only information needed is your name, email and comment text. Comments made with an account prior to this change will remain visible on the site.