A recent article published in Psychotherapy and Psychosomatics examines the health risks of esketamine nasal spray for treatment-resistant depression. Through an analysis of adverse events reported to the FDA, the authors found several adverse events related to the use of esketamine nasal spray, such as dissociation, sedation, feeling drunk, completed suicide, and especially suicidal and self-injurious ideation.
The international team of researchers, led by psychiatrist Chiara Gastaldon at the University of Verona's Department of Neuroscience, Biomedicine and Movement Sciences, write:
"Esketamine marketing authorization triggered a vivid debate and many concerns, mainly because of the lack of convincing evidence on its efficacy and safety, including the risk of misuse and suicide. Currently, evidence on safety is almost entirely based on the development programs and approval trials," the authors write.
"A pooled analysis on the safety profile of esketamine, based on data from the approval trials, found that it was significantly less acceptable than placebo and that the risk of dissociation was 7 times higher than placebo, with approximately one-fourth of patients treated with esketamine reporting severe dissociation during treatment."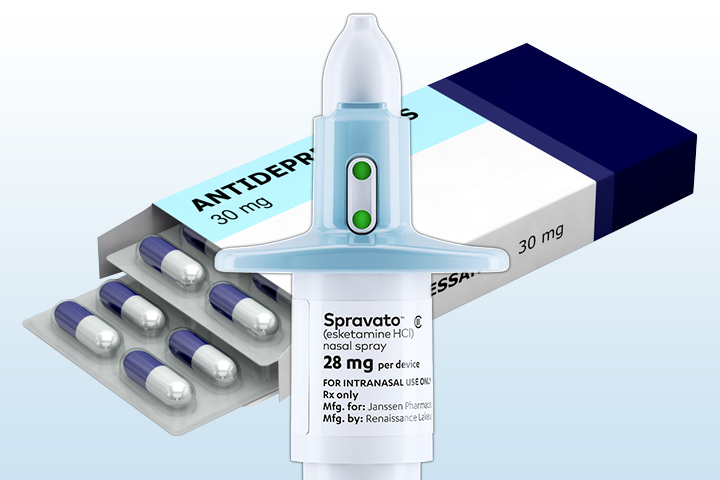 Esketamine, a mind-altering medication related to the club drug ketamine or "Special K," was approved to treat suicidal behavior this year, after being approved for treatment-resistant depression in 2019. Some scholars are critical of the profit-based pharmaceutical motivations behind the development of esketamine, while others question the drug's legitimacy as a miracle cure for depression.
Some research suggests that relapse is common and that esketamine offers little in comparison to placebo. Other studies suggest that it is effective for depression and that the positive effects can last at least one month.
The current study analyzes esketamine-related adverse events (AEs) submitted to the FDA's Adverse Event Reporting System (FAERS) between March 2019 and March 2020.
"Post-marketing safety data" collected by the FDA is considered an important source for gaining knowledge of drug-related AEs. The authors analyzed 2,274 esketamine-related AEs from 962 patients. 46% of patients were female, 29.6% were male, and 24.3% were unspecified. The authors also looked at other factors involved, such as age, weight, the types of AEs ("serious" versus "non-serious"), antidepressant polypharmacy, and co-prescription of other psychiatric drugs.
"Disproportionality" was used to determine association with esketamine. Disproportionality examines whether "the proportion of AEs of interest is greater in patients exposed to esketamine (cases) versus not exposed (non-cases)," with non-cases here referring to reports of other drugs.
79% of AEs were reported by healthcare professionals, while consumers reported 20.1%.
The most frequently reported AEs were:
Dissociation (9%)
Sedation (7%)
Drug ineffectiveness (5%)
Nausea (3%)
Vomiting (3%)
Depression (2%)
Suicidal ideation (2%)
Anxiety (2%)
Increased blood pressure (2%)
Dizziness (2%)
Product dose omission (1%)
Feeling abnormal (1%)
"Safety signals" were detected for several of these AEs. When esketamine reports were compared against common antidepressant "venlafaxine," aka Effexor XR, suicidal and self-injurious ideation stood out as having a high ratio of reports.
Females were more likely to experience serious adverse events versus non-serious events, and the same was true for those receiving higher doses (84mg) compared to lower doses (56mg). Examples of reported serious events were completed suicide, dissociation, and suicidal ideation, whereas non-serious events included anxiety, drug inefficacy, and nausea. Individuals taking multiple other drugs were also more likely to experience serious adverse events.
The authors noted several additional highlights of their research. First, reports for esketamine-related AEs doubled per month in 2020 versus 2019. They note that "notoriety bias"—the fact that esketamine has had a lot of popular momentum and awareness behind it—may have an impact here, but that safety concerns existed before this research as well.
Second, the authors detected "rare AEs" not reported by regulatory trials of esketamine or reported only in <5% of patients, such as self-injurious ideation, depressive symptoms, panic attack, paranoia, and mania.
Third, they found significant disproportionately for several of the AEs, such as 26-27% of esketamine patients reporting dissociation.
The fourth highlight relates to the high ratio of reports for suicidal and self-injurious ideation. The relative risk of reporting suicidal ideation was 24 times higher than for other drugs in general and 5-9 times higher than for Effexor XR. However, this should be understood in the context of treatment-resistant depression; it is difficult to tease apart whether the drug itself is causing the increased ideation or if the sample of patients using esketamine had more severe depressive symptoms than those using other drugs.
Finally, drug abuse/misuse is a genuine possibility with esketamine. Some AEs reported symptoms such as "euphoric mood, dissociation, feeling drunk, and hallucinations," which the authors compare to gabapentin as well as regular ketamine.
The authors noted several limitations to the study, such as the inability to establish causality with this kind of post-marketing related research, limitations in relying on reports, notoriety bias, and lack of a denominator or baseline reference in relation to the larger population.
They conclude:
"This study showed that the esketamine safety profile in the real-world population might be slightly different from that described in regulatory trials, and therefore further data from clinical practice would be required to better understand the safety profile of esketamine and provide an evidence-based framework for rational prescription. More real-world research is urgently needed, including pragmatic clinical trials, observational studies, and individual-participant meta-analyses on rare and unexpected AEs."
****
Gastaldon, C., Raschi, E., Kane, J. M., Barbui, C., & Schoretsanitis, G. (January 01, 2021). Post-marketing safety concerns with esketamine: A disproportionality analysis of spontaneous reports submitted to the FDA adverse event reporting system. Psychotherapy and Psychosomatics, 90(1), 41-48. (Link)