Research evidence suggests that the criminalization of drug use and possession has roots in explicit racism and reinforces inequality. A broad coalition of professionals writing in the American Journal of Bioethics seeks to rectify the havoc wrought by the War on Drugs on racialized communities. The coalition calls for evidence-based and ethical new policies, including the immediate decriminalization and regulation of recreational drugs, expunging nonviolent convictions related to small quantity possessions, and the release of prisoners serving time for similar offenses.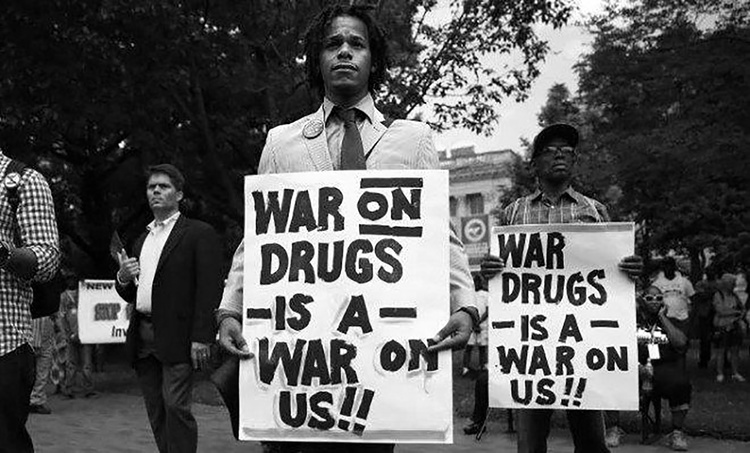 The moral model of substance use implicit in the War on Drugs in America has made it difficult to replace the stigma associated with substance abuse and addictive disorders with more accurate and humane frameworks. Such frameworks take social context and identity into account, which is a useful way to address the complex interrelations and impacts of race, discrimination, poverty, and mental health on drug use.
Nevertheless, the moral framework for understanding drug use across the lifespan is enshrined in the War on Drugs' punitive policies. There are signs of hope for decriminalization programs in states like Oregon. Still, professionals in fields related to substance-use disorders call for the War on Drugs to end more immediately.
Bioethicists and scientists from Yale University, Dublin City University, and Columbia University reviewed the literature on the disproportionate targeting of Black Americans for drug-related crimes and other failings. They argue that drug prohibition and criminalization ultimately harms users and non-users alike and imposes many health-related costs.
The authors detail the societal costs related to drug prohibition and criminalization, including its "criminogenic" effects, where drugs' illegal status leads to other crimes to obtain and purchase drugs. They also review the impoverishing and demoralizing effects the prison system has on drug users and the communities they belong to and how illicit markets tend to increase the harmfulness of drugs.
The cost of drug policies related to public health is also inordinately high, leading to unsafe use of drugs and inadequate knowledge about them–even their therapeutic effects. It also throws up barriers to treatment for substance-abuse disorders, diverting funds from creating health and safety regulations.
Tying these together is the overall failure of drug laws, following biomedical and disease models of addiction, to respect the contexts of users or would-be users. These usually involve economic deprivation and vulnerability to structural exploitation like increased police presence, higher conviction rates, and harsher sentences. The racial injustices related to drug prohibition are also found in countries like England and Wales.
To address these, the coalition calls for criminal convictions for nonviolent offenses pertaining to drug use or possession of small quantities of non-medical drugs to be expunged, and for those currently serving time for these specific offenses, including those with drug-related parole and probation revocations, to be released.
Moreover, outright prohibition conflicts with one's right to control one's body and the substances that go in it, whether for enjoyment or self-exploration. These rights do not, on principle, violate the equal liberty of others.
The bioethicists explain that decriminalizing drugs does not at all undermine public health or safety, but in fact, enhances it by making drugs safer and eliminating the injustices associated with the arrests and incarcerations of drug users, freeing up resources in the criminal justice system and lowering rates of drug abuse and related health problems. Citing Portugal's successful decriminalization policy, they write:
"When drug users do not fear criminal charges, they are able to seek out medical treatment, mental health care, and social support programs, and can access government-approved public information about the harms involved in drug use. In Portugal, the social institutions that focused on harm reduction instead of punishment were also able to engage and help more young people than the criminal system."
The authors suggest going even further, recommending legalization and regulation to eliminate the harms of illicit markets and the knock-on effects faced by drug users in their reckonings with the legal system over civil penalties.
Legal regulation offers several other advantages over decriminalization, like allowing governments to introduce "safe supply" programs for currently illegal drugs. These programs raise the safety and quality of drugs, reduce stigmatization of drugs and users, and increased knowledge that supports best practices for use.
Implementation is key here, as the benefits of legalization rely on the rigor of protective policies and their enforcement. The authors acknowledge that these changes won't come easy under the UN's international drug control treaties. They are nevertheless optimistic about the United States' ability for leadership in this area,
The ideas regarding decriminalization, as a step toward legalization and regulation, have received near-total consensus amongst former drug user groups, policy experts, harm reduction advocates, and criminal justice reformers. The costly and ineffective War on Drugs in the US has disproportionately targeted Black and Hispanic communities. Decriminalization should be the first step, followed by specific support programs for these communities.
****
Earp, B. D., Lewis, J., Hart, C. L., & with Bioethicists and Allied Professionals for Drug Policy Reform. (, 2021). Racial Justice Requires Ending the War on Drugs. The American Journal of Bioethics, 1–29. https://doi.org/10.1080/15265161.2020.1861364 (Link)