My descent into the mental health system and psychiatric medication began at age 19 after my first year of college, first in the form of antidepressants, then evolving into mood stabilizers and antipsychotics. Now, my psychiatric history is so extensive that it is as if I am wrapped in an infinite bandage, like a mummy, medication continually covering my wounds, never allowing them to be exposed and heal.
I wonder how things got so intricate and intimate, how my initial sadness and urge to commit suicide conspired to transform my future from desirable to desolate. How—as I began to enter and exit counseling sessions, psychiatrists' offices, and psychiatric wards on a routine and rotating basis— I became numb, and how, as my radiance diminished, so too did my curiosity, motivation, and sense of humor.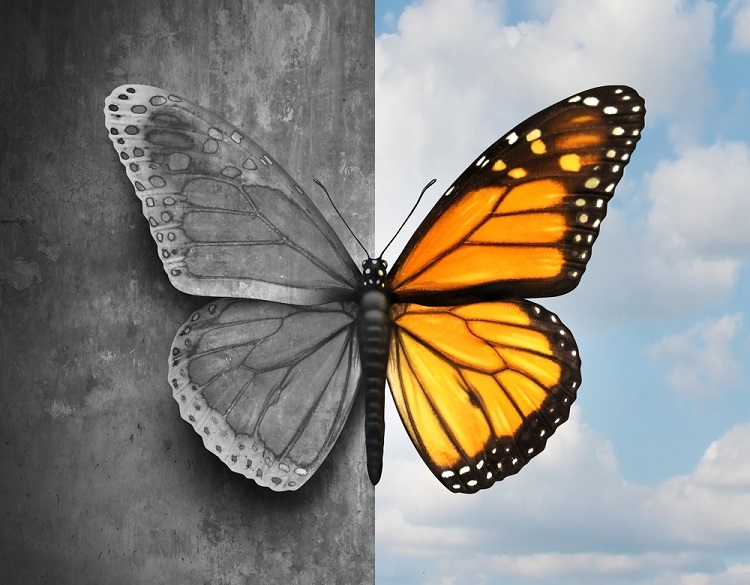 I feign confidence in the maintenance of my sanity with daily medication. But really, I am as anxious as ever as year five approaches. My pattern of insanity returns every few years. I experienced my first psychotic episode in 2003 (aged 21), the second in 2006, the third in 2011, and the fourth in 2017. The four years since my last episode have been marked by periods of productivity, peace, routine, stability, hypomania, energy, agitation, indolence, and boredom, an aggregate of good and bad habits, a conglomeration of positive and negative qualities, normal ups and downs. Nothing has been too triggering or stressful: nothing to send me over the edge. Nothing has made me want to forego my medication, and nothing has made me forget to take my medication.
My psychotic episodes are full of mania, never depression, and during an episode, action reigns supreme. I have hopped a train, hitchhiked, engaged in chronic walking and running away, purged my belongings, and destroyed my artwork. I have been homeless, I have been incarcerated, I have been hospitalized, and while I welcome certain aspects of madness, not one of these experiences, as a whole, was positive. I am an active contradiction: I have felt godlike, felt my life threatened, felt a kind of ultimate freedom, felt broken.
In the past, when I have gone off my medication and had an episode, I have always been put back on (sometimes immediately, but always eventually, and always against my will). For example, during my last episode, a psychiatrist at a hospital inpatient unit threatened to have the staff force medication (Haldol, maybe?) through injection if I continued to refuse the oral treatment. Despite the psychiatrist's subhuman treatment of me, I surrendered and began taking the oral medication.
I am not necessarily uncomfortable on medication, more like ambivalent. Today, I continue this active contradiction, often professing an anti-medication stance. I harbor anger over the fact that it has never been my choice to take it. I am forever curious about my ability to function without medication. I am curious about my nature and personality, about the doors I imagine would open to endless possibilities and serial productivity, to unrelenting ecstasy, if I were to go off medication and avoid the antagonists and the agony.
My experience supports the euphoria theory, and I know that I would be emotionally happy off medication. But the suffering I have endured at the hands of authority (doctors and police officers) has been too traumatic to pretend that I could avoid what has always been inevitable, at least in the past. If I could maintain a semblance of sanity without my daily pill, I could quit pontificating and turn my dream into reality.
In all my glorious daydreaming, once I remember my rap sheet, the pain returns. My self-esteem is wrapped up in a criminal conviction from 2006, the consequences following me in my pursuit of utopia. Yes, I was unmedicated at the time of the offenses. Marked with a record that cannot be expunged (in accordance with Virginia law) because I pled guilty, I cannot recover my pride, my joy, my life. Too much stigma. Too much judgment. Too much from other people, imperfect like me. My life feels stolen, and I am lost, without a purpose.
My consolation is the ability to write, and though I may never be rich in money, I can be rich in a talent that no one can take away from me, and the words might just be the power I need to rebuild my self-esteem and make amends with everything and everyone I have lost from madness.
Despite my writing aptitude and aspirations, medication curtails action, curtails motivation, and I find myself in a perpetual state of procrastination. It is a chore to exercise, for example, and I rarely fly by the seat of my pants. It feels a lot like laziness. It feels a lot like settling. Nevertheless, I have stayed on the same daily, 10 mg dosage of Abilify for the last few years. It is the only medication I take, and although I am compliant, I am not satisfied: I do not feel whole. I do not feel authentic.
I would go so far as to hop a train while on medication, or doing something, anything, while composed just to prove that my impulses often have nothing to do with medication or composure. My actions off medication are rooted in desire and feeling great, they are of walking 10 miles nonstop every day until I find myself inside the walls and halls of an inpatient unit, the medicine beginning to flow, subduing my restless energy, stifling my ingenuity. I came out of my last psychotic break 25 pounds lighter. In some ways, I was thankful for the mania that had me restless and walking nonstop because I looked closer to an older, slimmer version of myself, a supreme version from my early 20s who was happy and full of confidence.
Figuring out my identity is the hardest part of the reckoning. I am someone I do not know when I am not medicated because I have, for most of my adult life, always been on medication. And when I am on medication, I am someone I do not like. On medication, I am numb. Off medication, I feel. Off medication, I sense truth. On medication, I sense forgery. I resent the subtle ways that medication filters my identity: the way it makes my vision foggy, shielding me from sensation and masking my woes, the way I cannot tell who I really am and what I really want. Although medication subverts identity, it propels reflection. On medication, I think. A lot. And not always the productive and healthy kind of thinking. It is the antithesis of my physically active nature sans medication.
I want to live life without medication, which would prompt me to take action: to leave, to run away, to start over, to just do it: with chutzpah, without fear, without looking back. I have done it before. I have done it more than once. I suspect I shall do it again. I cannot shun the (e)motions: the impulse that entices me, the comfort that thwarts me. I want an alternate experience, the kind that is illuminating, where I confront my issues, learn from them, and move forward in a healthy manner, with the tools to ensure safety and awareness, without all the haze, without the suffocating simulation of hospitalizations, without the impurities of psychiatry.
I get so caught up in my disdain for medication that I search for alternatives to psychiatry, feeling alone, feeling alienated by a pro-medication, pro-psychiatry support system. Then, I switch Google gears and, abandoning my quest for alternatives to psychiatry, focus my attention on the benefits of psychiatric medication. It seems worthwhile to consider both perspectives, particularly since I am fettered to medication. The top results appear in a pros-and-cons fashion. I recognize the reality of my situation in its current state and know that I will not forego medication management for the foreseeable future, even though I wrestle with consent and contentment on a daily basis.
At 20, the world was at my fingertips. At 39, I have nothing to show for it. All I ever do now is wonder what I would be doing and where I would be if I could crest and lull in rhythm, with equilibrium, enough to escape the cyclic system of medication and psychiatry. I falter in the moment, unsure of whether I want to extend my rap sheet. Mulling the possibilities is like gargling warm salt water:
Gargle. Garble. Gobble. Sounds purr in my throat like an active volcano ready to erupt.      I think about the what-ifs, about the future, not about the past, not about memory, that cunning signal of imagined versus real. As memories tease me, I regurgitate.
I spend more time thinking about how I don't want to be on medication than I do establishing a writing habit or engaging in hobbies or fostering a more productive routine. I'm too distracted by the salty taste of nostalgia.
Writing is always on my mind (like my plots to run away or break the cycle of daily medication) but never becomes a reality. The stories I feel compelled to document for their sheer singularity are the hardest ones to tell because they take me from bright landscapes to dark interiors. You should write a book, more than one friend has spoken, but I struggle to tell and shape these stories that depress my mind and weaken my heart. Sometimes I win, but never for long. Fifty First Drafts forthcoming, I joke, but it's true: Every time I sit down to write, I start over.
I continue to pop a pill every morning to tame the intangible. Fear gawks at me and freedom seduces me, and I dream about the real me, who I am (when I am not medicated and not suffering from medication withdrawal), my nature and personality. I want to embrace my kind of wild, whether it means leaning into the sun, bright as a sunflower, or blowing in the wind like a pappus of a dandelion. I am anticipating the day when my body becomes fluent in the language of my brain; when they cooperate—the physical and the mental, when I am no longer a stranger to myself. It is romantic, even a sort of fetish that I revert to, this ideal, always conscious of my ultimate goal: freedom of mind.
***
Mad in America hosts blogs by a diverse group of writers. These posts are designed to serve as a public forum for a discussion—broadly speaking—of psychiatry and its treatments. The opinions expressed are the writers' own.
***
Mad in America has made some changes to the commenting process. You no longer need to login or create an account on our site to comment. The only information needed is your name, email and comment text. Comments made with an account prior to this change will remain visible on the site.