To my former patients and your families:
I may have seen you at one time in the last several years. I've moved around a few times and I've worked in a few different places. I've heard you tell me that you're tired of telling your story again because I'm the sixth psychiatric provider you've seen in two years. That the other one didn't listen. The one before that kept canceling on you. The one before that quit after a few months.
I've listened. Sometimes I try to explain that it's because it's just really hard, and it's sad, but turnover is really high in these kinds of places. It shouldn't be this way. I know.
I've told you that I had no intention of leaving. I meant it.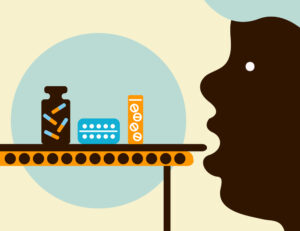 And you trusted me. We built a therapeutic relationship. I was there to celebrate when you made the honor roll. I was there to listen to figure out a plan when things felt bad. I was there to learn about you, and to see all the amazing artwork you've made. I was there to protect and guide you when you told me that there was abuse behind closed doors at home.
These relationships were sacred to me. I knew your cases and stories by heart. I would make a point to remember your pet's name. Small things. Big things, too. I did not need to be reminded each appointment of the traumas you'd told me about during the first appointment… because I sat with those stories to let myself feel and try to imagine how it would affect you. Then I admired your strength for getting this far. Those stories don't just fade away. I cannot just forget.
I have borne witness to the most incredible young human beings who have survived everything imaginable. You are so brave that you stepped into my office and asked for help.
I've been given the gift of you opening up to me and being vulnerable during the worst points of your life. You bared your soul to a stranger. That, too, is so incredibly brave.
I've been given the gift to understand at the deepest level of my heart. Because I've been there too. And that is something I never needed to say out loud. I think it very genuinely comes across in every interaction I've had with you. I've been told "it feels like you really care about us." That is because I do.
And I've been given the gift to see you gradually improve.
I want you to know that I didn't want to leave. It wasn't my intention. I wanted to stay. I always wanted to stay. I had always dreamed about helping people. I wanted to be able to be the provider that would watch you grow up, cheer you on, and eventually see you move on to fulfill your dreams. To celebrate when you didn't need medication anymore.
I'm so sorry that I won't be there, and that you'll have to tell your story all over again to someone else. It wouldn't surprise me if your new provider leaves too in a year or two.
It should not be like this.
I will say it over and over again. The healthcare system is broken.
The people making decisions are not the same people who sit with you and hear your stories. They are not the same people who hurt with you when things are bad. They are not people who understand what it is to hold life in their hands and make life-or-death decisions.
Every time you come in for a visit, the people making decisions see money.
I'm not sure why I had imagined practicing as a provider would be any different, and that it wouldn't be an assembly line of children being given pills. It is well known that clinics burn providers out by making them see so many people… they know it is not sustainable. They do not care.
But how can you get better when everyone leaves you? You really like the therapist you've had for two years, but now they just quit. You have to start again with a new therapist. Build trust. Then they quit. Again. Start again. Build trust. Open up. Start to make progress. They quit. You crash.
Administration does not care about consistency for those who need stability and structure.
I wanted to be your provider. And I'm so sorry I have to do this, to leave, instead.
Everyone has been asking why.
This is why: I literally aimed to be the person I wished I had when I was growing up, suffering with a lot of the same issues.
But I've learned that American healthcare isn't about caring, empathy, compassion, or hope. It's not able being culturally competent and making sure your patient has an interpreter when they cannot understand you. It's certainly not about wellness or consistency for kids who have never known stability in their lives. It's not even about quality care.
It's about money. It's about production. It's about seeing as many people as you can see in a 10-hour day and coming back and do it again tomorrow. If you don't want to do that, that's okay because you are disposable and replaceable. And they will find another provider who will do that.
You only had five minutes with your patient because they showed up late? Well, you can be a jerk and send them home without medication after they had transportation issues, or you can see them and hope everything is going okay. If it's not okay, you'll be running behind the rest of your day.
I used to see up to four people in an hour and sometimes I would not get breaks for hours. Sometimes I had 12 patients back-to-back.
Here's an example of a typical day I would expect to have at these clinics. Consider this:
Your first patient has depression and is crying uncontrollably. The second one just was placed back with her abusive family. The third one just told you for the first time she's been raped. The fourth one is bubbly and happy. The fifth one is having a panic attack. The sixth one has a plan to kill her friend. The seventh one is mad at you because it took them two weeks to get in to adjust ADHD medications. The eighth one is actively hallucinating. The ninth one was just put in a group home after their dad went to jail. The tenth one has a plan to kill himself. The eleventh one is a six-year-old who has needed surgical repairs for abuse. The twelfth one is mad at you for being five minutes late.
As a human being, I want to process each of these interactions. I want to cry for the kids who just told me the worst traumas of their lives, and I want to cry for the moms who are blaming themselves for not protecting their children. I want to comfort them. I'm no doubt a highly sensitive person. The levels of empathy I am capable of have helped me to connect with families, but at the same time… it wears on me, too.
As a health care provider within these workplaces, I have no choice but to reset myself every 15 minutes to a fresh face and a fresh mind. I need to be alert to make a new medication decision. I am not allowed to process.
Even when I received news that my adolescent patient was dead. Broken down in tears, I was still expected to put away my heavy heart and see the next person waiting in the lobby.
This is why providers cannot stay at places long. This is why providers cannot be consistent. It is not sustainable.
If I say I feel this is not safe or that I do not feel comfortable, Administration tells me not to stress because they "cover my liability insurance." They forget the fact that if something happens, that guilt will be sewn into my soul for the rest of my life. They forget when I have hard cases, I stay up at night worrying about those kids.
I love what I do, and I never want to be in a position in which I feel that my only role is pushing pills and that I shouldn't be wasting my oh-so–precious minutes by listening to my patient tell me they got on the honor roll for the first time. I do not want to be a robot.
I will no longer accept that type of care as my norm. I want time with my patients.
I spent years working in a broken system. In late 2020, I had enough. I quit. I decided to start my own private practice, Paperflower Psychiatry. Paperflower is my effort to move away from this dysfunctional system.
I want to practice healthcare the way I dreamed it could be practiced.
I initially designed Paperflower Psychiatry to be an inclusive telehealth practice to specialize in psychiatric evaluations for children, adolescents, adults, and peripartum populations across Arizona. We provide extensive evaluations in which we have time to review options for psychiatric medications, including reviewing the actual risks, complications, and devising a plan to discontinue them. If the patient doesn't want medication, we plan for therapy, supplements, holistic treatments, acupuncture, spirituality interventions, books that may help, and so on.
We push against the politics of professionalism in the healthcare system. I don't want to have some form of unacknowledged "power" over you because I have a degree. I don't want to dress up to put on a show. I want you to be the expert as I listen. For instance, if you tell me marijuana helps you, it is my job to hear you. Traditional psychiatry would love for me to tell you that you shouldn't "self-medicate" with marijuana, and you should accept a psychotropic prescription instead.
We practice under the premises that the DSM is not the Bible. If you come to me with a diagnosis of gender dysphoria – how am I supposed to acknowledge this as "disordered"? Years ago, it was "disordered" to be attracted to someone of the same sex. How can we say that trauma is limited to a restricted set of symptoms and specific situations which exclude poverty and racism? You deserve to know that white men wrote this guide dictating labels on human beings based on some studies on white men in Western society, along with personal judgments of what they believed to be typical vs. atypical.
Paperflower Psychiatry also exists as a teaching practice. I take psychiatric nurse practitioner students into my home for their rotations to avoid an inevitable integration into a broken system. Pill-mill style clinics entice students with promises of support, money, and benefits upon completion of rotations, and typically this is after these students learn habits of providing cynical care involving overmedicating, stigmatizing, and not questioning causes of potential symptoms. My goal is to stop letting that happen. My students learn humility, empathy, and respect. We collaborate with the International Rescue Committee to provide free asylum evaluations while other providers charge upwards of thousands for these services. My students learn what human suffering looks like after surviving unimaginable trauma. More importantly in these evaluations, they learn what resilience looks like.
There are reasons humans are suffering, and you should not be conned into thinking medication alone is the solution. I'm tired of a system that forces you to believe that it is the only solution. It should not be a norm in healthcare to have a provider talk to you for 15 minutes, write you a script, and then have you come back in three months for another 15-minute appointment. It comes down to people who will trade quality care for money. I cannot accept that. You shouldn't either.
While my decision to leave and start anew obviously has been a struggle for me, I know it is more of a struggle for you.
Invisible to them, you will have to open your heart and trust another person to start all over again.
For that, I am so sorry.
Through sharing your story and showing me your vulnerability, you have taught and given me more than I ever could have asked for. My heart hopes that you see your value, and that you'll know when to walk away in situations where people are not allowing you to succeed.
You are the next generation. And you will someday be in these positions. You will be me. You will be the people making the decisions. You are our hope. Do better than what is being done now.
Remember that you are worth no less than anyone else.
And remember that the impact of lifting others up instead of pushing them down is absolutely endless.
With warmth and best wishes,
Your former Nurse Practitioner
***
Mad in America hosts blogs by a diverse group of writers. These posts are designed to serve as a public forum for a discussion—broadly speaking—of psychiatry and its treatments. The opinions expressed are the writers' own.
***
Mad in America has made some changes to the commenting process. You no longer need to login or create an account on our site to comment. The only information needed is your name, email and comment text. Comments made with an account prior to this change will remain visible on the site.