Editor's Note: Over the next several months, Mad in America is publishing a serialized version of Peter Gøtzsche's book, Critical Psychiatry Textbook. In this blog, he discusses the evidence that psychosis pills substantially increase mortality. Each Monday, a new section of the book is published, and all chapters are archived here.
Psychosis pills increase mortality substantially
The psychiatrists presented many arguments as to why it is important to use psychosis pills, but all of them were unsustainable. One of them was that patients with schizophrenia live 15-20 years less than other citizens,18:288 and among the causes were mentioned suicide, accidents, cardiovascular diseases, metabolic syndrome, lifestyle, undertreatment of somatic diseases and drug harms.16:628 Treatment with psychosis pills was not mentioned.17:308
One book noted that mortality is increased if the psychosis appears early in life,19:239 but it didn't occur to the authors that the longer the duration of the psychosis, the longer the treatment with psychosis pills, and therefore also a higher mortality because the pills increase mortality.
Two textbooks raised the highly implausible claim that psychosis pills reduce mortality from psychotic disorders.16:222,18:101,18:236 They don't; they increase mortality substantially.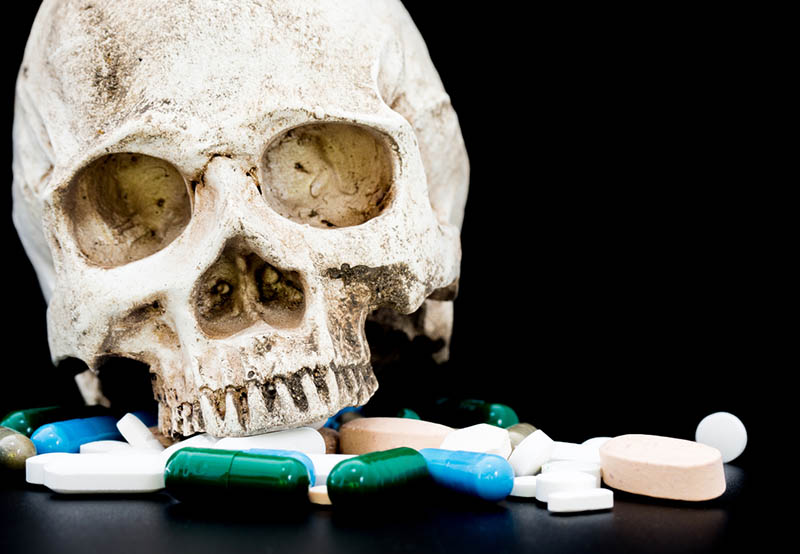 It is not possible to use the placebo-controlled trials in schizophrenia to estimate the effect of psychosis pills on mortality because the drug withdrawal design increases mortality in the placebo group. The suicide rate in these unethical trials was 2-5 times higher than the norm.1:269,161 One in every 145 patients who entered the trials for risperidone, olanzapine, quetiapine, and sertindole died, but none of these deaths were mentioned in the scientific literature, and the FDA didn't require them to be mentioned.
When I decided to find out how deadly psychosis pills are, I focused on patients with dementia, assuming that few of them would be in treatment before randomisation. A meta-analysis of placebo-controlled trials with 5,000 patients showed that after only 10 weeks, 3.5% had died while receiving olanzapine, risperidone, quetiapine, or aripiprazole, and 2.3% had died on placebo.162 Thus, for every 100 people treated for 10 weeks, one patient was killed with a psychosis pill. This is an extremely high death rate for any drug.
Since half of the suicides and other deaths are missing, on average, in published psychiatric drug trials,125 I looked up the corresponding FDA data based on the same drugs and trials. As expected, some deaths had been omitted from the publications, and the death rates were now 4.5% versus 2.6%, which means that psychosis pills kill two patients in a hundred in just ten weeks,163 or double as many as the published trial reports indicate.
I also found a Finnish study of 70,718 community-dwellers newly diagnosed with Alzheimer's disease, which reported that psychosis pills kill 4-5 more people out of every hundred per year compared to patients who are not treated.164 If the patients received more than one drug, the risk of death was increased by 57%. As this was not a randomised trial, the results are not fully reliable, but they are plausible given the data from the randomised trials. Thus, the pills might kill 4 times as many patients as the published reports indicate, or even more, if we extend the observation period beyond one year.
One textbook noted that psychosis pills may increase mortality in patients with Alzheimer's disease.18:49 This downplayed the problem. These pills not only may increase mortality, they do increase mortality, and to a substantial degree, which the textbook said nothing about.
This phenomenon is seen everywhere, in textbooks, scientific articles, on websites, in lectures and in interviews in the media. There is a huge asymmetry in the way psychiatrists describe benefits and harms. There are rarely any reservations when the benefits of drugs are commented upon and their effects are much exaggerated, which I shall exemplify throughout this book.
Another textbook was even worse. It noted that meta-analyses on large patient materials suggested a small excess mortality of patients with dementia treated with psychosis pills compared to placebo, but that it was uncertain what caused this excess mortality.17:243
This comes close to fraud. There was no reference, but the meta-analyses not only suggested but proved the excess mortality; it was not small but huge; and the FDA has explained what causes it: Most of the deaths in the demented patients were either cardiovascular (e.g., heart failure, sudden death) or infectious (e.g., pneumonia).163
The important question then is: Can we extrapolate these results to young people with schizophrenia?
We have no other choice. In evidence-based healthcare, we base our decisions on the best available evidence. This means the most reliable evidence, which are the data presented just above, two deaths per hundred people treated for ten weeks. Thus, absent other reliable evidence, we will need to assume that psychosis pills are also highly lethal for young people.
Young people on psychosis pills also often die from cardiovascular causes and suddenly,8:40 and we would expect some of them to die from pneumonia. Psychosis drugs and forced admission to a closed ward make people inactive, and when they lie still in their bed, the risk of pneumonia and pulmonary emboli from a venous thrombosis increases, which might go unnoticed before it is too late. Psychosis pills also kill patients because of huge weight gains, hypertension, and diabetes.
Considering that these drugs do not have a clinically relevant effect on psychosis, and that benzodiazepines are far less dangerous and even seem to work better for acutely disturbed patients,165 the conclusion must be that psychosis pills should not be used for anyone. They should be taken off the market.
The psychiatrists do not blame their drugs or themselves for the considerably shorter lifespan patients with schizophrenia have, but the patients. It is true that the patients have unhealthy lifestyles and may abuse substances, in particular tobacco. But it is also true that some of this is a consequence of the drugs they receive and the way they are treated. Some patients say they smoke because it counteracts some of the harms of psychosis pills, which is correct because tobacco increases dopamine while the drugs decrease it. And when people are locked up for weeks or months on end and have nothing to do, is it then strange that they smoke? Or drink? Or overeat? Or kill themselves? I don't think so.
When I tried to find out why young people with schizophrenia die, I faced a roadblock, care-fully guarded by the psychiatric guild. It is one of the best kept secrets that psychiatrists kill many of their patients, also young ones, with psychosis drugs. I described my experiences with the roadblock in 2017, "Psychiatry Ignores an Elephant in the Room,"166 but subsequent events were even worse. This is a summary of a more comprehensive account.8:40
Large cohort studies of people with a first-episode psychosis provide a unique opportunity for finding out why people die. However, there is too little information in these studies, or no information at all, about the causes of death. In 2012, Wenche ten Velden Hegelstad and 16 colleagues published 10-year follow-up data for 281 patients with a first-episode psychosis (the TIPS study). Although their average age at entry into the study was only 29 years, 31 patients (12%) died in less than 10 years.167 But the authors' detailed article was all about recovery and symptom scores. They took no interest whatsoever in all these deaths.
I wrote three times to Hegelstad but did not get the missing data. The third time she replied they would be published soon, but the new paper did not present the data I had requested.168 Two months later, Robert Whitaker and I wrote to the editor of the journal, World Psychiatry, professor Mario Maj, asking for his help. He did not want to help us either in finding out why young people died so quickly.
We wrote again, explaining that people I had talked to in several countries about deaths in young people with schizophrenia—psychiatrists, forensic experts, and patients—all agreed that we desperately need the kind of information we asked Maj to ensure became known. We called on him to make this happen as his ethical duty, both as a journal editor and as a doctor instead of telling us that he did not have space for our letter about this in his journal. We did not hear from Maj again.
In contrast to the authors of the TIPS study, Danish psychiatry professor Merete Nordentoft was forthcoming when I asked her about the causes of death for 33 patients after 10 years of follow-up in the OPUS study, also of patients with a first-episode psychosis.169 I specifically mentioned that suicides, accidents and sudden deaths could be drug related.
Nordentoft sent a list of the deaths and explained that the reason cardiac deaths were not on the list was probably because the patients had died so young. But in the death certificates, she had seen some patients who had dropped dead, one of them while sitting in a chair, which is what we call cardiac deaths.
This is how it should be. Openness is needed if we want to reduce the many deaths that occur in young mental health patients, but very few psychiatrists are similarly open as Nordentoft.
***
To see the list of all references cited, click here.
***
Mad in America hosts blogs by a diverse group of writers. These posts are designed to serve as a public forum for a discussion—broadly speaking—of psychiatry and its treatments. The opinions expressed are the writers' own.
***
Mad in America has made some changes to the commenting process. You no longer need to login or create an account on our site to comment. The only information needed is your name, email and comment text. Comments made with an account prior to this change will remain visible on the site.