I've been very, very sad lately. Some might even call me "depressed." There are a lot of reasons. Robin Williams' suicide is not one of them.
Don't get me wrong. I'm not happy about what has come of him. I have fond memories of Mork and Mindy, just like everyone else over the age of 30 or so. It is unquestionably sad to learn he was hurting so much, and even harder to reconcile that with his relentlessly upbeat public persona. On a personal level, it hurts at least a little to know that someone who experienced that level of success (about which most can only dream) also fell so far and experienced so much despair. After all, many of us count on dreams of a similarly lauded existence to keep us going so much of the time. We fantasize that fame and wealth and adoration might make us immune from the pain of being human.
But no, that's not what makes me saddest right now. For what it's worth, here are five things that make me sadder than Robin Williams' suicide:
People getting 'treatment' in the mental health system die, on average, about 25 years younger than others in the community. According to several sources, the average life expectancy for men in the United States is around 77 years. Robin Williams died at 63. That gives him about 11 years of life above and beyond the average person being 'served' in the mental health system. I realize this is an imperfect statistic, but meaningful nonetheless. (It's even more meaningful when we consider that much evidence seems to point to non-medicalized approaches as leading to substantially better outcomes for people who are experiencing life-interrupting emotional distress.)
People are diagnosing Robin Williams posthumously and calling it undeniable truth. This may seem a relatively minor point, and it would be… if not for the fact that people are so commonly diagnosed against their will and in a way that is used as justification for forced or coerced treatment on an extraordinarily regular basis. This is the same 'treatment' that leads to the 25-years-younger figure noted above.
People who die in their fifties whilst seated firmly in the palm of the mental health system often do so in over-medicated hazes that have left them isolated and unable to do much more than sit around and drink coffee and smoke cigarettes. Consider this in juxtaposition to Williams' rather full life that included children, wives, friends, multiple homes and a career.
A growing number of people appear to have killed themselves precisely because of the mental health 'treatment' they have received. Some of them weren't even suicidal before they got on the psychiatric drugs that directly preceded their self-inflicted deaths. We're talking kids, in a lot of instances.  Williams had over 40 years of life on many of them.  (And, by the way, I think the jury is still out on exactly how 'treatment' or psych drugs might have been used or impacted Williams himself.)
Robin Williams' suicide is being manipulated as an opportunity to push more 'treatment' as usual. I can't even begin to count the number of times I've seen comments on-line from people saying, "I hope news of Robin Williams' mental illness will go viral, if it will mean that more people get treatment," or, "If only he'd been on medication, he'd still be alive…" Most of them don't quite realize the potential harm they're doing or the mythifying misinformation they're spreading.  And then there's the standard cast of characters – people like Tim Murphy – who are wholeheartedly, knowingly and opportunistically jumping on his death to push forward their force-laden, rights violating agendas.  Let's make no mistake, here. People are using the death of a man who claims to never have even been formally diagnosed to push mental health 'treatment' on countless individuals in spite of the fact that said 'treatment' seems to be leading to even earlier deaths than Williams' own, skyrocketing disability rates and overall poor outcomes.  Perfect.
I don't want to minimize Robin Williams' death. It is awful (though, no more or less awful than most any other suicide).  He was an undeniable talent, and at least seemed like an overall good guy. His family must be devastated and they are more than entitled to their grief (and privacy). Yet, his death should not be used to dwarf, camouflage, or distract us from the much broader problems in our culture. It should not be used against his postmortem will to sell more drugs or the concept of 'mental illness' (which is, of course, used to sell more drugs).
I cannot claim to know what was going on for Robin Williams, in particular, but suicide does not equal 'mental illness.' What about existential crisis? What about sickness and torture and homelessness and joblessness and war? What about pure exhaustion from the monotony of it all? Is it 'mental illness' to feel hopeless and want to die when life really is full of pain and loss? Perhaps calling it 'mental illness' makes it feel just a little easier and more distant for those on the labeling end of the stick. Perhaps it sometimes lets people ignore the bigger problems in the world, and act like the issue is all self-contained within that single person, their brain run inexplicably amok.  Perhaps at least some of this is about the comfort of everyone else.
We make one great and repeated mistake in this society: Assuming responsibility for one another. In truth, I am not responsible for what you choose to do. Suicide prevention is harmful to its very roots for the essence of the assumption it makes about my responsibility to control you. It pushes us toward force in the name of 'safety' in the moment, and without any regard for 'safety' in the long run. It has no reverence for what 'safety' actually even means, and will turn its back on meeting your most basic needs (a place to live, food, a job, human connection) if it perceives its job to be done. Does your life and bodily integrity only matter so long as you're in my sight?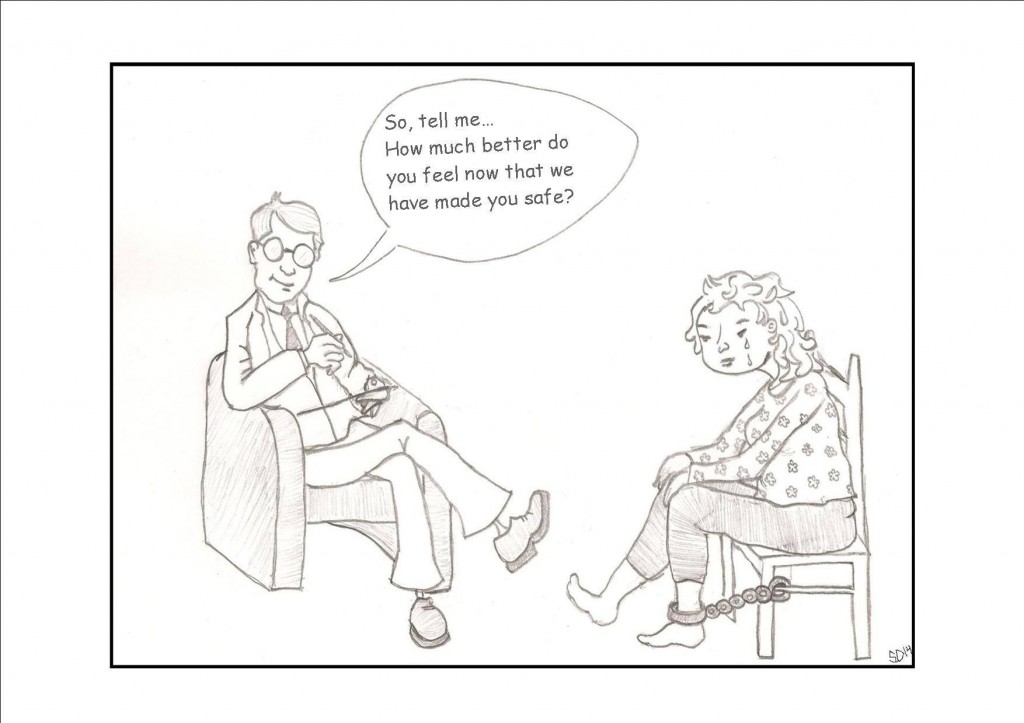 Preventing you from killing yourself does not necessarily make your life any better, even if it makes my life easier and it certainly doesn't mean I'm in control of any more than the fact that you're still breathing at this very moment. As one of the individuals in Daniel Mackler's film, 'Healing Homes,' so wisely states:
"Are we doing our best?… [if] they choose to do this terrible thing… have we a clear conscience that we have done our best?… [If yes,] then that is their responsibility. They take that step."
We make another great and repeated mistake in this society: Denial of responsibility to one another. We have a responsibility to be with one another, to make space for one another, to be kind to one another… and hopefully through doing so, we make life that much more bearable. We do our best suicide prevention by letting go of the goal of suicide prevention, and, instead, creating alternatives.
In my world, we have something called 'Alternatives to Suicide' groups. They're run by people who've 'been there.' Those people know that campaigns like 'Zero Suicide' appeal to the non-suicidal masses but, underneath it all, reek of panic buttons and risk assessments and, frankly, scare many of those most in need of support away. Their own experience informs them that sometimes retaining the option of suicide as an 'out' is all that keeps some people going, as challenging and counter-intuitive as that may feel to others. They're willing to sit with people in intense places and they work hard to shed any savior complexes. They know to ask 'what does that mean to you,' when someone says they 'feel' suicidal, because suicide is an action based on feelings and not the other way around.
As I sit here watching the world spin, trying desperately to turn one man's death into another misguided answer to life's pain, I know where my heroes can be found. They aren't the people looking for pat answers. They aren't the people who believe they can save everyone. They are the ones willing to sit with everyday pain and know that sometimes there simply aren't any answers. They are the ones who know they can't possibly provide houses to all those without homes or families to people who have been disowned, but stick around anyway (and don't ignore that those issues exist). They are the ones who know that some will be lost, but they still open their hearts. They understand the cruelty of offering support for people struggling with thoughts of suicide, and then ripping out the rug from under them should they actually talk seriously about death.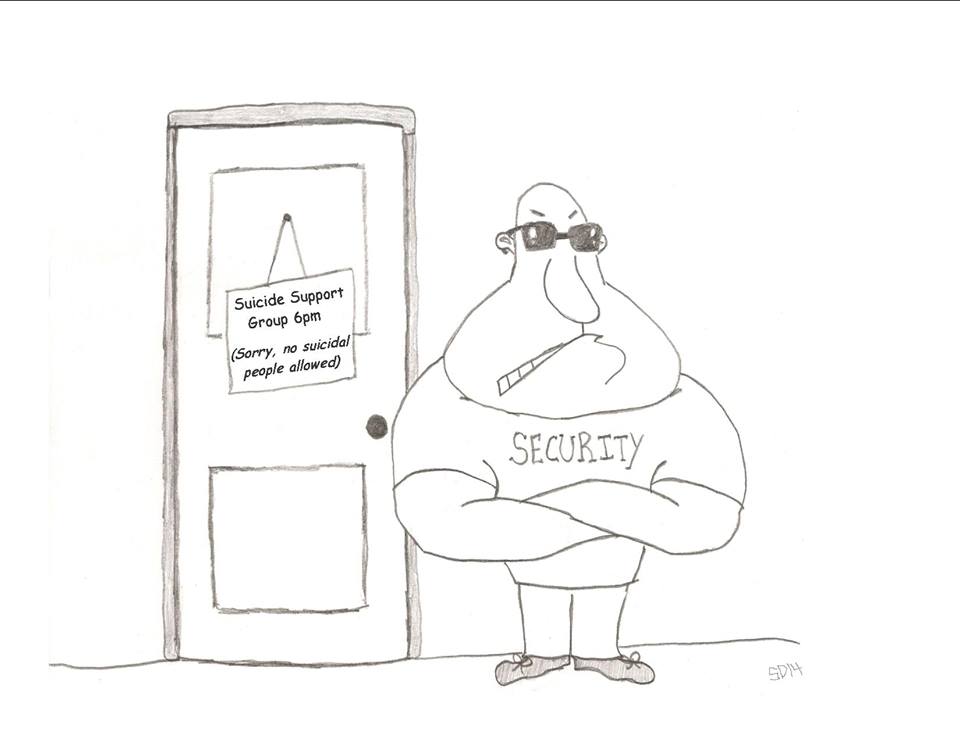 They are people like Caroline White, Sean Donovan, Currie Murphy, Janice Sorensen, Samadi Demme, Erick Anaya and so many more who deserve to be named and who are with people in this way every day while others comment at a distance.
They know the difference between saving the world and changing it. As always, we aim to do the latter.
***
Mad in America hosts blogs by a diverse group of writers. These posts are designed to serve as a public forum for a discussion—broadly speaking—of psychiatry and its treatments. The opinions expressed are the writers' own.
***
Mad in America has made some changes to the commenting process. You no longer need to login or create an account on our site to comment. The only information needed is your name, email and comment text. Comments made with an account prior to this change will remain visible on the site.