The percentage of seniors in the United States prescribed potentially deadly antipsychotic drugs increases with age. A new study reveals that in the face of serious risks of strokes, fractures, kidney injuries, and death, over seventy-five percent of seniors given antipsychotics do not have a diagnosis for a mental disorder.
"Despite concerns over the safety of antipsychotic treatment of older adults, long-term use is common," the study published in the Journal of Clinical Psychiatry concluded.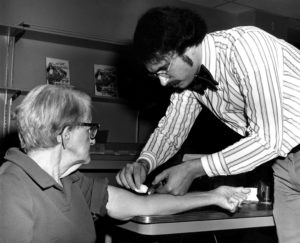 Antipsychotic drugs are currently the primary treatment for people diagnosed with schizophrenia. However, Steve Brill's groundbreaking exposé on the antipsychotic Risperdal revealed that pharmaceutical companies, like Johnson & Johnson, specifically targeted vulnerable groups, like children with disabilities, foster care kids, and the elderly, for off-label prescribing of antipsychotic drugs, to expand their markets and increase their profits.
The results of such marketing efforts are evident. Studies estimate that approximately 50% of prescriptions for antipsychotics are given without an approved diagnosis and that, among those with intellectual disabilities, 71% receive these drugs without such a diagnosis. Also, almost one in four (25%) of children in foster care are prescribed an antipsychotic, and they are three times more likely than other children on Medicaid to be prescribed the drug off-label.
Antipsychotics have a number of severe side-effects and have been linked to long-term structural brain abnormalities, but they carry even bigger risks in elderly people. In March, a team of researchers from the University of Michigan examined the records of older veterans from 1998 and 2009 and found that one of out every 27 patients with dementia treated with the antipsychotics Haloperidol or Risperidone died within six months.
In response, government agencies, like the Centers for Medicare and Medicaid, and medical groups alike have pushed for changes to prescribing practices. The FDA has issued warnings, nursing homes have put forth a national goal to reduce prescriptions of antipsychotics by 15%, and the National Partnership to Improve Dementia Care is aiming for a 25% reduction.
When a team of researchers, led by Mark Olfson of Columbia University, looked at antipsychotic prescriptions filled between 2006 and 2010, several disturbing trends emerged. They discovered that many elderly patients are still being put on these drugs long-term, more than three-quarters of those receiving antipsychotics do not have a psychiatric diagnosis and that the likelihood of taking these drugs increased with age (approximately twice as many people between 80 and 84 than between 65 and 69).
The FDA issued an explicit warning that the use of second-generation or "atypical" antipsychotics was especially dangerous for those with dementia, yet about eighty percent of the prescriptions to those over 65 were for atypical antipsychotics.  Among those taking antipsychotics 37.2% between 75 and 79, and 47.8% between 80 and 84 had a diagnosis of dementia.
"The results of the study suggest a need to focus on new ways to treat the underlying causes of agitation and confusion in the elderly," said lead author Mark Olfson in a press release for the NIMH. "The public health community needs to give greater attention to targeted environmental and behavioral treatments rather than medications."
*
Olfson, M., King, M., & Schoenbaum, M. (2015). Antipsychotic Treatment of Adults in the United States. The Journal of Clinical Psychiatry, 76(10), 1346-1353. (Abstract)