Another scientific study that ostensibly identifies a biological cause of schizophrenia has appeared and is being widely reported.  According to the Los Angeles Times (1/27/16, emphases added):
"Scientists say they have broken new ground in the study of schizophrenia, uncovering a potentially powerful genetic contributor to the mental disorder …
"The study offers the first clear evidence of a neurobiological basis for a disease that places lifelong burdens on patients and their families.
"In a study hailed as a significant step in the search for schizophrenia's roots, geneticists and neurobiologists zeroed in on a genetic region that … is linked to the mental disorder.
"'Since schizophrenia was first described over a century ago, its underlying biology has been a black box …," said geneticist Steven McCarroll of the Broad Institute and Harvard Medical School, the paper's senior author. "The human genome is providing a powerful new way in to this disease. Understanding these genetic effects on risk is a way of prying open that block box, peering inside and starting to see actual biological mechanisms.'"
According to The Washington Post (1/27/16, emphases added):
"For the first time, scientists have pinned down a molecular process in the brain that helps to trigger schizophrenia. The researchers involved in the landmark study, which was published Wednesday in the journal Nature, say the discovery of this new genetic pathway probably reveals what goes wrong neurologically in a young person diagnosed with the devastating disorder.
"The study marks a watershed moment, with the potential for early detection and new treatments that were unthinkable just a year ago, according to Steven Hyman … a former director of the National Institute of Mental Health, [who called] it "the most significant mechanistic study about schizophrenia ever."
"'I'm a crusty, old, curmudgeonly skeptic,' he said. 'But I'm almost giddy about these findings.'"
"In patients with schizophrenia, a variation in a single position in the DNA sequence marks too many synapses for removal and that pruning goes out of control. The result is an abnormal loss of gray matter.
According to The New York Times (1/27/16, emphases added), the study showed that the
"…risk [of developing schizophrenia] is tied to a natural process called synaptic pruning, in which the brain sheds weak or redundant connections between neurons as it matures. During adolescence and early adulthood, this activity takes place primarily in the section of the brain where thinking and planning skills are centered, known as the prefrontal cortex. People who carry genes that accelerate or intensify that pruning are at higher risk of developing schizophrenia than those who do not . . .
"[This study is being hailed as] a significant step toward understanding the cause of schizophrenia, in a landmark study that provides the first rigorously tested insight into the biology behind any common psychiatric disorder. . . .
"They did a phenomenal job," said David B. Goldstein, a professor of genetics at Columbia University who has been critical of previous large-scale projects focused on the genetics of psychiatric disorders. "This paper gives us a foothold, something we can work on, and that's what we've been looking for now, for a long, long time." . . .
So, we finally have the elusive breakthrough to understanding the biological basis of schizophrenia.  Or do we?  A close look at the source of all this hyperbolic language raises serious questions about such enthusiasm.  (Also see Noel Hunter's insightful analysis of the problems with this "breakthrough" finding.)
The Incredible, Shrinking, Schizophrenic Brain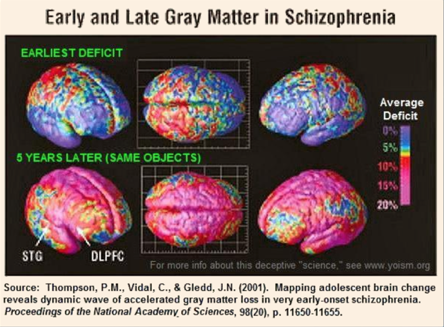 To understand the theory that brain shrinkage is linked to schizophrenia, we start with the fact that normal adolescent and young adult brains shrink.  There have been a number of older studies that purportedly showed that "schizophrenic," adolescent brains shrink more than "normal" brains and that excessive gray matter loss is associated with schizophrenia.
For example, the authors of the 2001 study, from which I obtained the illustration above, reported in the abstract for their paper:
. . . we detected striking anatomical profiles of accelerated gray matter loss in very early-onset schizophrenia; surprisingly, deficits moved in a dynamic pattern, enveloping increasing amounts of cortex throughout adolescence.
. . .These emerging patterns correlated with psychotic symptom severity and mirrored the neuromotor, auditory, visual search, and frontal executive impairments in the disease.
. . . These emerging dynamic patterns were controlled for medication and IQ effects
However, when I carefully read their article, these claims fell apart.  Completely.
In order to confirm that the increased brain shrinkage was associated with schizophrenia per se and was not a result of neuroleptic exposure, medication effects were "controlled" by using a comparison group of psychotic but not schizophrenic adolescents (P/NS) who were supposedly equally exposed to meds as well as a control group of normal adolescents.  As predicted, the P/NS group exhibited less brain shrinkage than the schizophrenic group.  But the P/NS group had much less psychotic symptomatology and, as the body of the study reveals, apparently received far less neuroleptic exposure.  Even though they received less medication than the schizophrenic group, the P/NS group did receive a considerable amount of antipsychotic medications and — surprise, surprise — they showed significantly more gray matter loss than the normal controls.  The differences between the three groups were consistent with a correlation of gray matter loss with neuroleptic exposure.
So despite their claim that schizophrenia causes or is caused by gray matter loss, the actual data in the 2001 study actually supports the idea that there is a loss of gray matter due to neuroleptic exposure with significantly more loss with more neuroleptic exposure.  This is precisely what was reported in a 2008 New York Times article describing twenty years of research by Dr. Nancy Andreasen, former editor of The American Journal of Psychiatry.  (Also see Joanna Moncrieff's more thorough discussion of the brain shrinkage-schizophrenia research.)
Fast Forward to Today's Breakthrough Finding
The twenty-plus authors of the new, "landmark study" start with the assumption that "Schizophrenia is a heritable brain illness with unknown pathogenic mechanisms."  They believe they have now discovered a pathogenic mechanism (the "C4A" gene) for this heritable brain illness — a specific variation of a gene that leads to problematic pruning of synapses during adolescence and young adulthood.  Here we run into a number of problems.
For argument's sake, let's assume that the unlikely, genuine breakthrough has occurred.  I say unlikely because there have been dozens of supposed advances in the biological understanding of schizophrenia that have turned out to be spurious.  But even if this one turns out to have some validity (i.e., if it is replicable) it may be grossly misleading to suggest that it in any way explains "schizophrenia."
What the term "schizophrenia" refers to
As we know, schizophrenia is a term that is typically used to diagnose people who have exhibited psychotic symptoms as defined in a checklist found in the Diagnostic and Statistical Manual of the American Psychiatric Association (now in its fifth edition).  Not being able to identify the cause of the constellation of symptoms referred to as schizophrenia, the diagnosis has had to be based on whether the individual exhibits two or more of the symptoms in the list (delusions, hallucinations, disorganized speech or behavior, catatonia, lack of emotional expression, avolition).
It is universally acknowledged by virtually all researchers that the set of symptoms we label schizophrenia may not be caused by a specific illness. We may be lumping together in one category phenomena with completely different etiologies.  Even if we see the requisite number of symptoms on the list and have ruled out known, non-schizophrenic causes of psychosis, schizophrenia remains an umbrella term for a variety of functional problems.
Yes, we know that brain disorders can cause psychosis
Now, surely we can acknowledge that there are genuine, biological, brain disorders that cause psychosis — e.g., neurosyphilis can produce the symptoms of psychosis.  As my brother-in-law lay dying of AIDS, he periodically suffered from an opportunistic brain infection (toxoplasmosis) that caused him to hallucinate people whom he would talk to.  When he was treated with antibiotics, the hallucinations went away.
The claim of the current study could be seen in this light:  They have discovered one such neurological, brain disorder caused by the C4A variant of a gene that guides synaptic pruning during the transition to adulthood.  But just as neurosyphilis and toxoplasmosis are not explanations for the phenomena we call schizophrenia, neither would C4A disease be such an explanation.  Yet even this more limited claim has some major difficulties.
The C4A gene is rarely associated with schizophrenia
Here we have our first problem.  Approximately 4 in 400 people (1%) get diagnosed with schizophrenia.  In contrast, among those with the C4 gene, 25% more or 5 in 400 people (1.25%) get diagnosed with schizophrenia.  That's the biological finding that is being considered a breakthrough in understanding schizophrenia!  Yet this means that ~99% (98.75%, to be exact, or 395 out of 400) of those with the schizophrenogenic gene don't exhibit symptoms of schizophrenia.  How can this be said to be a finding of a biological cause for schizophrenia?  Before I consider an alternative interpretation of the facts, let's look at some other problems with this study's conclusions.
Schizophrenia or C4A disease?
Amongst those who have been diagnosed with schizophrenia, only a small number have the C4A gene.  It is possible — remember, we're giving the researchers the benefit of the doubt and assuming their findings have replicable validity — that they have identified a real, neurological disorder that can be caused by a problematic gene.  Since this would explain the phenomenon in only a small group of those who get the schizophrenia label, it is likely that — rather than identifying the cause of schizophrenia — they have identified a genetic disorder that interferes with proper brain development.
There are other genetic disorders that cause brain abnormalities that can induce psychosis, e.g., phenylketonuria, Tay-Sachs disease, Wilson disease, and the leukodystrophies.  However, the DSM diagnostic criteria for schizophrenia explicitly state that, in order to make the diagnosis, "The disturbance [cannot be] attributable to . . . another medical condition."  So even if the resultant brain abnormalities from these genetic disorders on occasion cause psychotic symptoms, that would clearly not be schizophrenia.  Just so, if a new genetic disorder has been found to cause psychosis, that is not schizophrenia; in the vast majority of cases, schizophrenia is used to refer to individuals without the C4A gene and whatever biological processes that gene may bring into play.
Schizophrenia and excessive loss of gray matter 
Next.  One of the findings that the authors are trying to explain is the loss of gray matter in schizophrenia.  Yet, as we saw in the above analysis of a typical study that claims to show a link between schizophrenia and gray matter loss, that loss does not appear to be a cause of or caused by schizophrenia.  Rather, the increased loss of gray matter is correlated with neuroleptic drug use that is known to cause brain damage; such increased loss has not been found in humans who were not exposed to significant amounts of neuroleptics.
There was no demonstration in the current study that the C4A gene was associated with a higher level of gray matter loss compared to those without the gene.  Rather, because the C4A gene was associated with schizophrenic diagnoses and schizophrenia has been (misleadingly) associated with excessive gray matter loss, ergo the C4A gene causes greater gray matter loss.
An Alternative Interpretation of the Data
What the authors did not consider was the possibility that they had identified a genetic variant that is associated with increased interaction with a mental health system that frequently and forcefully administers brain damaging drugs.  Such a tendency toward increased interaction with biopsychiatry that may be associated with the C4A gene is quite slight since the vast majority of those with the gene are never diagnosed with schizophrenia.  Indeed, in the vast majority of cases, the tendencies that could cause a slight increase in association with mental health institutions are quite functional; almost all of those with the C4A gene do not develop severe mental illness.
Yet what adaptive personality traits might be associated with increased interaction with the mental health system?  Keep in mind that, from an evolutionary biological perspective, a gene with only deleterious effects is unlikely to remain in the gene pool over many generations.  So, what might be the adaptive effect of this variant of the C4 gene that has enabled it to remain fairly common, even if on occasion it can cause problems?  Actually, it is not too difficult to think of quite a few that are not at all unusual.
Consider the Soteria approach to those who have experienced psychotic breaks versus standard biopsychiatry interventions.  In the former, the individual is seen as being inherently healthy but under stress and needing support to find their own personal, adaptive manner of coming to terms with a problematic world.  In the latter, the individual is seen as containing biological pathologies that make adaptation to a normal world difficult.  While those with the C4A gene and a different pattern of brain development during adolescence may have a tendency to think and act in ways that are slightly more likely to conflict with their environment, such a tendency could be seen as either adaptive or pathological.  The way such tendencies are understood depends on one's perspective and the particular circumstances confronting the individual.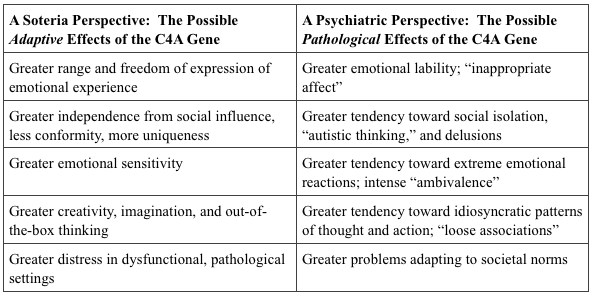 What the current study could be showing is that folks with the C4A gene are slightly more emotionally labile, slightly more likely to have problematic emotional reactions, and thus slightly more likely to come into contact with the mental health system.  Once involved in the mental health system, if during a period of acute distress they get diagnosed with schizophrenia, they are quite likely to get pushed into the debilitating, lifelong neuroleptic exposure that dooms people to an ongoing diagnosis of schizophrenia.  This could account for the tiny increase in schizophrenic diagnoses in those with the C4A gene.
Unfortunately, this "breakthrough" study is likely to be used to undermine the use of safe, effective psychosocial treatments and support a chemical intervention approach to all who've experienced psychotic episodes, most of whom will be irreparably and needlessly harmed.
***
Mad in America hosts blogs by a diverse group of writers. These posts are designed to serve as a public forum for a discussion—broadly speaking—of psychiatry and its treatments. The opinions expressed are the writers' own.
***
Mad in America has made some changes to the commenting process. You no longer need to login or create an account on our site to comment. The only information needed is your name, email and comment text. Comments made with an account prior to this change will remain visible on the site.