In a scathing editorial in this month's Psychotherapy and Psychosomatics, Dr. Giovanni Fava takes aim at prominent medical experts who have downplayed the role of financial conflicts of interest (FCOI) in medical research and practice. Fava retraces the development of the problem, the mechanisms of "propaganda" that allow conflicts to flourish, and offers suggestions for reform, including a call to boycott commercialized medical education programs and professional societies.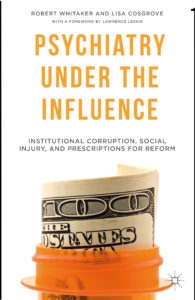 "The hidden costs to the society of financial conflicts of interest in medicine need to be addressed at various levels," writes Fava, a Professor of Psychiatry at the State University at Buffalo.
He cites Robert Whitaker and Lisa Cosgrove's Psychiatry Under the Influence as an example of a work that has systematically documented how corporate interests have manipulated research to the detriment of clinical practice and the health of our communities.
Fava positions his editorial as a direct response to recent articles published in the New England Journal of Medicine (NEJM) and JAMA, which he understood as declaring that "time seems ripe for getting rid of these worries" about FCOIs and "to return to business as usual." Three articles in NEJM by Lisa Rosenbaum are singled out as particularly troublesome. He summarizes her conclusions as follows:
"'The bad behavior of the few has facilitated impugning of the many.' The effects of this behavior were amplified by journalists who fed a vicious cycle in which each story generates more distrust in the public. Dr. Rosenbaum suggested that current restrictive rules may 'undermine potentially productive research collaborations, dissemination of expertise, and public trust.' She acknowledged that studies by pharmaceutical companies are more likely to have outcomes favorable to the sponsor and that physicians who attend events funded by pharmaceutical companies tend to prescribe the featured drugs. However, she claimed that these interactions might actually be beneficial to the patient and that much of the harm was 'invented.'"
Equally troubling for Fava was a viewpoint published in JAMA suggesting "substituting the pejorative term 'conflict of interest' with 'confluence of interest.'" (MIA's coverage of this article here) Likening this name change to the description of SSRI withdrawal symptoms as "discontinuation syndromes," which eased the shift from benzodiazepines to antidepressants for panic symptoms, Fava points out that "a name change can be important."
"The shift from benzodiazepines to SSRI has probably been the most successful achievement of pharmaceutical propaganda in psychiatry, with full endorsement of guidelines and professional societies. Will the term 'confluence of interest' achieve the same success?"

Fava invokes the mechanisms of propaganda put forward in Noam Chomsky's seminal work on the topic, Manufacturing Consent, to describe the systems through which corporate interests and "academic oligarchies" influence clinical practice and scientific studies.
"Corporate interests have fused with academic medicine to create an unhealthy alliance that works against the objective reporting of clinical research (censorship), sets up meetings and symposia with the specific purpose of selling the participants to the sponsors (engineering opinions), gets its prodigal experts into leading roles in journals, medical associations and nonprofit research organizations (using the public relations industry) and provides the appropriate degree of retaliation to outliers (marginalizing dissident cultures)."
Fava's powerful editorial has been published Open Access, and can be read in full here →
*
Fava, G. A. (2016). The Hidden Costs of Financial Conflicts of Interest in Medicine. Psychotherapy and Psychosomatics, 85(2), 65-70. (Full Text)