Not long after posting this Principle from the 10th Annual Conference on Human Rights and Psychiatric Oppression, the following comments appeared on my Facebook page:
"It would have to be replaced with something else, we need to have strong supports we need to take care of each other."

"Hey you radicals mental illness is a physical illness that requires the attention of a specially trained medical doctor if don't like the treatment leave for a dessert[sic] island where you can suffer without disturbing others"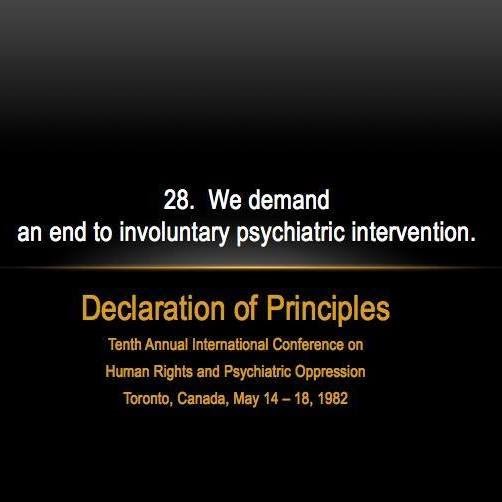 These are understandably difficult issues.  Historically, there has been a lot of difference of opinion and genuine debate. In 2006, the United Nations weighed in.  They approved the Convention on the Rights of Persons with Disabilities (CRPD).  The CRPD prohibits involuntary detention and forced interventions based on psychosocial disability.  These are considered acts of discrimination that violate the right to equal protection under the law.  Under the CRPD, people with psychosocial disabilities have the same rights to liberty, autonomy, dignity, informed consent, self-determination and security of the individual and property as everyone else.
Shortly thereafter, forced 'treatment' was also held to violate the Convention Against Torture:
States should impose an absolute ban on all forced and non-consensual medical interventions against persons with disabilities, including the non-consensual administration of psychosurgery, electroshock and mind-altering drugs, for both long- and short- term application. The obligation to end forced psychiatric interventions based on grounds of disability is of immediate application and scarce financial resources cannot justify postponement of its implementation.

Forced treatment and commitment should be replaced by services in the community that meet needs expressed by persons with disabilities and respect the autonomy, choices, dignity and privacy of the person concerned. States must revise the legal provisions that allow detention on mental health grounds or in mental health facilities and any coercive interventions or treatments in the mental health setting without the free and informed consent of the person concerned.
Many of us hoped that would be the end of it: No forced treatment, clear and simple.  Nevertheless, the debate goes on.  It seemingly has sped up – rather than let up – over the past several years.  Clearly, many of us are sincerely struggling with these issues.  There are people of conscience on all sides.
The Case for 100% Voluntary
For the past ten years, the international community has been progressively moving away from involuntary interventions. This essay is the first in a multi-part series.  It highlights important reasons why the rest of us should follow suit. They are as follows:
1.     These issues are universal, not medical
Life, by nature, is difficult and risky.  Our primary certainties are death, loss, and vulnerability. Pain, suffering, sickness and need are pretty much a given.
The idea is to minimize risk as much as possible, but still keep the essential spontaneity of feeling alive.  This a highly personal undertaking. One is never certain what this means for someone else.
That being said, communities can and should offer support to all who want it. At certain times, any of us might want help to balance: (1) factors that concern others, (2) feasible (medical, natural and community) alternatives; (3) risks and benefits; and (4) personal values and lifestyle considerations. The onus, however, is on would-be supporters to earn and maintain our trust. This is the approach adopted by the United Nations in the CRPD. (Art. 12).
2.     Clinicians are lousy predictors
It's hard to know in advance who is a 'danger.'  Clinicians are notoriously poor in predicting suicide or violence.  In individual cases, they barely do better than the toss of a coin.
Equally disturbing, the people they will lock up have not been accused of a crime, much less convicted.  Yet, on flimsy odds, innocent people lose jobs, businesses, careers, homes, custody of kids, and much more.
And that's not the half of it.  Typically, to lose freedom in society, twelve jurors who have been carefully screened for bias must unanimously agree that someone is guilty beyond a reasonable doubt. In the mental health system, a single clinician with little to lose and a lot to gain makes the call.  By far the safest course is erring on the side of lock up. Guessing wrong means serious harm, distraught families, internal reviews, bad press, lawsuits, potential job or income loss.  Sleepless nights and calls at home should not be overlooked.
3.     Drugs, at best, are problematic
Contrary to popular belief, the choice to refuse drugs is rational.  Even if you meet diagnostic criteria, there are many good reasons to 'just say no.' This not just for individuals and families, but for insurers and governments as well.
During the past several decades of increasing drug use, disability rates have sky-rocketed.  Long-term outcomes and relapse rates have worsened overall. Particularly disturbing is the fact that third world countries (where people are too poor to afford the drugs) get dramatically better results.
Even as a first-line of defense in emergency settings, there are serious concerns.  In simple fact, drugs are not harm neutral.  Known effects include death, psychosis, rage, despair, agitation, shaking, vomiting, impulsivity, tics, uncontrollable movements, memory loss, skin crawling, insatiable hunger, rapid weight gain, dulled awareness, impotence, insomnia, hypersomnia, fatigue, mood swings, and the list goes on. Many of us have experienced the drugs creating urges to violence or suicide we never had before.  Some of us have acted this out.
The long-term considerations are equally alarming.  Susceptibility to relapse, loss of brain matter, obesity, diabetes, congestive heart failure, and permanent disability increase as a function of exposure.  Due at least in part to drug effects, the 'mentally ill' lose 15-25 years (on average!) of our natural lifespan.
For many people, the health risks of drugs aren't even the half of it. A lot of what you like depends upon your values. Preferences and comfort differ for, e.g.: relying on drugs vs. learning self-mastery, following rules vs. asking questions, respect for experts vs. internal wisdom, managing feelings vs. experiencing feelings, medical vs. natural approaches, and seeing the source of healing as science vs. human or spiritual connection.
When it comes to drugs, one nutter's meds are anutter's poison.
4.     Promising alternatives are not being considered
Many do better with non-medical approaches (or might if these were offered).  Fortunately, the options are legion. (See end notes.) Unfortunately, the alternatives are not well-known by clinicians, politicians or the general public.  They therefore not widely offered or available, and are not considered to be worthy of clinical trials.
This is not 'the other guy's problem.'  Vast numbers of us are potentially affected.  One in four crosses paths with the mental health system. (3) One in three currently takes a psychoactive drug. (4) And that hardly scratches the tip of the iceberg of all who are struggling.
What separates 'the worried well' from the 'social menace'?  I'd like to think it was more than my natural affinity for the only approach the doctor on call was taught to offer.
5.     Natural diversity is not a pathology
Human experience cuts deep and scatters wide.  Statistically speaking, there are many shared traits, values, and approaches to life. But outliers are a fact as well.
Our variability is to be expected.  Diversity, not conformity, is the real 'normal.' It contributes to the robustness, resourcefulness, and creativity of our species.  While it may not get you dates or jobs in a self-promoting, efficiency-driven, corporate-run economy, it is not a disorder.
To the contrary, it is far more like a subculture than an 'illness.' In actuality, scores of us value our internal experience, being true to ourselves and treating others generously.  If we speak truth to power and get fired, this is not just impulsivity, mania or disorder.  It's having the courage of our convictions. We want a world that's more than just self-promotion, might is right, and going along to get along.  It's a beautiful vision.  Many of us are dying (including by suicide) for the want of it.  Far from being a social menace, in the 1960's, Dr. King argued that such 'creative maladjustment' is essential in our quest for a socially just, equitable world.
6.     This is about trauma, not disordered brains
Trauma' is pervasive and potentially causal. Ninety (90!) percent of the public mental health system are 'trauma' survivors.  In effect, vast numbers of vulnerable citizens are growing up without a way to meet fundamental human needs. Things like:
reliable access to food and habitable shelter
safety of person and property
dignity, respect and fair treatment
meaningful participation and voice
the means to make a living and obtain basic life necessities
relational, educational, vocational and cultural opportunities for development
support to share and make sense of experience in our way
If the aim is to create a safer world, trauma is a much more pressing problem to fix than 'chemical imbalances'.  There are numerous reasons for this.  We have not even begun to scratch the surface of the implications of a truly trauma-informed system of care.  As the next essay in this series will address.
7.     Do the math – it adds up to 'voluntary.'
The primary mechanisms for a safer world are already in place.  We already have a criminal justice system with the capacity for detention, probation, in-home monitoring, geographic restriction, behavioral health treatment, drug testing, 'no contact' orders, restorative justice, etc.  We already have civil restraining orders, lawsuits, and mediation.  The essential task is to update these protections – and make them meaningfully available – to address modern needs.
The money we save by making things voluntary (police, hospitals, courts, lawyers, lawsuits, staff/ patient injuries, security, insurance, staffing needs, drugs) will go a long way to making this possible.  We could fund numerous thoughtful, responsive, social justice informed alternatives.
We could invest in a truly trauma-informed criminal justice system, rather than dumping that burden on hospitals and their employees. The change in morale itself is worth the price of admission.  Imagine no locked doors and everyone wants to be there. Violence happens, you call the police. Just like everywhere else.
8.     The continued prejudice against people with psychosocial disabilities is not worthy of a free society.
There's a saying in twelve-step rooms: Every time you point a finger, there's three pointing back at you.  Suffice it to say, majority fears and prejudice must stop ruling the day. That is discrimination – and it begets discrimination.
In actuality, people from all walks of life have presented a grave risk of injury to self or others at one time or another in their lives: Wall Street brokers, weapons manufacturers, new parents, drinkers, children, teens, Frat houses, Nyquil users, pot smokers, crack addicts, bungee jumpers, martial artists, car racers, dirt bikers, inline skaters, snake handlers, fire builders, gymnasts, boxers, weight lifters, ragers, ex-cons, insomniacs, equestrians, skiers, diabetics who eat sugar, cardiac patients who drive…  There is no end to the list. Some people (trapeze artists, law enforcement, fire departments, magicians, military, security guards, skydivers, operators of heavy machinery) even make a living from this.
There is no principled way of distinguishing the predisposition to such risks from any other kind of psychosocial diversity.  If you needed any better proof of this, the diagnostic criteria for so-called 'mental disorders' are so useless that CMS threw them out in 2013 and told the APA to start over.
In any place but a psychiatric exam room, those seen as a cause for alarm would have the following rights: due process, equal protection, liberty, privacy, security of person and property, free speech, freedom of association, freedom to travel, right to contract, written charges, trial by jury, Miranda, and compensation for unjust takings.  You need these protections more, not less when you've committed no crime and are simply having the worst day of your life.
In a society worthy of calling itself 'free,' public safety would mean all of us. It would go without saying that service recipients are 'the public' just as much as anyone else. We would look at fear and prejudice as the real social menace.  People who use mental health services would not need protection from people like you.
So please.  Stop locking us up 'for our own good' and calling it a favor.  This only distracts from the real question:  If the crisis services are so great, then why isn't everyone using them?
Here's a litmus test. Think about your last life crisis. Did you use these services? Did they feel like a useful, viable option for you?
Before you say, "No but I'm not [crazy, poor, uninsured…]," stop yourself. Try this instead, "No, but I'm not human."
It has a different ring to it, doesn't it?
This blog is a contribution to the Campaign to Support the CRPD Absolute Prohibition of Commitment and Forced Treatment. To see all of the Mad in America blogs for this campaign click here.
*
Click here for supporting resources →
***
Mad in America hosts blogs by a diverse group of writers. These posts are designed to serve as a public forum for a discussion—broadly speaking—of psychiatry and its treatments. The opinions expressed are the writers' own.
***
Mad in America has made some changes to the commenting process. You no longer need to login or create an account on our site to comment. The only information needed is your name, email and comment text. Comments made with an account prior to this change will remain visible on the site.