A new study, published in BMC Psychiatry, explores the role of pets for individuals diagnosed with a long -term 'mental illness.' The qualitative study, conducted in England, finds that pets play a central role in their owners' daily management of mental health concerns. The authors, led by Helen Brooks, a faculty member at the University of Manchester, recommend that pets be considered when providing mental health services.
The authors report,
"The implications of this study propose that pets should be considered a main, rather than a marginal source of support, in the management of long-term mental health problems."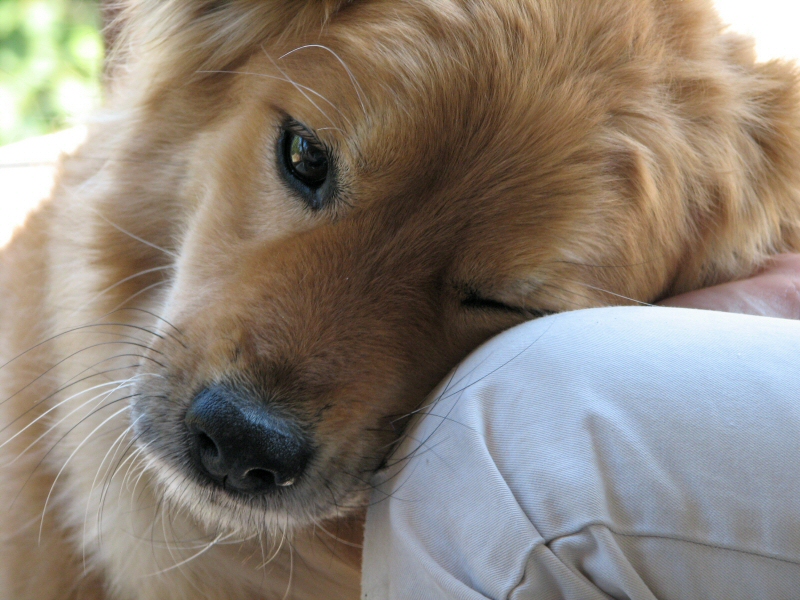 Individuals diagnosed with mental health problems often struggle to maintain connections with social networks and experience stigma related to their diagnoses. Research has demonstrated the benefits of Animal Assisted Therapy for individuals with long-term physical health conditions. The value of pet ownership for reducing stress and improving the quality of life has also been shown. Yet, "the role of pets is likely to have been under-acknowledged, with indications in research that some people consider their pets as being as important as family members, and their value in terms of companionship, love, and support is widely acknowledged," state the researchers.
In an attempt to better understand "the contribution of pets in the broader context of support networks and the role they may play in recovery-orientated activities and the management of mental health," the researchers conducted qualitative interviews with pet owners who have been diagnosed with  a long-term 'mental illness.' Fifty-four participants engaged in 'ego' network mapping. Network diagrams were created for each participant with three concentric circles. The innermost circle represents people, pets, activities, places, and objects that are most important in managing participants' mental health, and outer circles represent supports that are important, but less so than more inner circles.
Twenty-five participants reported that they have a pet. Pets were described as most central in 60% of participants (n = 15). An additional 20% (n = 5) placed pets in the second most central circle. Relationships with pets tended to be less important for participants who had strong family and friend relationships, compared to participants who had challenges in these relationships. The authors note, "For these people, the relationships with companion animals took on discrete and definite functions within networks, which were different to the norms associated with human-to-human relationships."
Participants identified many qualities in their relationships with pets that they felt are more difficult to receive in human relationships, including a sense of trust, validation, and unconditional love. The researchers describe, "Pets were relevant to an individual's construction of self and played a unique role in the reduction and management of stigma. For example, pets were seen to accept people for who they were without judgment or resentment." One participant stated, "They [pets] don't look at the scars on your arms, or they don't question things, and they don't question where you've been."
Participants also reported that their pets helped them continue to engage in daily tasks regardless of how they were feeling. One participant described, "You know, so in terms of mental health, when you just want to sink into a pit and just sort of retreat from the entire world, they force me, the cats force me to sort of still be involved with the world."
Pets demonstrated therapeutic benefits of helping to calm their owners, as well as providing a source of distraction. "Pets provided ontological security through generating a sense of order and continuity to individual experiences and through this close connection provided a sense of meaning to people's lives" that they may not receive in their social network or broader community, explain the authors.
Many individuals with mental health concerns have pets, and these relationships are often beneficial and should be considered in care planning. The researchers state that the study "illuminated the role of pets as a hidden resource for mental health management and supports the idea of a 'lifestyle' approach to the management of mental health problems and prevention."
The authors suggest that discussing pets in care planning can foster the relationship between healthcare providers and consumers. They also note the importance of addressing pet owners' concerns about who will care for pets during crises or extended absences (e.g., hospitalizations). The researchers conclude, "These insights provide the mental health community with possible areas to target intervention and potential ways in which to better involve service users in service provision through the discussion of valued experiences."
****
Brooks, H., Rushton, K., Walker, S., Lovell, K., & Rogers, A. (2016). Ontological security and connectivity provided by pets: A study in the self-management of the everyday lives of people diagnosed with a long-term mental health condition. BMC Psychiatry, 16, 409. doi:10.1186/s12888-016-1111-3 (Abstract)