Part three of a talk on the history of psychopharmacology given to the British Neuropsychiatric Association on February 22. It follows on from Tweeting While Psychiatry Burns and Tweeting While Medicine Burns. The final group of slides are here. 
This talk was first given in Toronto on November 30, 2000 to mark the 75th anniversary of the University Dept and the 150th anniversary of the Queen Street Mental Hospital (slide 1). The Chads were still hanging in Florida while the Supreme Court tried to decide whether Bush or Gore had won. I had recently been hired by the University of Toronto, and I and a number of others had been invited to contribute to a meeting to celebrate the occasions.
I led off the program with the talk pretty much as it's been presented here. One of the other speakers was this dude Charles Nemeroff. Nemeroff was quite happy at this point in time to be featured as the "Boss of Bosses" (slide 2). He wasn't the boss of bosses because of any scientific or clinical contribution, of which there was none.
In line with these Mafia connotations, at the meeting Nemeroff approached one of the key people involved in my hiring and suggested that they "get rid of Healy." According to Nemeroff later, this individual wet his pants. The University later claimed that my colleagues were disturbed by my talk and would have found it difficult to work with me. They also claimed I had said "antidepressants cause suicide" which was like crying "fire" in a crowded theater.
The talk was actually about lack of access to data, not about antidepressants and suicide. It was the plot of a book then in press: The Creation of Psychopharmacology (slide 3). Harvard University Press don't do wild or off the wall.
My talk received the highest rating of the day by the audience, which seems at odds with later university claims. Nemeroff received the lowest (slide 4). His talk was largely an advert for paroxetine (Paxil/Seroxat) and how it was more of an SNRI than people thought, which didn't seem particularly appropriate for the occasion, but perhaps interesting in that he seemed to be thinking about being an expert for GSK in the forthcoming Tobin trial.
Escape to New York
Nemeroff flew to New York that Thursday night. The following morning, Friday, at a Suicide Prevention meeting he told colleagues that Healy had lost his job.
Unaware of any of this, I flew to New York on Friday morning and that afternoon was a few blocks away from Nemeroff. Neither he nor I knew this. I was in Pfizer's archives where even the loo paper was marked confidential. Articles that had been in the public domain for years were stamped confidential. But extraordinarily, this document wasn't (slide 5).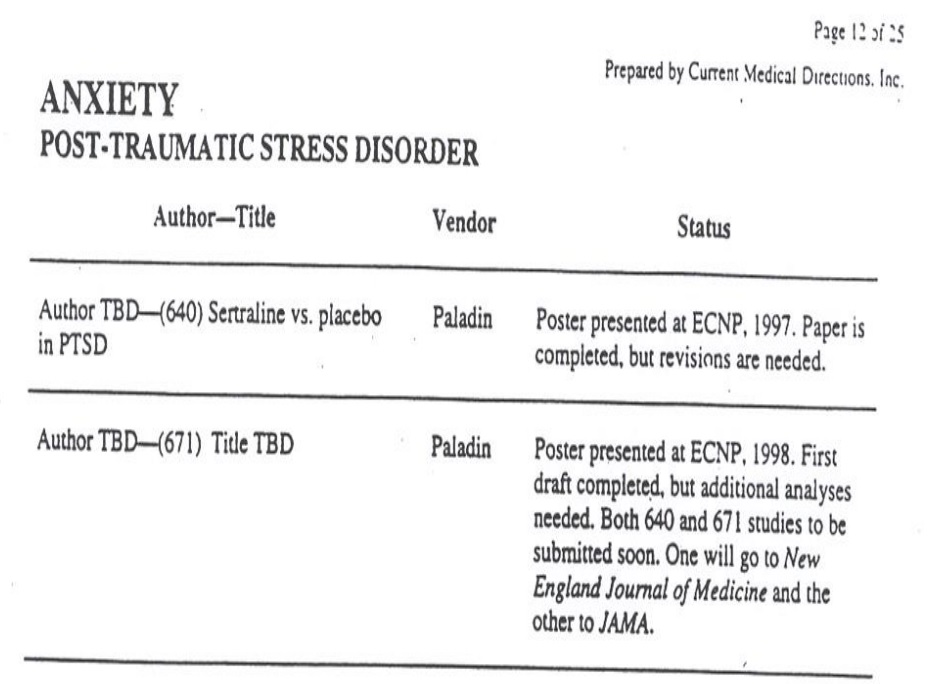 This page comes from a portfolio of articles on Pfizer's Zoloft, covering the writing of articles on Zoloft for ingrown toenails, for anxiety, for the elderly, for the young, and how it was cheaper than older treatments that cost only a fraction of its price. This page shows you that there were two articles on PTSD being ghostwritten for leading journals. The articles were written, the journals selected — the company just had to decide on who the authors were going to be. TBD stands for To Be Determined.
Based on this portfolio of articles, we were later able to show that heading toward 100% of articles in the peer-reviewed literature on on-patent drugs are ghostwritten. In 100% of cases there is lack of access to the data. This is true across medicine. It applies to respiratory medicine, neurology and cardiac medicine as much as to psychiatry.
What it means is that, for instance, the NICE guidelines — which are based on these articles — are junk. Complete and utter junk. But increasingly our trainees and everyone else are trapped by guidelines like these. We will lose our jobs if we don't adhere to them. This is what has led to the opioid epidemic in the US.
Tweeting
A few days after I gave this talk, I was informed that I had lost my job — I wasn't a good fit and the department would lose money.
Over the last sixteen years, when visiting the US I have been struck by what can only be called a Medical McCarthyism. Everyone in healthcare is scared to open their mouths. While the average American is probably still more prepared to stand up for themselves than the average European, when it comes to doctors it feels at times like the land of the craven and the home of the slave. Just last week, however, the President of Royal College of Surgeons in Britain made a case that medicine in Britain is heading exactly the same way.
Pretty soon after this talk, the worry has to be that most of us in the US, UK and Europe are going to lose our jobs — at least, going to lose the kind of jobs many of us thought we were taking up when we entered the field.
If the drugs are as effective as we are told and as free from side effects as we are told, you can replace high-cost prescribers with nurses, pharmacists, and pretty soon with robots. This is in fact happening quite rapidly.
In the 16 years from 1952 to 1968, the world changed in astonishing ways. In the 16 years since I first gave this talk, it seems to have changed almost as much again.
So when some future historian, a very few years from now, looks back at this period and wonders about the senior figures in the field — the Jean Delays (slide 6), in the UK they will have Sir before their name — will they say it was a time when the field's significant figures tweeted while psychiatry burned?
***
Mad in America hosts blogs by a diverse group of writers. These posts are designed to serve as a public forum for a discussion—broadly speaking—of psychiatry and its treatments. The opinions expressed are the writers' own.
***
Mad in America has made some changes to the commenting process. You no longer need to login or create an account on our site to comment. The only information needed is your name, email and comment text. Comments made with an account prior to this change will remain visible on the site.