A large observational study published in CNS Drugs sheds light on serious adverse effects of the 'gold standard' antipsychotic Clozapine. Researchers reviewed reports submitted over a 22-year span of patients on Clozapine reporting Clozapine-induced gastrointestinal hypomotility (CIGH).
"Clozapine's advantages come at a cost, with an array of problematic adverse effects of which CIGH is on of the most serious," the researchers write.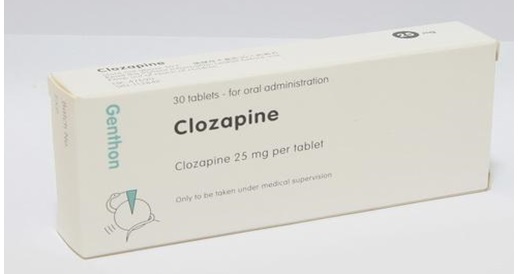 Clozapine is currently the 'gold-standard' for people diagnosed with "treatment-resistant Schizophrenia." However, this drug comes with numerous side-effects. Among many others, one side effect previously reported by MIA includes the development of a stutter, which can be eliminated with a reduction in dose of the drug or by increasing dosages in smaller increments. The authors of the present study focus on clozapine-induced gastrointestinal hypomotility (CIGH) defined as ". . . an acquired state of delayed transit through the gastrointestinal tract . . . Resulting from the drug's pharmacological actions on the nervous system".
Previous studies have demonstrated that clozapine ". . . Has potent effects on the mammalian colon, inhibiting neurogenic and, at higher concentrations, myogenic contractions, profoundly disrupting gastrointestinal motility." Further, between 50-80% of clozapine-treated patients have unambiguous evidence of CIGH.
From the period of 1992-2013, all reports of CIGH were examined to identify demographics, risk factors, and outcomes related to serious of life-threatening CIGH and to calculate the proportion of clozapine prescribed patients reported as having CIGH-type adverse drug reaction (ADR). Data were extracted from the New Zealand Pharmacovigilance Centre and the Australian TGA.  The study aimed to identify cases where clozapine was the causal element impacting the development of severe gastrointestinal hypomotility events. Data were analyzed for the variables age, gender, clozapine dose at onset of symptoms, duration of clozapine treatment before onset of CIGH, symptom onset date, clinical details of presentation, outcome and treatment, and other medications.
A total of 160 patients were included and were categorized as non-fatal cases (n= 131) and fatal cases (n = 29). ADR's reported included: constipation (non-fatal = 62, fatal = 8), gastrointestinal hypomotility (non-fatal = 4, fatal = 0), fecal impaction (non-fatal = 13, fatal = 3), Ileus (non-fatal = 5, fatal = 3), paralytic ileus (non-fatal = 14, fatal = 1), Ogilvie syndrome (non-fatal = 2, fatal = 0), small bowel obstruction (non-fatal = 9, fatal = 1), pseudo small bowel obstruction (non-fatal = 1, fatal = 0), large bowel obstruction (non-fatal = 0, fatal = 1), intestinal obstruction (non-fatal = 54, fatal = 8), intestinal ischemia (non-fatal = 5, fatal = 5), megacolon (non-fatal = 8, fatal = 3), bowel perforation (non-fatal = 5, fatal= 6). Moreover, 42 (26%) were reported as recovered and 89 (56%) were reported as "unknown" or "not yet recovered", 29 (18%) died from suspected CIGH.
The authors highlight that from the time clozapine entered the New Zealand market, 7691 people were started on the drug, of which .47% developed serious CIGH, and in Australia 35,441 individuals were prescribed clozapine and .35% developed severe CIGH. The researchers point out that these are likely underestimated due to under-reporting. Moreover, information provided on CIGH was poor with little if any reference to CIGH monitoring or treatment. The prevalence of serious CIGH was found to be 37/10,000, and the authors call for regulators and manufacturers to update their guidance to reflect current knowledge and risk.
****
Every-Palmer, S., & Ellis, P. M. Clozapine-Induced Gastrointestinal Hypomotility: A 22-Year Bi-National Pharmacovigilance Study of Serious or Fatal 'Slow Gut'Reactions, and Comparison with International Drug Safety Advice. CNS Drugs, 1-11. (Abstract)