Andrew Yount of Tennessee was a four year old with behavior problems and an ADHD diagnosis in the summer of 2003 when his doctor prescribed Risperdal.
The drug was a powerful adult antipsychotic marketed aggressively for children by Johnson & Johnson to meet the pharmaceutical company's billion-dollar-a-year sales goal.
By Christmas, after Andrew had taken Risperdal for four months, holiday photos show that this preschool boy had developed breasts like those of a young girl in the beginning stages of puberty.
The doctor who prescribed Risperdal to Andrew did not know what J&J studies showed: that the drug raised levels of the hormone prolactin which triggered the growth of female breasts, known as gynecomastia, in a significant percentage of boys who took the medicine.
And once the growth began, there was no going back.
"The match has been lit to light the fire, and the cells have started doing what they're going to do. They are going to continue to grow disproportionately to the rest of him," Mark Solomon, a medical expert on Risperdal's gynecomastia side effect, testified about Andrew in a Philadelphia courtroom in June 2016.
Today, at 18, Andrew is a fully grown man with pendulous, 42D-size breasts.
And he's not the only one. Thousands of boys and young men are lined up in courthouses around the country to sue J&J for gynecomastia caused by taking Risperdal as young children. The condition is irreversible except by surgical removal.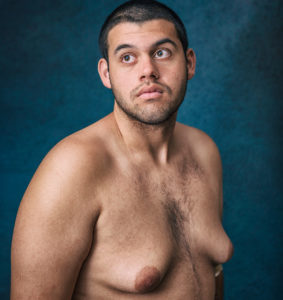 Collectively, they have become known as the Risperdal Boys after a handful of the now-grown men agreed to participate in a photo shoot and interviews to help get their story out. The result is posted at risperdalboys.com.
Some of the Risperdal Boys have won settlements and verdicts from J&J, including a $76 million judgment in the Yount case in 2016. His is the biggest payout to date. The verdicts are based on the question of whether the medical community was adequately warned about the gynecomastia side effects of Risperdal.
J&J strenuously denies liability and insists consumers were adequately warned about side effects.
The Risperdal Boys are victims of an enormously profitable strategy used by J&J and other drug companies to increase revenue by getting doctors to prescribe their drugs to patients for whom the drug was never intended. It's called prescribing drugs "off-label," and it means that patients are turned, in essence, into guinea pigs by taking a drug which was never proven to be safe or effective for their medical condition.
That the pharmaceutical companies are driven more by profit than compassion is evidenced by the lack of follow-up by the companies to determine whether these off-label patients benefited or were harmed by the drug.
In the case of Risperdal, FDA approved the drug in 1993 to treat adult schizophrenics. But the percentage of schizophrenics in the U.S. population is too small for the drug to make a lot of money by Johnson & Johnson's standards. So in the late 1990s and early 2000s, the J&J marketing team focused on convincing doctors to prescribe Risperdal to tens of thousands of young children with a variety of behavior issues, according to testimony.
While it's illegal for drug companies to market a drug for a group not approved by the FDA, doctors are free to prescribe drugs as they see fit.
The FDA had explicitly rejected several requests by J&J to approve the drug for children because the company didn't have sufficient data to show it would be safe, according to testimony by former FDA commissioner David Kessler.
According to the online legal news publication Law 360, Kessler also testified in court that "about 20 percent of the Risperdal prescribed before the early 2000s was used in children and adolescents."
In addition to children, J&J encouraged doctors to prescribe Risperdal off-label for elderly people with dementia, according to the U.S. Justice Department. Risperdal did not have FDA approval for use in the elderly, and these people were later found to have suffered increased risk of strokes after taking the drug.
J&J paid $2.2 billion in 2013 to settle criminal and civil claims by the U.S. Department of Justice that it paid kickbacks to doctors to prescribe Risperdal and two other drugs off label and to get those doctors to persuade their medical colleagues to do the same. In the settlement, J&J paid criminal fines and forfeiture for violations of the law and civil settlements based on the False Claims Act, according to the DOJ. The case was one of the largest health care fraud settlements in U.S. history. Whistleblowers from within the company had tipped off the feds.
"J&J and Janssen knew that Risperdal posed certain health risks to children, including the risk of elevated levels of prolactin, a hormone that can stimulate breast development and milk production. Nonetheless, one of Janssen's Key Base Business Goals was to grow and protect the drug's market share with child/adolescent patients. Janssen instructed its sales representatives to call on child psychiatrists, as well as mental health facilities that primarily treated children, and to market Risperdal as safe and effective for symptoms of various childhood disorders, such as attention deficit hyperactivity disorder, oppositional defiant disorder, obsessive-compulsive disorder and autism," the DOJ stated in a press release.
That same year, the company reported total worldwide sales of $71.3 billion, according to a company press release.
If billion-dollar penalties are being factored in by the drug industry as somehow an acceptable cost of doing business, the calculation fails to take into account the cost of irreparably damaged lives.
The damage to the Risperdal Boys is not only physical but emotional and psychological.
As early as age six, Andrew was refusing to take off his shirt in front of his own doctor.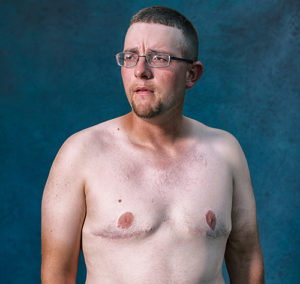 Eddie from Oklahoma, who participated in the photo documentary, described how the bullying led him to withdraw into a lonely world playing alone at home in front of a video screen.
"I had bigger boobs than most of the girls in high school," Eddie said on the Risperdal Boys documentary.
He was fortunate that Oklahoma's SoonerCare paid for his mastectomy.
Some of the Risperdal Boys describe trying to bind their breasts to make them less noticeable, and not finding anyone to date. After being groped first by a girl and then a boy in class, Arturo from Pontiac said he left school and never went back.
Because J&J had downplayed the connection between Risperdal and gynecomastia, Isaiah from Flint went through tests for cancer before his doctors, trying to find an answer for his unusual breast development, discovered his elevated levels of prolactin.
Perhaps one of the best known of the Risperdal Boys is Austin Pledger, a young Alabama man in his early 20s. His mother Benita spoke for him in court during his trial against J&J. Austin's family won the first jury verdict against J&J — a jury in Philadelphia awarded Austin $2.5 million.
Austin's mother Benita recalls filling his first prescription for Risperdal in 2002, when he was eight years old, as treatment for irritability associated with autism. The doctor who prescribed Risperdal to Austin had received the full Risperdal marketing treatment from the local sales representative for J&J's subsidiary Janssen. The sales rep visited the doctor at least 20 times, twice as often as Austin saw the doctor, according to testimony.
Austin stayed on Risperdal for five years. By the time he was an adolescent, Austin had full female breasts.
At trial Benita described how Austin would put a towel over his breasts when he got out of the shower so he wouldn't have to see them in the mirror, and how he intentionally banged his breasts on a table.
J&J acknowledged in its 2016 annual report that the company is facing 18,500 personal injury lawsuits worldwide relating to Risperdal. Many of the boys need help to pay for costly plastic surgery to undo the damage from the drug.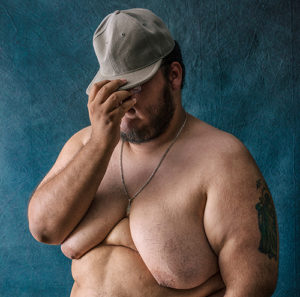 Of all the Risperdal claims filed against J&J, at least three are known to have been settled by the company on the eve of trial.
Since Yount's case, judges in Philadelphia's mass tort court have stopped four cases from reaching a jury on technical grounds. All four decisions are on appeal. J&J is also appealing verdicts against the company.
There will be more Risperdal cases in the coming months.
The new cases will bring the kind of publicity that J&J doesn't need, coming off recent weeks of troubling headlines. Bloomberg reported J&J lost six of the seven largest product liability verdicts in 2016. Besides the $76 million Yount judgment, juries gave two hip implant patients a total of $1.5 billion, and three women alleging the company's talc caused ovarian cancer got a total of almost $200 million. Some of the verdicts were reduced by judges, and some are expected to be appealed. The company acknowledges more than 100,000 product liability lawsuits pending, including cases involving allegations that its blood thinner Xarelto causes uncontrolled bleeding and its pelvic mesh deteriorates and causes internal damage. Bloomberg reported that 17 product liability cases against the company involving death and injury were expected to go to trial in 2017.
***
Mad in America hosts blogs by a diverse group of writers. These posts are designed to serve as a public forum for a discussion—broadly speaking—of psychiatry and its treatments. The opinions expressed are the writers' own.
***
Mad in America has made some changes to the commenting process. You no longer need to login or create an account on our site to comment. The only information needed is your name, email and comment text. Comments made with an account prior to this change will remain visible on the site.