The National Institute of Mental Health (NIMH) has violated a key U.S. transparency law aimed at curbing research waste and evidence distortion in medicine on numerous occasions, data compiled by STAT News shows. In total, NIMH failed to post the results of 11 of 24 trials covered by the law onto the publicly managed trial registry Clinicaltrials.gov within the twelve month deadline stipulated by the law. Three of those clinical trials remain without results on the registry to this day.
Congress passed the FDA Amendment Act in 2007 to ensure that the results of clinical trials are made public irrespective of whether their outcomes are positive or negative. It was hoped at the time that the new law would counter widespread reporting bias and evidence distortion in medical research, and restore some balance to a medical literature that has repeatedly been shown to systematically overstate the efficacy of drugs and underreport their harms. However, over ten years on, the law remains unenforced; not a single fine has been imposed.
Among those routinely violating the law are U.S. government institutions, among them the NIMH. Not a single major institution has a track record of full compliance. In total, out of 1,286 taxpayer-funded clinical trials, 923 violated the transparency law by posting results late or not at all. Out of those, 163 are still missing results on the registry.
Out of the thirteen largest public trial sponsors, the Department of Defense (56% of trials missing results), the Eunice Kennedy Shriver National Institute of Child Health and Human Development (46% missing), and the Veterans Administration (34% missing) are by far the worst performers. NIMH occupies middle ground with 17% of trials missing results.
Clinical trials completed >12 months ago without summary results, in %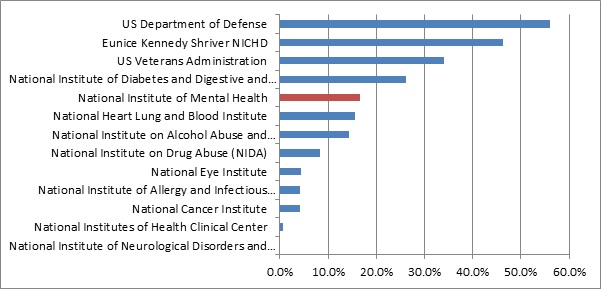 Compared to the top performers, NIMH's track record looks distinctly unimpressive. NIMH completely dropped the ball on 4 out of only 24 applicable trials in its portfolio. In contrast, the National Institutes of Health Clinical Center managed a portfolio of 154 trials, and posted results for 153 out of those.
When challenged about their failure to post the summary results of clinical trials onto registries, institutions sometimes argue that the outcomes of many of those trials have been published in academic journals, making disclosure in registries unnecessary. However, research shows that summary results often provide a more robust and accurate picture of trial outcomes, including serious adverse events, than journal articles do. They thereby reduce the potential for reporting bias and evidence distortion, including a widespread form of research misconduct known as outcome switching.
For this reason, numerous groups — including the World Health Organization, Cochrane, and the global anti-corruption organization Transparency International — have called on governments to ensure that the summary results of all clinical trials are posted on registries with 12 months of trial completion, without exceptions. (The FDA Amendment Act only covers a small minority of all clinical trials.)
The failure of NIMH to post summary results for all of its trials is especially concerning because evidence distortion appears to be remarkably widespread in journal articles discussing trials of antidepressants and other psychiatric drugs. In addition, NIMH's frequent failure to post summary results within the 12 month time limit set by law slows down the urgent quest for more effective treatments for mental health conditions. For example, NIMH has yet to post the results for trial NCT00794625, in which persistently aggressive children with ADHD were given Valproate and Risperidone to discover whether this would reduce their "defiant, belligerent, and otherwise aggressive behaviour." The study was completed nearly five years ago.
Last year, over twenty major institutions worldwide jointly committed to posting the results of all their clinical trials within a 12 month time frame. U.S. government agencies are conspicuously absent from the list of signatories. An initiative that flags recently completed trials as soon as they fall foul of the law has detected four failures of the National Cancer Institute to post results on time within the past month alone.
With policymakers in Washington always on the lookout for opportunities — some may say excuses — to cut research budgets, NIMH and other taxpayer-funded medical research institutions may do well to recall the 2016 threat by then Vice President Joe Biden to cut off funding for researchers who fail to report clinical trial results in a timely fashion.
Campaigners for clinical trial transparency have long argued that patients deserve a better deal. If NIMH and other U.S. government institutions do not get their act together soon, Congress may start asking why it should fund research that fails to meet basic transparency requirements, and conclude that taxpayers too deserve a better deal.
Note: The author would like to thank STAT News for sharing its data set. The data set showed that as of September 11, 2017, NIMH has failed to post summary results for four clinical trials that were at that time overdue. In the meantime, NIMH has submitted the summary results for one of those four trials (NCT00183443). NIMH has still not posted results for the other three trials.
***
Mad in America hosts blogs by a diverse group of writers. These posts are designed to serve as a public forum for a discussion—broadly speaking—of psychiatry and its treatments. The opinions expressed are the writers' own.
***
Mad in America has made some changes to the commenting process. You no longer need to login or create an account on our site to comment. The only information needed is your name, email and comment text. Comments made with an account prior to this change will remain visible on the site.