Authorities throughout the world have warned against using depression pills for children and adolescents after the FDA had shown in 2004 and 2006 that these pills double the risk of suicide compared to placebo in the randomised trials.1 2 We know the mechanism of action for this effect. The pills can cause akathisia (an extreme form of restlessness that predisposes to suicide, violence and homicide), emotional numbness and psychosis.

Denial of the pills' increased suicide risk
Despite the unambiguous findings and the authorities' warnings, Lundbeck, other drug companies, and leading psychiatrists have tried for years to convince the population of the opposite — that there is no increased risk of suicide, and, on the contrary, that the pills protect against suicide. They have done so by referring to unreliable research or by selective citation of research that shows the opposite of what the psychiatrists claim.
We have seen this denial in many countries, and it has resulted in many suicides, not only among children and adolescents, but also among adults.
The consumption of depression pills decreases, but only in Denmark
After a number of years with a steadily increasing sales curve, the number of children and adolescents in treatment with depression pills decreased by 41% in Denmark, from 2010 to 2016.3 In the same period, the number of children in treatment in Norway increased by 40%4 and in Sweden by as much as 82%.5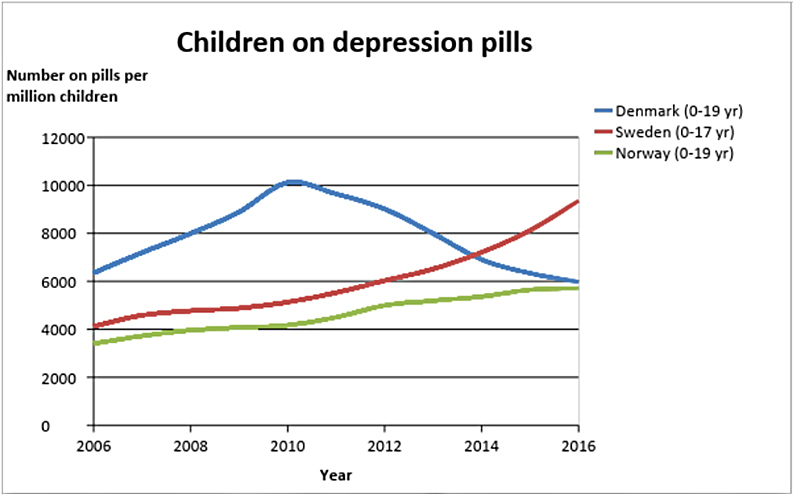 The dramatic difference between Denmark and the other two countries is not seen in other therapeutic areas. The main reason is likely that, in the summer of 2011, the Danish National Board of Health issued guidance that GPs should no longer write prescriptions for depression pills for children, which should be a task for psychiatrists.6 Such limitations in the right to prescribe have not occurred in Norway and Sweden.
A contributory reason might be that, also in the summer of 2011, I began to warn strongly against the suicidal effect of the pills,7 which I have done countless times ever since in radio, TV, articles, books8 and lectures. No one in Norway or Sweden has done anything similar. The reason that it is particularly bad in Sweden is probably because of an influential psychiatry professor, Göran Isacsson, who, in countless articles, interviews and in unreliable research, has claimed that depression pills protect children from suicide. A contributing factor could be that the Swedish doctors who write treatment guidelines have financial conflicts in relation to the companies selling the pills. This is not mentioned in the guidelines.9
Despite the welcome development in Denmark, the denial of the facts by Lundbeck and several psychiatry professors has been — and unfortunately still is — very pronounced, which the rest of this article is about.
Radio interview with Lundbeck in 2011
The deception starts in the pharmaceutical companies selling depression pills. They have cheated massively, among other things by excluding many suicidal thoughts, suicide attempts and suicides from their published clinical trial reports.
On May 12, 2011, the then CEO of Lundbeck, Ulf Wiinberg, made a series of spectacular claims in a radio broadcast. The broadcast was about the fact that Lundbeck's American partner, Forest Lab, had paid over $313 million in fines for bribery of doctors and illegal marketing of depression pills for children, and for withholding results that demonstrated harmful effects of Lundbeck's drug. Forest negotiated compensation for 54 families whose children had committed or attempted suicide while being treated with Lundbeck's pills.
In the broadcast, journalist Solveig Bjørnestad asks why Lundbeck does not discourage the use of depression pills for young people if there is an increased suicide risk. Wiinberg responds that it is not Lundbeck's pills but the depression that leads to suicide.
The Director of the Danish Institute for Rational Pharmacotherapy in the Danish Medicines Agency, Steffen Thirstrup, considers the high consumption of pills among children and young people frightening, not least because Lundbeck's medicines are not approved for children and adolescents, which gives Lundbeck a moral responsibility.
The chairman of the GPs organization, Henrik Dibbern, explains that a very crucial factor for the high growth in consumption is marketing by the pharmaceutical industry, on which the industry spends very large sums, and industry-sponsored medical education, which also affects doctors.
Wiinberg mentions that 40 Danish children committed suicide during a 5-year period and that none of them were in treatment with Lundbeck's drugs (see more about this below). He also believes that there is no evidence of an increase in suicides, and that what is mentioned in the clinical trials is suicidal ideation. He claims that there is no link between suicidal thoughts and suicide, says that suicide attempts are not the same as suicide, and claims that use of the products actually reduces the number of suicides.
Wiinberg claims that Lundbeck does not market the pills for children and adolescents. But we know that Lundbeck's partner did do this in the United States. We do not know what the drug salespeople have told doctors in Denmark during their "consultatory visits," but we do know that 52% of GPs in Denmark who have received sales visits have experienced that the salesperson mentioned that the drug could be used outside the approved indications,10, although it is illegal to say this.
When Bjørnestad asks for an explaination of the marked increase in the consumption of pills for children and adolescents, Wiinberg replies: "I think there are doctors and parents who feel that when you have a seriously ill child, you want to do something for it."
On Bjørnestad's question about whether Lundbeck will advise GPs not to use depression pills for young people under 18, Wiinberg says that Lundbeck does not market the pills for children. Bjørnestad gets nowhere, even when she asks whether Lundbeck will insist that their salespeople discourage the use of depression pills in children. Wiinberg replies, "It is important that these children receive treatment and that it is prioritized because they are ill."
The Evening Show 2013 on Danish national TV

On April 15th, 2013, I was on the Evening Show together with professor of psychiatry Lars Kessing. Like Lundbeck, Kessing claims that depression pills protect against suicide, and he emphasizes that this is something we know with very great certainty.
Kessing mentions that the number of annual suicides in Denmark has fallen from over 2600 in the early 80's to 600 while the consumption of antidepressant drugs has risen.
Kessing also says that there is a substantial difference between suicidal thoughts and suicides, but it is very misleading to separate the two. Suicide starts with suicidal thoughts that lead to suicidal behaviour, suicide attempt and suicide, and there is of course a connection between these things.11 12 13
Kessing mentions one of his own studies,14 which is undoubtedly the same study that Wiinberg mentioned. Kessing says that there wasn't a single suicide in a 5-year period among 2600 children and adolescents in Denmark who had received SSRIs (so-called happy pills) whereas there were 41 suicides among children and adolescents who had not received antidepressant drugs. Kessing also believes that depression in children and adolescents is underdiagnosed and undertreated and that they perhaps committed suicide because they were not diagnosed.
Kessing's information is highly misleading. Since SSRIs were not approved for children in the study period (1995 to 1999), it is not surprising that those who committed suicide had not received an SSRI.
In Kessing's study there was also a 5-year follow-up, which he did not tell the viewers about. Now many of those who committed suicide were on SSRIs. "Those treated with SSRIs had a highly statistically significant and strongly increased rate of suicide compared to those not treated with SSRIs" (19 times increased risk).
Kessing was on Lundbeck's payroll, and the study was funded by the Lundbeck Foundation. The result didn't look good for Lundbeck's drugs, and the authors presented another analysis where they had corrected for psychiatric hospital contact. The risk was still increased, 4 times, but it was "no longer quite significant." It is extremely misleading to correct for psychiatric hospital contact, as such contact in itself increases the risk of suicide for psychiatric patients 44 times.15 A correction will therefore spuriously attenuate a true link between SSRIs and suicide.
The authors found that SSRIs dramatically increase the risk of suicide in children, but they concluded the opposite: "not treating severely depressed children and adolescents with SSRIs may be inappropriate or even fatal." What may be fatal for children are psychiatrists who conclude like this against their own results and use SSRIs in children and adolescents.
When I mention on the Evening Show that the National Board of Health warns that the drugs cause suicide in children and young people, Kessing says it is "plain nonsense" what I say and "plain nonsense" what the National Board of Health says.
Jyllands-Posten 2018
On February 4, 2018, a Danish newspaper published a comprehensive report about a 19-year-old boy's tragic suicide on depression pills, which he got for sleeping problems.16 Both the parents and I are convinced that it would not have happened if their son's GP had not given him depression pills.
I wrote in an accompanying paper17 that depression pills have no relevant effect on depression and that they increase the risk of suicide not only among children and adolescents but also among adults.18 19 And that psychotherapy halves the risk of a new suicide attempt in people admitted to hospital after a suicide attempt, which means that patients should receive psychotherapy and not pills.20
Nevertheless, two leading professors in psychiatry, in the same newspaper, tried to maintain the myth that the pills actually prevent suicide.
Poul Videbech wrote that "for children and adolescents there was a possibly [my emphasis] slightly increased risk of suicidal thoughts and acts but not for suicide."21 The analysis referred to by Videbech found a doubling of the suicide risk for children and adolescents and not a "possibly slightly increased risk." 
Videbech also mentioned the Danish study, both in his article and in an interview. Like Lundbeck and Kessing, Videbech mentioned that none of the 42 young people between 10 and 17 years old who committed suicide were in treatment with SSRIs. Videbech did not point out that this study in fact confirmed that SSRIs cause suicide, but gave the readers the opposite impression: "Hence you can believe, but will never know, that so many suicides would have been avoided if treatment with antidepressant drugs had been more widespread." It is quite irresponsible to claim that pills that increase the risk of suicide should be able to prevent all suicides.
In the newspaper report, child and adolescent psychiatrist professor Per Hove Thomsen also misled the readers in his defense of the pills. He felt it gives food for thought that in a period when the consumption of happy pills rose in Denmark, the number of suicides dropped from around 1500 to 700. Such data cannot be used for anything. Falls or increases in suicides have many causes, and in the United States (and in several other countries) suicides increased markedly in the same period where the consumption of happy pills also increased markedly,22 but the psychiatrists never mention anything about such data.
The chairman of the Danish Society for General Medicine, Anders Beich, said that the long waiting times for psychiatrists can be catastrophic because it is dangerous to have a depression, which in itself can lead to suicide.
What's catastrophic is not the waiting time for psychiatrists, as many doctors, psychologists and others offer psychotherapy, but that my colleagues are wrong in their views. The meaningless suicides caused by depression pills will continue for as long as the pharmaceutical companies and the leading doctors continue to deceive the population into believing that these pills protect against suicide. I do not understand how it is possible for both Lundbeck and two psychiatric professors over a period of seven years to quote a Danish study as selectively and highly misleadingly as they do. Why do they protect the pills instead of protecting the patients? It is horrifying.
Make it illegal to use depression pills for children and adolescents
Despite the guidance from the Danish National Board of Health, there are unfortunately still many GPs who prescribe happy pills for children and adolescents, and it also happens without contact with a psychiatrist. By 2016, 5,560 young people aged between 18 and 24 received their first prescription for a depression pill, and in 55% of cases, the GP started the treatment.
Depression pills have no beneficial effects in children and adolescents, and they have many other serious harms besides suicide, but unfortunately they continue to be used by children and adolescents. Therefore, the National Board of Health should issue a guideline saying that no one, psychiatrists included, should prescribe these pills for children and adolescents. Of course the most effective measure would be to prohibit by law the prescription of depression pills for children and adolescents.
I owe it to Danilo Terrida and Rasmus Burchhardt, who both hanged themselves, only 20 and 19 years old, respectively, after their GP had put them on happy pills, for which there was no indication at all. I have written about them because their families wanted me to do so in the hope that their own meaningless loss could help other parents realize that they should never, ever allow their children to be treated with a depression pill.
If you are already in treatment, do not suddenly stop. It can be dangerous due to abstinence symptoms. Get professional help for tapering, for example, via www.deadlymedicines.dk or www.iipdw.com.
***
Mad in America hosts blogs by a diverse group of writers. These posts are designed to serve as a public forum for a discussion—broadly speaking—of psychiatry and its treatments. The opinions expressed are the writers' own.
***
Mad in America has made some changes to the commenting process. You no longer need to login or create an account on our site to comment. The only information needed is your name, email and comment text. Comments made with an account prior to this change will remain visible on the site.