A new study, published online in Therapeutics Initiative, finds that despite published, replicated evidence that the youngest children in any given classroom are overdiagnosed with ADHD and overprescribed stimulants, prescribing rates for children in British Columbia have continued to increase.
The Therapeutics Initiative is an organization in British Columbia, Canada, that is funded by the government through a grant to the University of BC. Their mandate is to update clinicians and agencies regarding evidence-based use of psychopharmaceuticals. Their mission is to provide healthcare evidence independent of industry.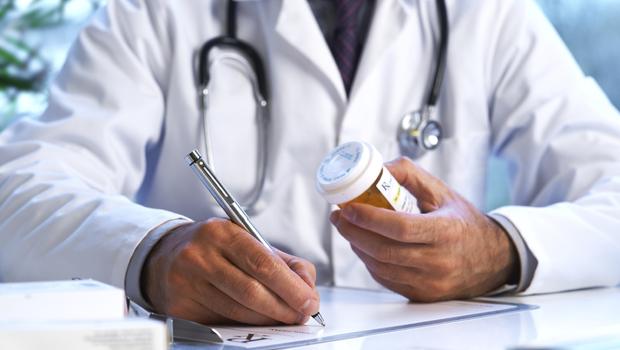 In this letter, they write that at least six different studies, in different countries, have found the same result—that the youngest children by birth month in any given classroom are significantly more likely to be diagnosed with ADHD and prescribed stimulants. Some studies found that younger children were up to twice as likely to receive the diagnosis compared to the older children in the classroom. A study in the US concluded that "roughly 20 percent of the 2.5 million children (in the US) who use ADHD stimulants have been misdiagnosed."
In a 2012 publication in the Canadian Medical Association Journal, researchers in British Columbia found that "Boys who were born in December were 30% more likely […] to receive a diagnosis of ADHD than boys born in January. Girls born in December were 70% more likely […] to receive a diagnosis of ADHD than girls born in January."
Therapeutics Initiative has published two previous official letters analyzing the data on risks and benefits of psychostimulant use in children: in 2008 and in 2009. In both cases, they recommended much more cautious prescribing for children. They noted that there are significant risks to stimulant use, including insomnia, weight loss, cardiovascular problems and growth problems. They also noted that although stimulants increase parent and teacher ratings of behavior, they demonstrated a lack of efficacy at improving academic performance, and did not improve the child's anxiety. They had no effect on delinquency or substance abuse after 3 years, and longer-term measures of success and health were nonexistent.
Given these papers, and the consistently replicated finding that younger children are misdiagnosed and overprescribed, the researchers expected to find a decrease in prescription practices. Instead, they found a continued increase in the prescription of stimulants to children.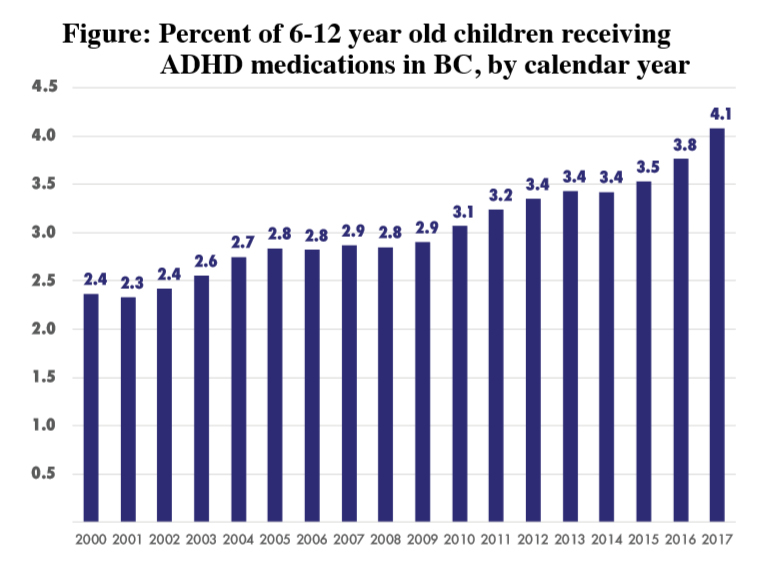 In their current paper, the researchers drew the following conclusions:
"Whether the benefits of long-term […] stimulants for ADHD in children outweigh the harms remains unknown."
"There is convincing evidence that a proportion of boys and girls treated with stimulants in BC and around the world are simply the youngest in their class."
"There is insufficient evidence to know whether our publications or research findings had an impact on the overall rate of stimulant drug prescribing in BC children."
"The recent increase in CNS stimulant prescribing in BC is unexplained and concerning."
*
Although Therapeutics Initiative is not technically a peer-reviewed publication, the disclosure at the end of the article states: The draft of this Therapeutics Letter was submitted for review to 75 experts and primary care physicians in order to correct any inaccuracies and to ensure that the information is concise and relevant to clinicians.
****
Therapeutics Initiative (2018). Therapeutics Letter 110: Stimulants for ADHD in children: Revisited. ISSN 2369-8691 (Online). Retrieved from https://www.ti.ubc.ca/2018/05/28/110-stimulants-for-adhd-in-children-revisited/ (Link)