In a foreword to Therapeutic Advances in Drug Safety's special issue, "The role of de-prescribing in polypharmacy and inappropriate medication use," authors Dee Mangin of McMaster University and Doron Garfinkel of Israel Cancer Association, address the insidious and widespread effects of inappropriate medication use and polypharmacy (IMUP).
The authors write that the harmful effects of IMUP are well documented and include detrimental influences on physical and mental well-being, the burden of expensive treatments, and problems in mobility. They state that the problem with multiple medication use can be described as "the point when the burden of treatment outweighs the capacity to benefit."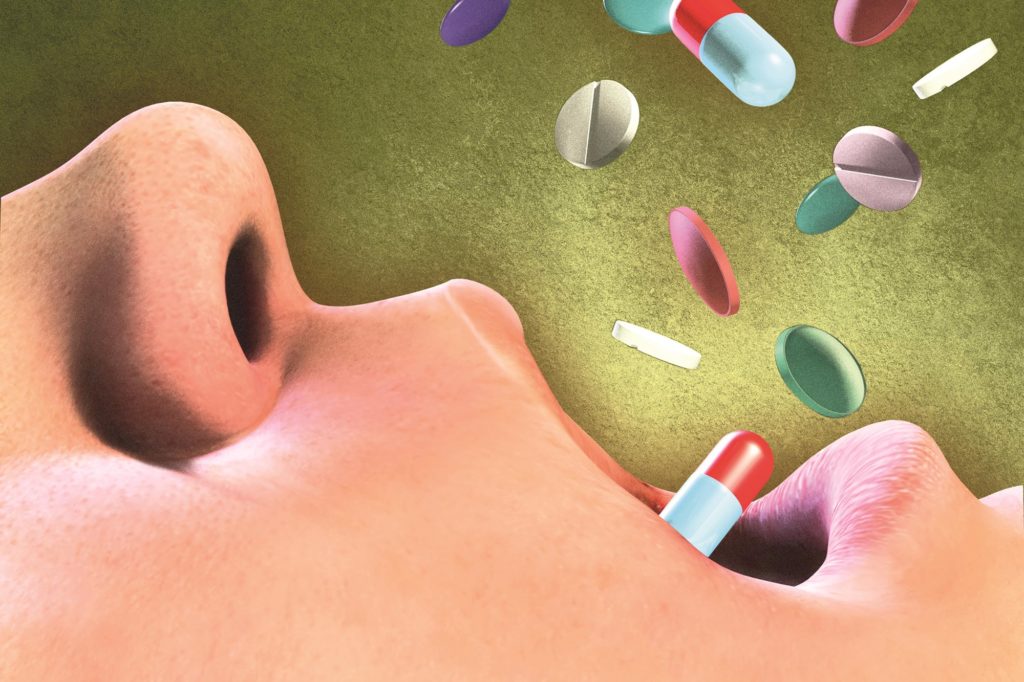 The harms of polypharmacy among psychiatric patients are well-known, and there is a growing critique of these practices. Studies have linked polypharmacy to higher mortality rates. More recently, it has been associated with cognitive decline in the elderly population, and this scrutiny has reached mainstream media outlets like The New York Times.
These effects are even more evident when it comes to antipsychotic medication, which has been associated with higher mortality in patients, often due to neuroleptic malignant syndrome. Despite the availability of this knowledge and the presence of guidelines that warn against the simultaneous use of different antipsychotics, studies still show that patients are regularly sent home with multiple prescriptions.
It is not only research that has cautioned medical professionals of the dangers of IMUP, but patients have also shared harrowing tales of their experience on multiple psychiatric drugs.
As the emphasis on deprescribing grows, the authors of this foreword worry that the response from the medical community has been less than enthusiastic. This is troubling, especially when studies show that in the older population, one in five prescriptions is inappropriate. They write:
"Older adults prescribed more medications are likely to be hospitalized for an adverse drug reaction. Moreover, adverse drug events account for more morbidity and mortality than most chronic diseases, with death rates higher than many common cancers."
Mangin and Garfinkel note that the problems related to polypharmacy and inappropriate medication are so well-known among medical professionals that it is often called an "iatrogenic epidemic." Yet it has remained invisible and unaddressed, a form of "systematic blindness." As a result, IMUP is often associated with both over-diagnosis and over-treatment.
The authors believe that practitioners feel immense anxiety when faced with the scope of the problem, and both clinicians and patients find it difficult to accept that medicines that once helped them can turn harmful. They suggest that a paradigm shift is needed to address its intensity and spread and provide solutions like interdisciplinary communication, subverting existing ways of thinking about treatment, and appreciating the input of patients as experts of their bodies and lives.
The special collection articles chart the history of these problems and propose ways to address them. They call for attention to both reducing current medications and increasing awareness around prevention. The authors insist that this emphasis on prevention is a critical way to address the problem at a deep and systemic level. Thus both clinicians and patients must be educated about de-prescription. At the same time, studies show that educating psychiatrists and patients about IMUP and giving them better prescription guidelines tends to have little effect on prescription patterns.
The massive scope and depth of this problem are evident in the fact that there is a global community of physicians who have contributed to this special issue, and who are intent on solving it. They aim to draw attention back to patients by listening to their concerns, priorities, and experience with multiple medications. Additionally, the authors hope that increased awareness will help flag dangerous medications that have higher chances of being prescribed inappropriately.
The articles in the special collection address issues like initiating shared decision making with patients, a critique of the single disease approach and the ways it contributes to health inequities for vulnerable populations, and the importance of de-prescription conversations with patients.
Despite their efforts, Mangin and Garfinkel admit that the current system of treatment is resistant to de-prescribing. They write:
"Embedding these in routine systems of care…is challenging. One of the papers by Okeowo et. al. highlights just how skewed current systems are towards initiating and multiplying treatments with an inexorable progression of cumulative complexity. They found few if any support for thinking about the appropriateness of stopping, let alone when and how to do so."
Despite these problems, other studies in the special collection have shown promise with inpatient programs that focus on de-prescription before patients are sent home. Others point to the benefits of the same in community settings.
To counter this resistance, the special collection issue attempts to come up with novel and nuanced solutions like spreading awareness about IMUP, focusing on prevention, patient advocacy, and other tools that might be beneficial to physicians who want to de-prescribe in a system that is not conducive to change. It also focuses on problems like legacy prescriptions, which is when a medication meant for a short duration is then continued indefinitely.
****
Mangin, D. & Garfinkel, D.  (2019). Foreword to the first special collection: Addressing the invisible iatrogenic epidemic: the role of deprescribing in polypharmacy and inappropriate medication use. Therapeutic Advances in Drug Safety (10), 1-5. (Link)