Evidence-based practice in psychology (EBPP) provides current regulations and guidelines to determine best practice in psychotherapy. Although the new tripartite model attempts to integrate clinical expertise and patient preferences into a historically "scientocentric" model, researcher Henrik Berg in Norway argues that EBPP is underdeveloped and conceptually inconsistent. In this recent paper, published in Frontiers in Psychology, Berg highlights how EBPP is dictated by demarcated empirical outcomes neglects ethical and extra-scientific aspects of psychotherapy.
"The policy-statement should be revised to avoid the conceptual inconsistency it currently contains. The solution is to create a genuinely tripartite model to replace the current 'scientocentric' one."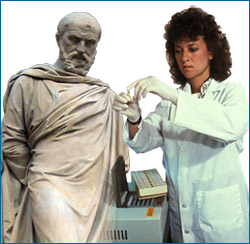 EBPP features a set of principles that guide and regulate psychological practice. It is defined by the American Psychological Association (APA) as "the integration of the best available research with clinical expertise in the context of patient characteristics, culture, and preferences." It is intended, therefore, to be a tripartite model that integrates these three components: (1) research, (2) clinical expertise, and (3) patient characteristics, culture, and preferences. Successful integration of these three components is meant to comprise the "best psychotherapeutic practice."
Berg argues, however, that this integration is underdeveloped and lopsided. It focuses primarily on defining the importance of clinical expertise and patient preferences based on their relation to "best available research." As a result of this, critical elements of expertise and patient experiences are neglected. He writes:
"…The policy statement contains a crucial inconsistency. EBPP does not consist of three parts. The two parts, clinical expertise and patient characteristics, culture, and preferences, are legitimated and shaped by the part "best available research" (American Psychological Association, 2016). Consequently, important extra-scientific reasons for including clinical expertise and patient characteristics, culture, and preferences in clinical practice are neglected."
These issues may represent the persistent effects of EBPP's history, rooted in the Evidence-Based Medicine (EBM). EBM and previous versions of EBPP have centered "best practice" around the results of randomized controlled trials and meta-analyses. These "scientocentric" features of EBPP and EBM have been criticized, not simply because empirical analyses are thought to have no significant clinical value, but rather, the notion that patient preferences and clinical expertise are only deemed important after they have been justified as scientifically valuable neglects to recognize their importance otherwise.
For this reason, Berg focuses on identifying the "extra-scientific" value of the two underdeveloped aspects of the EBPP model. For instance, clinical expertise is featured alongside the emphasis the expertise is shaped by scientific knowledge and practice. Berg, however, points out that the hallmark of expertise is that it "transcends propositional or scientific knowledge."
Drawing from the works of philosophers Heidegger, Ryle, and Dreyfus, Berg emphasizes that it is novice-level practice, not expertise, that tends to be rule-bound whereas expertise involves the capability to navigate rich situational and contextual demands as they arise. Berg explains:
"The point is not that the understanding and actions of the expert need to be at odds with scientific results, but that the understanding and actions of the expert are not perpetually controlled by scientific or propositional knowledge."
Similarly, Berg highlights the extra-scientific argument for valuing patient characteristics, culture, and preferences. Whereas the EBPP model emphasizes the inclusion of patient preferences because it is more effective and scientifically indicated, Berg notes that patients have the right to influence choices involving their own life.
In Berg's words:
"The inclusion of "patient preferences" is an end in itself and not merely a means to other ends (i.e., improved efficiency or efficacy). This also entails that patient preferences ought to play a significant role in clinical practice even when the patient prefers something that diverges from what science indicates would be, or even de facto is, effective and efficient. The individual patient's preferences are not determined by scientific findings."
Berg argues that the 'scientocentrism' that forms the foundation of the EBPP tripartite model is riddled with problems. It is unfeasible to expect that the gap between science and practice will be mitigated by theory-driven research that "fails to recognize the ethoses of the various psychotherapy schools." Furthermore, Berg has argued that EBPP regulates the practice of psychotherapy as ethical when they adhere to utilitarian tenets. His verdict is that a 'scientocentric' model is unfit to regulate practice:
"Generally speaking the role values and ethics plays in psychotherapy practice necessitate the active deliberation of a clinical expert and a patient. The deep fact-value entanglements and complexity of psychotherapy make a scientocentric model unfit to regulate psychotherapy practice."
He provides suggestions for future research and EBPP development:
"Future research should discuss the nature of and relationship between the different parts of EBPP. It should also develop the notion of integration which has been characterized as underdeveloped."
Berg concludes:
"In a practice as complex as psychotherapy we should expect on-going revisions of the principles regulating the practice and not settle for a solution lacking conceptual consistency."
****
Berg, H. (2019). Evidence-based practice in psychology fails to be tripartite:-A conceptual critique of the scientocentrism in evidence-based practice in psychology. Frontiers in psychology, 10, 2253. doi: 10.3389/fpsyg.2019.02253 (Link)