In 2004 the FDA added a "black box" warning label to antidepressant prescriptions due to increased risk of suicide in children and adolescents taking the drugs. This came after evidence of higher suicide rates surfaced in placebo-controlled trials of the drugs.
However, since then, the warning label has been controversial. Critics have suggested that it may have resulted in decreasing antidepressant prescriptions and increased suicide rates.
A new study investigated these claims. Did the black box warning label cause harm by preventing antidepressant prescriptions to children?
Not according to the researchers, who write:
"The Black Box warning is rooted in solid data, whereas attempts to claim the warning has caused harm are based on quite weak evidence."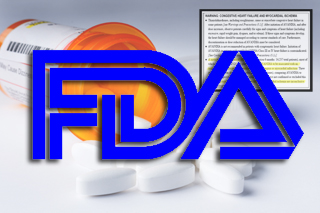 The researchers, led by Glen Spielmans at Metropolitan State University in Minnesota, published their findings in the journal Frontiers in Psychiatry. According to Spielmans and his co-authors, antidepressant prescriptions have continued to increase, along with the rise in suicide attempts in young people.
"Recent data suggests that increasing antidepressant prescriptions are related to more youth suicide attempts and more completed suicides among American children and adolescents," the researchers write.
The researchers also critique articles that have suggested the opposite. Studies that found suicide attempts increasing along with decreased antidepressant prescriptions suffered from many methodological problems. For instance, some of these studies don't do a statistical analysis; others don't control for other variables that might impact the results; some use "questionable" end-points that "distort" the data or use "questionable measures of suicide attempts"—such as depression rating scales that do a poor job of identifying suicidality.
All of this adds up to a bevy of misleading studies purporting to demonstrate harm from the FDA's warning—and ignoring the actual data, according to Spielmans and his co-authors.
Other studies have looked more closely at the data. After the black box warning was instituted, suicide rates decreased along with antidepressant prescriptions for three years. However, after about 2007, antidepressant prescriptions began climbing again, and suicide rates followed suit.
Spielmans and his co-authors make a point to remind the reader that the best evidence available demonstrates increased suicide risk for youth taking antidepressants:
"Case-control studies show increased risk of suicide attempts and suicide among youth taking antidepressants, even after controlling for some relevant confounds," they write.
Clinical trials are among the best at controlling for confounding factors, according to the researchers, and "such trials demonstrated an increased risk of suicidality adverse events among youth taking antidepressants."
Before instituting the black box warning, the FDA convened a panel of suicide experts at Columbia University to assess suicide risk in youth taking antidepressants. The panel was appropriately blinded (they didn't know whether they were looking at antidepressant or placebo data) until after they reviewed the data from the clinical trials.
According to Spielmans and his co-authors, the panel's finding was that youth taking antidepressants experienced a 71% increase in suicidality and a 79% increase in agitation/hostility when compared with youth taking placebo.
Published articles are known for hiding adverse events, including suicidality. According to the researchers, "Across 142 trials of six psychiatric medications, 62.3% of deaths, 53.3% of suicides, and 46% of suicidal ideation/attempts/injury events that appeared in the online registries did not appear in the published journal articles. […] Adverse events were sometimes labeled as 'worsening depression' or 'emotional lability' when, in fact, the relevant descriptive narratives in the clinical study reports clearly describe suicide attempts."
Most importantly, the researchers suggest that keeping doctors, youth, and their parents informed about potentially deadly risks—as the black box warning is designed to do—is in keeping with the best principles of the medical field.
****
Spielmans, G.I., Spence-Sing, T., & Parry, P. (2020). Duty to warn: Antidepressant black box suicidality warning is empirically justified. Frontiers in Psychiatry, 11, 18. DOI: 10.3389/fpsyt.2020.00018 (Link)