Researchers studying almost 50,000 people with depression and anxiety found a potential genetic component in less than 500. Nonetheless, they told 121 of those people that this was an "explanation" for their mental health issues.
The researchers looked for "rare pathogenic copy number variants (CNVs)," which are genetic mutations in which the number of copies of a gene varies between people. CNVs are surprisingly common and do not always lead to health problems, and some are associated with physical health issues such as cancer. However, the researchers identified 31 potential CNVs that were more likely to be associated with "neuropsychiatric" issues.
The researchers then examined genetic and mental health diagnosis data from 90,595 people who received health care through Geisinger. 708 (0.8%) were identified as having a "pathogenic CNV." A little over half (49,588) of the people in the study had a history of anxiety and/or depression; of those, 470 (0.9%) were identified as having a CNV.
To put it another way, less than 1% of the people with mental health diagnoses had one of the 31 "pathogenic CNVs." And not everyone with a CNV experienced anxiety or depression—238 (33.7%) did not have any mental health problems, despite having a CNV.
One tenet of good science is the principle "correlation does not equal causation." The researchers do not even give lip service to this scientific tenet—instead, they claim that "Neuropsychiatric disorders (NPDs) are common, complex disorders with clear genetic causes."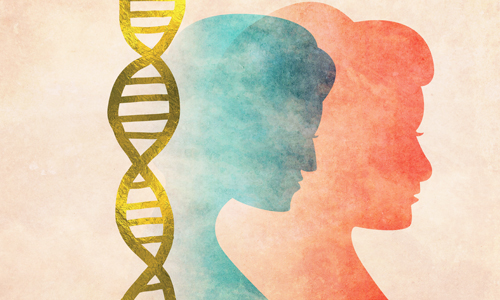 The study was led by Christa Lese Martin at the Geisinger Autism & Developmental Medicine Institute and published in the top-tier journal JAMA Psychiatry.
Although the researchers admit that their results can't help guide treatment, nor provide any "medical management implications," they insist that the identification could be "perceived as highly valuable in personal or social ways."
To test this, the researchers informed 121 people that their "pathogenic CNV" was the reason for their mental health problems. The majority responded with "poignant reactions."
According to the researchers, "It was common for participants to have a perceived explanation for their personal and/or family history of NPD, often attributing it to social circumstances (e.g., trauma, family disruption, history of abuse). Participants expressed relief and satisfaction at finally having a medical explanation for a lifelong history of learning and behavioral struggles."
A number of the participants then expressed concerns about passing along their "pathogenic CNVs" to their "children and grandchildren."
Many of the 121 participants had believed that their distress was due to external factors—experiencing trauma, family disruption, and a history of abuse, for example. The researchers then "informed" them that their distress after experiencing abuse was actually a sickness due to their pathological genetic code.
The researchers do not explain how 49,118 people in the study could have the same reaction to environmental stressors without the "pathogenic CNVs."
Previous research has found that genetic testing is useless for mental health problems, even for disorders that have an assumed biological etiology, such as "schizophrenia." One study found that sequencing the entire genome explained 2.28% of whether a person had a schizophrenia diagnosis.
Another study purported to explain 3.4%. Finally, researchers attempting to sequence the "exome" found that their results provided no relevant data, even when investigating variants in genes "known to have a neuropsychiatric phenotype."
Those researchers suggested that:
"It is not the case that a disruptive or damaging variant in a gene known to have a neuropsychiatric phenotype should be viewed as likely to be pathogenic."
****
Martin, C. L., Wain, K. E., Oetjens, M. T., Tolwinski, K., Palen, E., Hare-Harris, A., . . . & Ledbetter, D. H. (2020). Identification of neuropsychiatric copy number variants in a health care system population. JAMA Psychiatry. Published online July 22, 2020. DOI:10.1001/jamapsychiatry.2020.2159 (Link)