Taking anticholinergic (aCH) drugs (such as antidepressants and antipsychotics) is associated with an increased risk of developing mild cognitive impairment, according to a new study. Moreover, the drugs interact badly with the APOE ε4 genotype, which itself greatly increases the risk for Alzheimer's disease. Anticholinergic drugs disrupt acetylcholine production in the brain. The researchers write:
"Our results demonstrate that the use of aCH in cognitively normal, highly educated, and healthy older adults is associated with increased risk of progression to MCI and accelerated cognitive decline, which are exacerbated in the presence of AD biomarkers."
They add, "Findings underscore the adverse impact of aCH medications on cognition and the need for deprescribing trials, particularly among individuals with elevated risk for AD."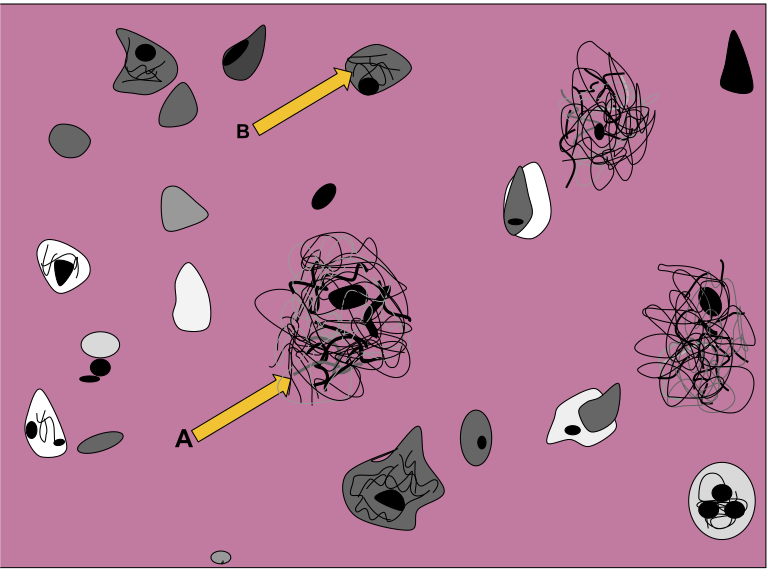 In the study, aCH drug use was associated with a 47% increased risk of MCI overall. The researchers also found that increased anticholinergic burden (such as adding another drug, using a drug with a stronger effect on acetylcholine production, or taking a higher dose) worsened the effect.
The risk was also substantially increased in people with genetic risk for Alzheimer's disease and people with the biomarkers of Alzheimer's disease.
People with the ε4 genotype were already twice as likely to develop MCI than people without the genotype—but being exposed to aCH drugs raised their risk to more than 2.5 times as likely (hazard ratio [HR] = 2.69).
People with biomarkers of Alzheimer's disease (amyloid and tau proteins) were about three times as likely to develop MCI as people without the biomarkers (HR = 2.98). However, when people with the biomarkers took aCH drugs, they experienced a nearly 5-fold increase in risk for MCI compared with people without the biomarkers who did not take the drugs (HR = 4.89).
The researchers write that this may reflect a "double hit" in which Alzheimer's pathology reduces cholinergic neurons in the basal forebrain, followed by the impact of aCH drugs depleting acetylcholine even further.
Declines in memory and language were also steeper for people taking aCH drugs.
The study was led by Alexandra Weigand at the University of California, San Diego, and published in the journal Neurology. The participants for the study came from the Alzheimer's Disease Neuroimaging Initiative. 688 cognitively normal participants were included, 33% of whom were taking aCH medications. The participants were followed for up to a decade.
The researchers found that, on average, their participants were taking 4.7 anticholinergic medications, and many of them were prescribed doses much higher than recommended; 57% of the medications were being taken at more than twice the recommended dose, while 18% were being taken at more than four times the recommended amount.
Weigand and the other researchers write that "Although deprescribing among all older adults may prove beneficial, the synergistic effect observed between aCH and AD pathologic risk suggests that reducing aCH burden during the preclinical stages of AD may be especially warranted given that this group is particularly vulnerable."
Other studies have found similar results to this one, including a 2019 study that found especially high dementia risk for people taking antidepressants (29% increased risk) and antipsychotics (70% increased risk) compared to non-users. Similarly, a 2017 study found that higher anticholinergic burden was associated with the risk of cognitive decline. A 2016 study was reported on in Time magazine after finding that anticholinergic drugs decreased brain volumes and impaired brain functioning vital for memory.
Interestingly, other researchers have suggested using antidepressants for dementia prevention because of preliminary findings that the drugs might reduce levels of amyloid-beta-42. There is no evidence that antidepressants actually reduce the likelihood of dementia.
****
Weigand AJ, Bondi MW, Thomas KR, Campbell NL, Galasko DR, Salmon DP, . . . & Delano-Wood L. (2020). Association of anticholinergic medication and AD biomarkers with incidence of MCI among cognitively normal older adults. Neurology. Published online September 2, 2020. DOI: 10.1212/WNL.0000000000010643 (Link)