According to researchers, children are increasingly prescribed multiple different psychiatric medications (a practice known as polypharmacy). The use of antipsychotics in children has grown significantly since 1999. Most concerningly, even children between the ages of 0-4 are receiving polypharmacy regimens.
"The use of medication from 2 or more psychotropic classes, i.e., polypharmacy, has increased among US youths despite limited evidence of efficacy and mounting safety concerns," the researchers write.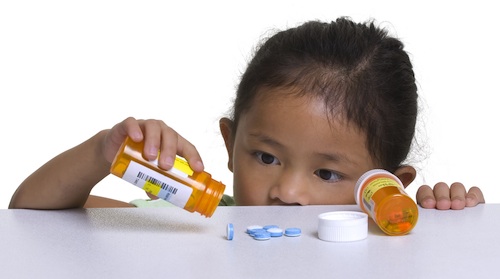 The study was led by Chengchen Zhang at the University of Maryland and published in JAMA Pediatrics. They used the Medical Expenditure Panel Survey (MEPS), a large household survey intended to be a nationally representative sample. The researchers divided their assessments into three time periods to draw comparisons over time: 1999-2004; 2005-2010; and 2011-2015.
"The number of US youths treated with psychotropic polypharmacy increased from 101,836 (1999-2004) to 222,955 (2005-2010) to 293,492 (2011-2015)," Zhang writes—an increase of over 180%."
In the group of children prescribed polypharmacy regimens, antipsychotics increased from 38.3% of the children in 1999-2004 to 75% of the children in 2011-2015. The percentage of children prescribed mood stabilizers decreased from 61.2% to 37.98% over the same time period. Antidepressant use fell slightly, from 71.3% at the first time point to 64.2% in the most recent measurement.
The most common drug class being prescribed, though, was stimulants (such as Adderall and Ritalin), which peaked in the 2005-2010 time period at 82.1% before falling slightly to 78.1% most recently.
At all time points, the most common diagnosis among children prescribed polypharmacy regimens was ADHD. At the most recent time point, over 85% of the children taking multiple drugs had a diagnosis of ADHD. The next most common diagnosis was mood disorders (which include depression and bipolar disorder)—60% at the most recent time point. Despite the prevalence of antipsychotic prescriptions, only 1% of the children had a diagnosis of schizophrenia.
This diagnostic trend may reflect the increasing prevalence of bipolar disorder diagnoses in children, which experts say has been over-diagnosed. The increasing prevalence of bipolar diagnoses may also be caused by the mania-inducing effects of stimulant drugs (used for ADHD treatment), which could account for the overlap of children with ADHD and mood disorder diagnoses. Antidepressants can also cause mania, which may lead to further prescriptions of mood stabilizers or antipsychotics.
In 1999-2004, no children between the ages of 0-4 were identified as being prescribed multiple psychiatric medications. The same held true for the 2005-2010 time point. However, by the latest time point, 1.3% of the children being prescribed polypharmacy regimens were between the ages of 0-4. This signifies a growing trend of prescribing multiple psychiatric drugs to infants and toddlers.
Children were more likely to be prescribed three medications than two—at the most recent time point, 38% were on two medications, but 62% were on three.
The most common combinations of drugs at the most recent time point were as follows:
Antipsychotics, stimulants, and α-agonists (21.8%)
Antipsychotics, antidepressants, and stimulants (16.7%)
Antidepressants, stimulants, and α-agonists (13.9%)
Antipsychotics, antidepressants, and mood stabilizers (9.9%)
The researchers note that there is limited evidence for the benefit of polypharmacy and increasing recognition of the harms, which increase as more medications are added. They add that in the future, "Evidence of the efficacy and safety is needed to guide psychotropic polypharmacy practices."
****
Zhang, C., Spence, O., Reeves, G., & dosReis, S. (2020). Characteristics of youths treated with psychotropic polypharmacy in the United States, 1999 to 2015. JAMA Pediatrics. Published online November 2, 2020. DOI: 10.1001/jamapediatrics.2020.4678 (Link)