Despite mounting calls to integrate social justice into therapeutic work, much of the literature on psychotherapy falls short of directly addressing politics and political systems. New qualitative research by counseling psychologist Laura Anne Winter at the University of Manchester sheds light on the different ways therapists understand and experience politics and "the political" in their work, highlighting the complex connections between politics and therapy.
"The fact that the therapeutic relationship is viewed as political raises questions about whether or not therapy itself might be viewed as quiet activism," Winter writes. "Nevertheless, therapy also has the potential to perpetuate oppressive systems and discourses around social justice in therapy might themselves be argued to constrain social change… This suggests, therefore, that training providers should shift their focus away from 'diversity and difference' and towards challenging oppression, discrimination and inequality, and explicit consideration of p/Politics and therapy."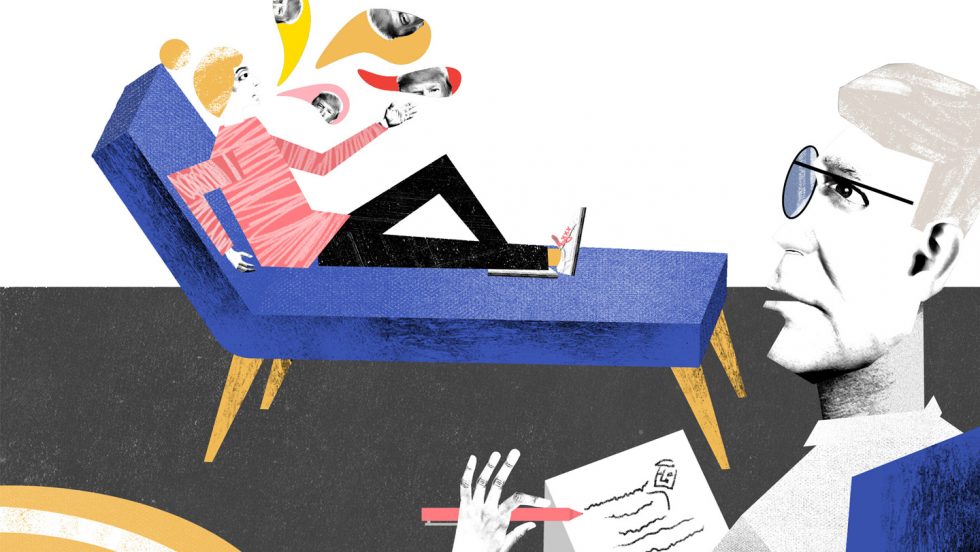 The intersections between politics and psychotherapy are numerous. Psychotherapy is represented in political discourse and whether it is prioritized within healthcare systems is often the result of public policy. In addition, the practice of psychotherapy is value-laden, and the values inherent in the field can come into conflict with the political forces in society. There is also a politics of mental health within the field, whereby different approaches and philosophies compete for power over discourse and resources.
There is also the engagement, or lack thereof, with political topics in the clinic itself. Since the Trump presidency, therapists have reported thinking more about the role politics plays in the therapeutic relationship. While all of these intersections are well worth teasing out, there is a gap between how mental health workers and advocates think about how politics show up in the course of therapeutic treatment (which may itself be considered political).
Winter's study inquired into how therapeutic practitioners working in the U.K. understand and experience politics in their work. The research produced five major themes about the nature of therapeutic work and appropriateness of political topics, the importance of checking political baggage at the door, and the impact of a 'culture of silence.'
A qualitative approach using reflexive thematic analysis was applied to an online survey of 32 open-ended responses to questions about the impact of politics on themselves, their clients, their practice, and how well equipped they felt to manage these aspects of their work.
The first theme constructed from the analysis was "swimming against the tide: working against p/Politics in therapy." The analysis indicated that therapists view their clients' difficulties as often rooted in political states of affairs, as in austerity policies and Brexit. A smaller thread in the accounts pointed out "the influence of social power and identity politics on their clients' lives (small p politics), and the interlinking of such identities with Politics and Governmental policy (p/Politics)." For example, one therapist explained:
"Much of the suffering endured by my clients has a basis in politics. I worked as a therapist for two decades in a very poor area. I have seen the impact of neoliberal policy in thousands of ways… I have worked with many clients who have been impacted by policies which reduce their benefits, put them through humiliating assessments, or deny them benefits payments for months, which results in them being unable to pay their bills or feed their children."
The impact of politics on well‐being, seen by therapists, was not only about Government and social policy but also about social identities and intersectional oppressions and how these two understandings of p/Politics come together.
The analysis also suggested that the political had an emotional impact on the therapist, with some expressing excitement and hope and its association with fear, despair, dread, and anger.
The next theme was "therapeutic work as p/Political," denoting therapists' political conceptualization of their work in sessions and the structure of the profession itself. The motivation and purpose of the work and accessing therapy as a practitioner or client were political in nature for many respondents. Participants note that politics is implicated in the way that different identities shape the therapeutic relationship:
"There is a power relationship between therapist and client with the therapist more powerful. Identity, cultural and economic issues (race, gender, sexuality, class) permeate and shape the therapeutic relationship."
The notion of 'parking our impressions of politics at the door' arose too. Therapists rarely spoke with clients explicitly and overtly in sessions, noting that the client always broached it when this did happen. In this vein, many believed that the therapist should avoid political topics so that potential disagreements do not weaken the therapeutic relationship.
Related was the need to strike a balance between professional ethics and p/Politics. Therapists wrote of hoping that clients understand that their professional ethics come before their political opinions and that they felt great tension when considering the social impacts of their client's political views. Some suggested that engaging with politics in therapy was itself an ethical requirement for them personally.
"… counselors often say we shouldn't be political, but the act of going to therapy is political. The experience of depression or anxiety can be thought of as a reaction to political ideas, e.g., to remove someone's benefits or to persecute or discriminate against them. We have to face these things and be able to hold all of them for our clients ‐ we are holding the political. It is scary and a burden, and an ethical requirement."
Finally, the theme of 'A culture of silence' denotes therapists' lack of training and support in dealing with political elements of their work. They described shortcomings of diversity training, such as the absence of political discussion within the profession.
"P/politics is both something that comes from the outside in and influences the process and something inherent to the process of therapy itself… This analysis, therefore, extends research that has considered only the impacts of big P, electoral politics in the therapeutic space."
The author noted inevitable selection bias in that respondents are likely much more interested in the topic of social justice and psychotherapy than those who passed over the call for participation.
Together, these themes show that therapists have a multidimensional understanding of politics and its significant influence on their work. They draw on these dimensions variably in understanding different tensions and situations. Therapists' experience of politics in therapy is also complex and full of ethical quandaries for which initial training and support is experienced as insufficient.
****
Winter, L. A. (2021). Swimming against the tide: Therapists' accounts of the relationship between p/Politics and therapy. Counseling and Psychotherapy Research https://doi.org/10.1002/capr.12401 (Link)