In their recently published article in Journal of Psychotherapy Integration, a team of international researchers led by Christopher Hopwood propose how the novel hierarchical taxonomy of psychopathology (HiTOP) framework can innovate psychotherapy. With this new framework, Hopwood and his team attempt to improve the clinical utility of diagnoses, connecting clinical and research interests in a way that previous taxonomies have not done for psychotherapy.
In recent years, a variety of alternative diagnostic systems have sprung up in reaction to the limits of the Diagnostic and Statistical Manual (DSM) that dominates in mental health services. Naturally, these new systems have problems of their own. For example, the National Institute of Mental health (NIMH) has developed the Research Domain Criteria (RDoC) to search for biomarkers of "mental diseases." There is a concern that a focus on biomedical explanations will undermine institutional support and funding for psychotherapy research and training in favor of drug development.
In response, the authors anticipate that the fields of psychopathology and psychotherapy will move towards multidimensional and integrative approaches. HiTOP is a model of a psychiatric diagnostic system that its proponents argue that it is a more empirically driven and dimensional classification system, compared to the current categorical ones (i.e., DSM, ICD) that they feel is constrained by clinical authority and tradition. HiTOP principles are proposed for improving psychotherapy practice and research to promote more clinically useful psychopathology models that allow for more synthesis between diagnosis, clinical conceptualization, and treatment.
"HiTOP conceptualizes psychopathology as continuously distributed rather than as binary categories. With respect to the interrelations among variables, HiTOP groups psychopathology constructs based on their empirical relations to one another in a hierarchical factor structure, whereas expert-based models organize psychopathology constructs based on their presumed phenotypic similarity," the authors explain.
"Given that evidence is incomplete regarding the structure of psychopathology, particularly at the lower levels of the hierarchy, the HiTOP structure is an evolving model undergoing continuous empirical refinement."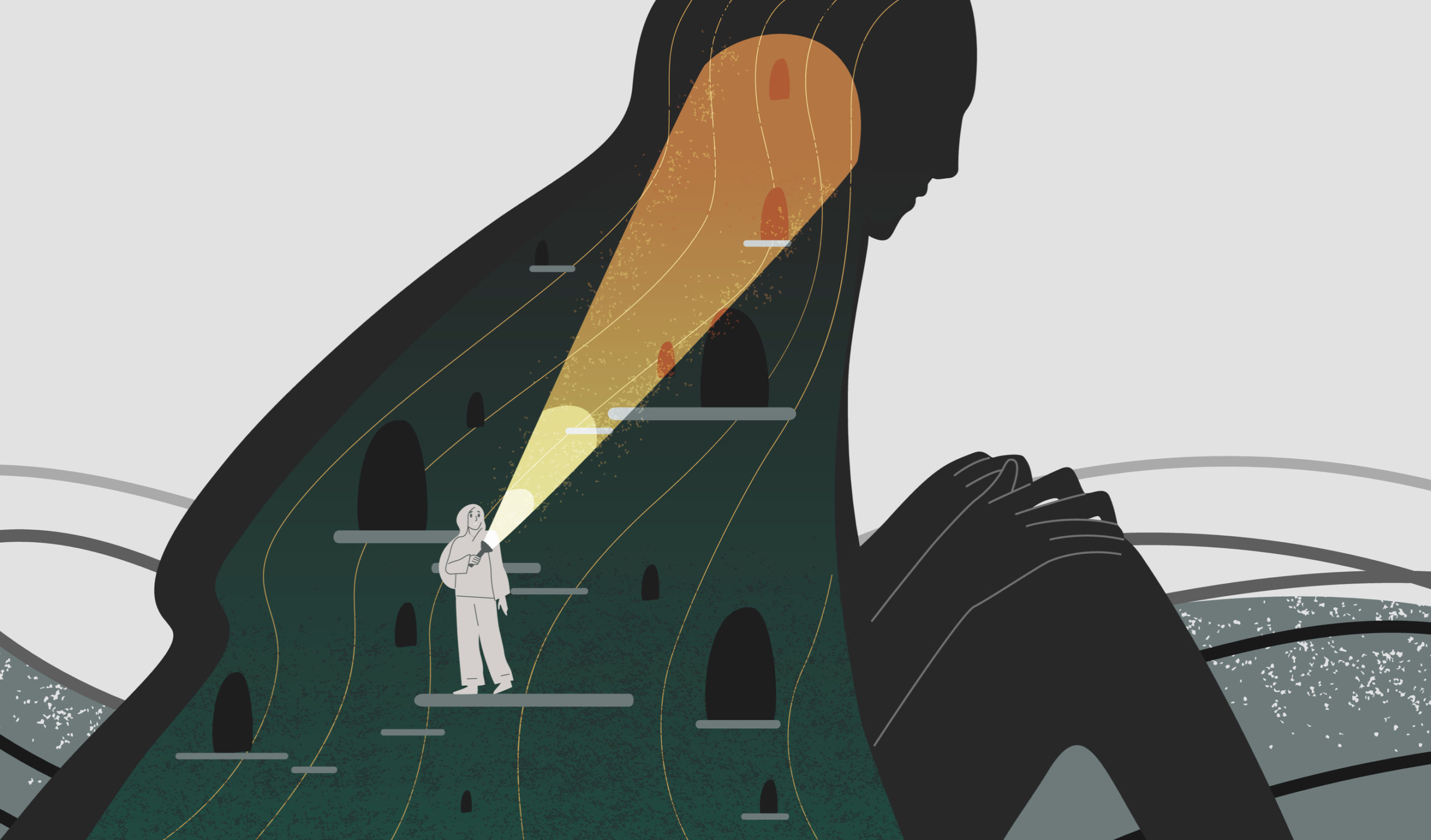 They mention that some of the major issues mental health professionals have with these dominant paradigms. For example, the co-morbidity of disorders within a person as patients more commonly present with multiple diagnoses create difficulties with generalizing findings from psychotherapy clinical trials tied to a single diagnosis.
Heterogeneity is also a major issue in that people diagnosed with the same disorder may be more different than they are similar. Psychotherapists often need to do further clinical formulations because categorical diagnoses do not offer much to direct more effective and personalized treatment.
 The authors outline the six levels of the HiTOP framework:
"General psychopathology factor" or "super spectra" indicates nonspecific clinical severity and is related to all forms of psychopathology.
"Major spectra" reflect personality dimensions (internalizing, thought disorder, disinhibited externalizing, antagonistic externalizing, detachment, and somatoform.
"Subfactors" group together diagnostic variables such as fear, distress, and mania.
"Syndromes" are similar in principle to DSM-5 disorder categories.
"Components" include homogenous symptom clusters and narrow maladaptive traits like insomnia or callousness.
Finally, the spectrum's base contains signs, symptoms, and maladaptive behaviors such as compulsive checking.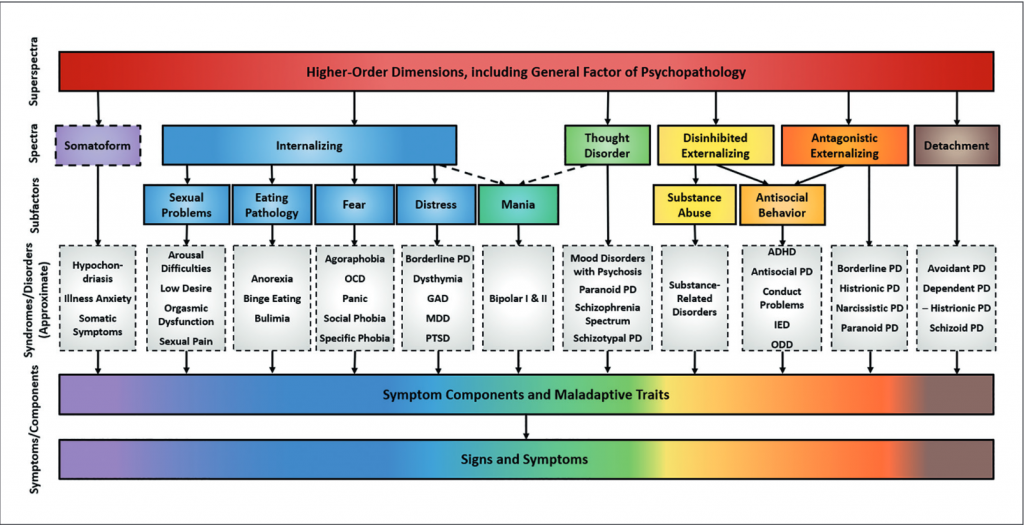 HiTOP being conceptualized as trans-theoretical adds to its advantage as the field of psychotherapy is often thought to be fractured among different schools of thought. The authors offer suggestions around bringing about a potentially mutually beneficial relationship in integrating HiTOP with treatment principles from three major clusters of therapy types identified by the authors: common factors, cognitive-behavioral (CBT), and relational therapies.
However, the authors caution that HiTOP is not interested in mapping specific techniques in these clusters to specific model variables.
"The presence of transtheoretical common factors in psychotherapy and a statistical general factor of psychopathology should support integrative approaches to practice and research. That is, psychopathology and psychotherapy researchers should focus more on clarifying why so many different problems seem to co-occur, and why so many features of psychotherapy seem to be effective for treating people regardless of their specific problems," the authors note.
"In addition, research aimed at ascertaining the degree to which general factors in psychopathology and psychotherapy have something in common would be useful."
The common factors model includes treatment elements like expectancy (i.e., placebo), therapist and client effects that influence psychotherapy's effectiveness across approaches. The authors propose studying whether common factors reduce specific symptoms through their impact on the general factor of psychopathology. In understanding the nature of the general psychopathology factor and its elements, HiTOP could provide an evidence-based explanation for why different treatment approaches tend to produce similar therapeutic effects.
CBT focuses on skills training, cognitive restructuring, and exposure based on learning theory. It has been historically aligned with the DSM, studying treatments through randomized controlled trials (RCT) that focus more narrowly on shifts in the symptom level of a diagnosis.
With a recent emphasis in CBT on trans-diagnostic practice, HiTOP provides CBT ways to expand to a wider range of psychopathology beyond the 'internalizing' spectrum. This is done by focusing on finer dimensions of psychopathology not clearly defined in most categorical diagnoses (e.g., types of compulsive behaviors in OCD). From CBT, HiTOP could benefit from incorporating learning theory into understanding how the environment influences the expression of psychopathology at the different levels of the hierarchy.
In relational psychotherapy traditions, such as psychodynamic therapy, there is an emphasis on the relationship between therapist and patient as central to healing, with such techniques as transference interpretations and improving mentalizing. HiTOP could provide ways to summarize the complexity of a person's problems in a more focused manner.
The authors see psychodynamic approaches providing HiTOP with attention to conscious and unconscious aspects of personality and psychopathology that could improve assessment, such as expanding from verbal report-based measures relying on conscious knowledge (e.g., MMPI-3) to more performance-based measures (e.g., Rorschach Inkblot Test). Psychodynamic perspectives also provide a developmental perspective to HiTOP and inform the relational aspects of how the social environment reinforces, maintains, or alters psychopathology.
"Clinical utility studies suggest that clinicians and researchers tend to find dimensional models more useful than categorical models. However, such research has focused primarily on personality disorders. The hierarchical organization of psychopathology variables in HiTOP facilitates a comprehensive approach to the assessment of both pretreatment functioning/diagnosis and treatment outcomes for all of psychopathology."
"The assessment approach should help the clinician identify the specific regions of the HiTOP model that are most relevant to the patient's presenting problems. The flexibility of HiTOP allows the clinician to focus on different levels of generality and type of problem. The clinician would then apply the intervention that is most likely to work, based on the HiTOP characterization of the client's clinical concerns."
As psychotherapy research on treatment principles has demonstrated common strategies that are effective for a range of disorders, HiTOP could shift treatment focus up from the level of specific disorders to broader variables in the hierarchy. Since its multidimensional nature, HiTOP also would require measuring a range of outcome variables in treatment research, rather than just measuring symptoms of a disorder.
As a framework for studying individual differences, HiTOP is thought to help study therapist effects on treatment outcome and explore the zones in the hierarchy where particular therapists are more successful.
The article ends with a case example of how HiTOP conceptualization could help the therapist improve their approach to the patient. However, the authors also acknowledge difficulties in implementing HiTOP as proposed, including traditional divisions of different psychotherapy schools and the categorical model's entrenchment in the health care system and third-party reimbursement.
****
Hopwood, C. J., Bagby, R. M., Gralnick, T., Ro, E., Ruggero, C., Mullins-Sweatt, S., Kotov, R., Bach, B., Cicero, D. C., Krueger, R. F., Patrick, C. J., Chmielewski, M., DeYoung, C. G., Docherty, A. R., Eaton, N. R., Forbush, K. T., Ivanova, M. Y., Latzman, R. D., Pincus, A. L., … Zimmermann, J. (2020). Integrating psychotherapy with the hierarchical taxonomy of psychopathology (HiTOP). Journal of Psychotherapy Integration, 30(4), 477–497. https://doi.org/10.1037/int0000156 (LINK)