"I've spent 58 years in the public mental health system—10 years surviving it and 48 trying to change it."
That's how Jay Mahler—psychiatric survivor, activist, leader—described his experiences.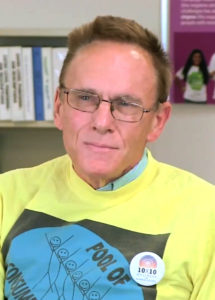 Sadly, Jay passed away this week at the age of 74.
Jay was the most thoughtful and tenacious person I've ever known. He was gentle and loving but strong in a way that few can be. He was an unstoppable force of nature who was always working to relieve suffering and to protect the human rights of all, both in the system and without.
We were friends and comrades for over 40 years, and we spent 28 years together in that struggle from within the belly of the beast in a large mental health system in the Bay Area.
In 1965, Jay was an 18-year-old college student who became an activist for civil rights and free speech at UC Berkeley. After going without sleep for six days, he became overwhelmed with emotion, which led to his being hospitalized.
"In the '60s, the mental health system did not believe that those of us with major mental health issues could recover," Jay said in a 2012 interview. "It was very much an authoritarian, kind of medical model approach. So when I was hospitalized, I didn't have any rights to have friends, make telephone calls, have visitors… I was given shock treatments against my will, given medications against my will."
Jay was tortured in the psychiatric hospital, as countless were and are to this very day. He said that the horror of being strapped down and given massive injections of Haldol was second to the terror he experienced when he tried in vain for days to remember his own name after being shocked relentlessly with ECT.
"There was a period in the shock treatments that I was completely without memory," Jay said in the interview. "I mean, I didn't know who I was, what my name was, I didn't know where I was, perceptions were bad… It was very terrifying to not know, to not have any memory."
After experiencing that authoritarian system stripping away his rights, Jay devoted himself to ensuring that others' basic human rights would be protected. Because of his own experiences, Jay felt his lifelong mission was an urgent quest to stop every form of psychiatric harm from happening to others. Instead, he tried his best to find a humane form of help, which he believed could best be provided by peers who could be trusted to be compassionate.
He got funding for such a project in the 1970s: Mental Health Consumer Concerns, which was peer-run and peer-staffed.
I met Jay in 1980 when I went to work at the I-Ward medication-free extreme state sanctuary. Jay was the patient rights advocate for the county hospital there. He believed in the radical and healing I-Ward sanctuary we provided, but he had to constantly work to protect those trapped on the traditional J-Ward, where everyone was heavily medicated and threatened with being tied down in five-point restraints—just as Jay had himself been restrained.
Our friend and fellow firebrand Pat Risser was also part of the coalition that constantly pushed back with Jay against the power of NAMI and the county psychiatric staff who wanted to increase forced treatment.
Jay could always see the next organizing step—what to do to advance the struggle for human rights in the mental health system, which is always mired in several layers of administrative and local politics. We got together and formed a county mental health coalition of all the stakeholders, even including NAMI. Our credo was to always seek the patch of common ground where we all could stand united. It worked for decades to greatly influence the county supervisors, who were the ultimate decision-makers and funders.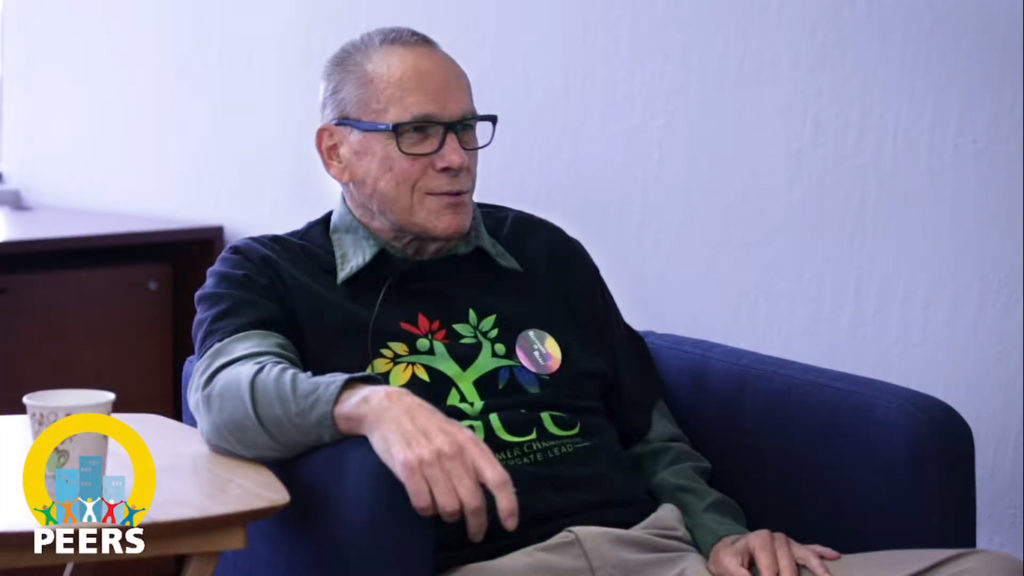 Using the clout of the united coalition, Jay led the way in getting funding for several peer-run and staffed drop-in centers, and a whole new civil service job classification of Community Support Workers. That was a new job class that could be protected in the local Labor Union mental health staff group that I represented on the coalition. Those Union peer workers got full benefits and retirement and became the leaven of people with lived experience to humanize every county clinic, hospital ward, and program.
Jay made so many things like that happen for people.
There are many details of Jay's life and work I don't know of, but I remember at one point he was at the White House during the Carter administration to support initiatives that he believed were good.
Jay was like that—a total pragmatist. He never let the pursuit of the perfect get in the way of the getting some of the good. His path was of those who work inside systems like Trojan horses, as in "the long march through the institutions."
At one point Jay even got a job in county mental health administration itself as an ombudsman, because of his strong power base among the peer community.
I'll never forget the wry smile on his face when I came to see him in his new office on the top floor of mental health administration. He said something like "Now they're going to have to deal with me every hour of the day!" Jay was like the boxer that never stops coming and just wears down the opposition because they know he's never going away.
After decades, he left Contra Costa county and went to work in Alameda county to again transform the system in Oakland and Berkeley. There he organized and led what became a massive peer movement of thousands of members of The Pool of Consumer Champions.
I worked with him there on the Mandala Project, that again, because of Jay's clout, was able to influence the mental health director and all the programs there to adopt more humane and peer staffed programs.
Jay had a quiet spiritual dimension to him that I always thought partly was born from the incredible suffering he had endured. I can't help but think of Nelson Mandela when I think of Jay, because Jay never hated those who had tortured him for years.
He became a leading catalyst state-wide for a whole new focus on the spiritual dimension of suffering and healing. We even did a workshop together at the Esalen Institute on that subject in 2011, along with David Lukoff and Laura Mancuso. We followed it up with large gatherings in Alameda county that drew many who also recognized Jay's drive for deeper understanding.
In honor of Jay's leadership and contribution, Alameda county named their first peer respite center after Jay.
Yes, what a long way he came from the imprisoned young man, tortured in the name of psychiatric medicine, to the soft-spoken leader who humbly asked what I believe was his basic message to all of us:
"Isn't there more that we can do to stop psychiatric abuse, and to instead be loving and kind to those suffering?"
Jay's devoted wife Susan was a constant presence of loving kindness and support during all the years, and especially during recent years, as Jay underwent dialysis.
Jay sadly told me he believed the horrendous harm inflicted on his body during those many years in the psychiatric gulag ruined his health.
Yet Jay always felt that his activism, his work promoting human rights in the psychiatric system, was the most meaningful contribution he could make in the world. "Being involved in the consumer/survivor movement has given me a purpose in life," he said in the 2012 interview.
Let's remember Jay's family as we grieve his passing, and let his life example do what it always has done for countless people: Help us fight the fight and believe in the example of his loving heart.
Rest in peace, faithful servant.
***
Mad in America hosts blogs by a diverse group of writers. These posts are designed to serve as a public forum for a discussion—broadly speaking—of psychiatry and its treatments. The opinions expressed are the writers' own.
***
Mad in America has made some changes to the commenting process. You no longer need to login or create an account on our site to comment. The only information needed is your name, email and comment text. Comments made with an account prior to this change will remain visible on the site.