Autistic people are often misunderstood, misinterpreted, misrepresented, and mistreated by allistic (non-autistic) peers, researchers, and clinicians.
A number of recent empirical studies have examined how neurotypicals perceive and judge autistics, shedding light on the social barriers faced by autistics in a world built for neurotypicals: Allistic peers are less likely to interact with autistic people because of immediate and unconscious negative judgments that are based purely on social communication style, and not substance. Autistic people are also often perceived by neurotypicals as deceptive or lacking credibility.
It is obvious how this bias and negative judgment can lead to discrimination, exclusion, and bullying, negatively affecting autistic people's lives and wellbeing. Indeed, autistic people report more victimization than their neurotypical peers.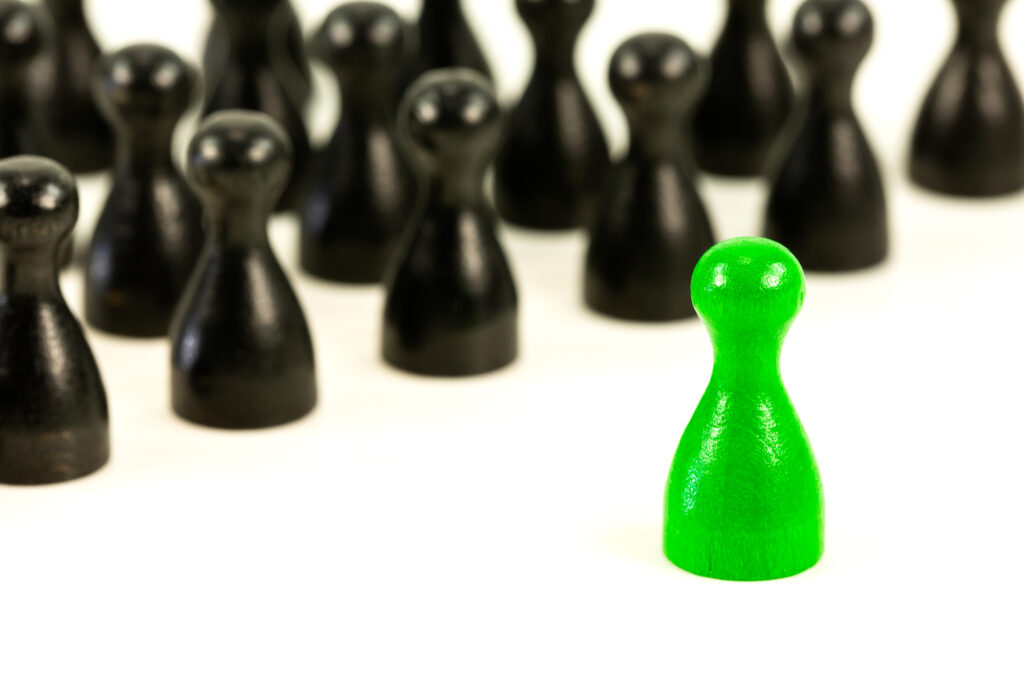 The DSM-5 diagnostic criteria for autism spectrum disorder (ASD) emphasize "persistent deficits in social communication and social interaction." However, recent studies clearly demonstrate that instead of exhibiting deficiencies, autistic people have a distinct mode of social communication.
A study investigating interpersonal rapport among autistic, mixed, and non-autistic pairs shows that neurotype-matched pairs report higher levels of rapport than mixed autistic-allistic pairs. A further study connects this to specific social signals: autistic people engage in less mutual gaze and backchanneling (e.g., nods and "mmhm") than allistics, and mutual gaze is connected to ratings of rapport in mixed and non-autistic pairs, but not in autistic pairs. This recapitulates the finding that the negative impression formed by neurotypicals is connected to communication style and not substance.
Moreover, information transfer between autistic people is highly efficient and does not differ from neurotypicals, supporting the model of distinct modes of social communication as opposed to a deficit: just as there are no major communication barriers between most neurotypicals, there are no communication issues between most autistic people.
These studies support the Double Empathy Problem—a framework that describes the mismatch between autistic and allistic social communication. The Double Empathy Problem suggests that "autistic people have difficulty fitting into society not just because they misunderstand others but also because they are misunderstood by others."
However, in addition to the Double Empathy Problem, there is also a Privilege Problem, a form of cultural hegemony: the (neuro)majority is never forced to see things from the perspective of the (neuro)minority. Autistic traits are pathologized by neurotypical researchers and clinicians, and autistic people are often denied autonomy and self-agency and forced to conform to neurotypical expectations and social norms. The constant camouflaging or "masking" to be more palatable for allistics is often detrimental to the wellbeing of autistic people.
While autistic people are forced to understand and predict neurotypical behavior, allistics are remarkably bad at empathizing with autistic people. Inability to empathize can translate to a lack of compassion towards autistics and contribute to the pathologization of autistic traits. This pathologization has led to interventions that focus solely on suppressing behaviors that are considered odd or aberrant by neurotypicals. In fact, some commonly used autism interventions, such as Applied Behavior Analysis (ABA), have been found to be both ineffective and abusive, inflicting trauma on those subjected to them.
Popularized by Ole Ivar Lovaas in 1987 and widely used as early interventions, ABA and its modern versions, such as The Early Start Denver Model (ESDM) and Pivotal Response Treatment (PRT), are behavioral modification programs that aim to either enforce or diminish behaviors using external rewards and punishments. They rely on the behavioralist framework that assumes that behavior is caused by external stimuli and can thus be either reinforced or discouraged.
The autism treatment market in the US is estimated at $2 billion and is predicted to continue to grow in the future, largely due to the increase in the number of ABA programs across the country. This is despite the lack of evidence of long-term efficacy, lack of research on non-speaking autistics, and the failure of researchers to report adverse events (see, for example, Dawson and Fletcher-Watson, 2021). A number of researchers and autistic advocates have criticized ABA and "modern ABA" for, for example, the intensive conditioning that can lead to dependence, the use of aversives, emphasizing compliance, negatively affecting autistic people's self-esteem, and inhibiting self-motivation.
Often included in behavioral modification programs, social skills training (SST) curricula aim to teach autistics to imitate neurotypical behavior and social communication style and are based on the flawed view that autistic social communication is disordered. SST approaches have been criticized for their shaky theoretical basis and lack of convincing empirical support, as well as for their harmfulness by inhibiting authenticity and contributing to the stigma associated with autism.
Interventions should be safe and evidence-based, and the fact that approaches such as ABA and SST are still considered the gold standard reflects a wider problem and lack of accountability in psychiatry and clinical psychology. Behavioralist interventions and neuronormative SST erode autistic people's self-esteem and identities. Behavioral modification programs focus on compliance and the suppression of behaviors that are visible to and considered undesirable by neurotypicals, inhibiting behaviors that are intrinsic and regulating to the autistic person (e.g., self-stimulatory behaviors) while simultaneously forcing them to tolerate stimulation that is dysregulating (e.g., sensory stress and forced eye contact).
The world punishes autistic people for displaying their autistic traits, leading to masking even without interventions. Being rejected, marginalized, and receiving the constant message that everything that is intrinsic to them is wrong or unacceptable is a continuous source of trauma: society rarely produces non-traumatized autistics. Chronic stress, masking, and having to constantly conform to neurotypical social expectations are often cited by autistic people as a major contributor to autistic burnout—a devastating and, for many autistics, recurring condition with substantial negative effects on functioning, wellbeing, and quality of life.
The pathologization of and the disdain towards autistic traits and people has led to the development of flawed and harmful theories, many of which have since been debunked but still continue to cause harm by contributing to stigma and dehumanization. Most notably, the idea that autistic people lack theory of mind, meaning that autistics fail to understand that other people have a mind or that they themselves have a mind, has been heavily criticized, and previous empirical studies claiming to support the hypothesis do not survive a critical examination.
This "mind-blindness" hypothesis and other misguided ideas have long been used to justify mistreatment and to deny autonomy. Furthermore, neurotypical-led charities and programs focus largely on autistic children, centering advocacy around neurotypical parents of autistic children, often without any input from actually autistic people. At the same time, autistic adults are marginalized, infantilized, discredited, and not adequately included in autism research, decision-making, and planning of support programs, and autistic advocates raising concerns are easily dismissed and perceived as lacking credibility.
All these issues contribute to the disenfranchisement of and health disparities affecting autistic people: autistics are at an increased risk of mental health problems and report difficulties in getting support, lack of understanding and knowledge, and lack of appropriate treatments contributing to their wellbeing. This highlights the urgent need to increase knowledge, understanding, and acceptance of autism, which entails the depathologization, destigmatization, and normalization of autistic traits.
One of the biggest barriers on our way towards this goal is making the neuromajority aware of and accepting of the fact that there are two distinct and valid modes of social communication. This requires making allistic people more aware of their cognitive biases: While autistic people are deliberative decision-makers and exhibit enhanced rational thinking, neurotypicals rely on intuitive decision-making and are prone to cognitive biases.
After forming an immediate negative impression of an autistic person due to the differences in social communication, an allistic person is likely to react negatively based on intuition. It is clear how this can contribute to the mistreatment of autistic people and is particularly dangerous in situations where there is a power imbalance, such as in mental health care.
As autistic people are often misunderstood and misinterpreted by neurotypicals, it is crucial that the mental health care of autistic individuals is neurodiversity-affirming, patient-led, anti-authoritarian, respects patient autonomy, and allows the autistic person to live as their authentic self. Key steps towards this goal include adopting trauma-informed, strength-based approaches that prioritize safety, empowerment, accountability, and transparency.
Many autistic people consider that autistics have a unique perspective that can only be fully understood by other autistics, emphasizing the importance of the autistic community and peer support. Studies on autistics and other marginalized groups highlight the importance of peer support and mentoring in empowering the members of the community and contributing to their wellbeing: the community provides social support, facilitates collective action and advocacy, and can provide an environment free of neuronormative expectations.
Peer support and mentoring can be particularly helpful for newly diagnosed autistics: in a recent study, newly identified autistics attending a peer-led program were particularly appreciative of the autistic-led nature of the program, the diversity within the program, and reported that the program helped them develop a more positive outlook on autism. Moreover, loneliness and lack of social support are associated with a greater negative impact of stress on mental wellbeing, further emphasizing the importance of the community.
Specific approaches can aid in facilitating successful interactions and increase autistic people's confidence in neurotypical social situations. For example, instead of neurotypical-led SST, conversations and mentoring can focus on critically examining real-life situations and unpacking social interactions in ways that help participants understand the norms, motivations, and power structures at play.
Additionally, training programs targeted at neurotypicals can help increase knowledge of and reduce the stigma surrounding autism, speaking to the importance of, for example, workplace training in creating and cultivating a healthy, neuroaffirming environment. For any kind of behavioral intervention, particularly early interventions, to be compatible with the neurodiversity paradigm, substantial reform is needed.
Despite all the recent advances in understanding the two distinct modes of social communication, nearly all autism studies, particularly in biomedicine, psychiatry, and genetics, still frame the work around the deficiency model. Unfortunately, most mental health practitioners do not know how to differentiate between neurological differences, psychiatric states, personality traits, and trauma, and have a poor understanding of the complex interactions within and between these distinct layers of complexity and the environment, emotions, and behavior. When researchers and clinicians try to understand autism and autistic behavior in the context of neurotypical psychology, they will inevitably make incorrect assumptions, leading to ineffective and even harmful interventions.
Moreover, the DSM-5 criteria for ASD and the diagnostic assessment are based purely on behavior, and trying to infer neurological variation from behavior is an approach that is deeply flawed and unreliable. Indeed, many autistic people, particularly women and people of color, often go undiagnosed or misdiagnosed; some common misdiagnoses include mood and anxiety disorders, personality disorders, obsessive-compulsive disorder, and even psychosis.
As autism knowledge in the field is lacking, and autistics are often remarkably good at masking, many live their lives unidentified, without a clear understanding of themselves, and without support. Autistic people can often easily identify each other based on shared experiences, and only an autistic person can accurately describe the autistic experience.
Allowing autistic people to openly share their experiences is crucial for reaching unidentified autistics: many late-identified autistics have decided to seek an assessment after discovering and relating to other autistic people's stories. Autistic people must take control of the narrative in autism research, assessment, advocacy, and in the treatment of autistic people—only then can efforts be fully directed towards goals that improve the lives of autistic people and help more autistics thrive and reach self-actualization. In particular, more research and effort should be directed towards, e.g., understanding and preventing autistic burnout, accommodating for sensory differences, and tackling social stigma and exclusion.
Allistic allies, particularly mental health professionals and researchers, have an important role in facilitating this process and furthering the understanding and acceptance of autism and autistic people. Acceptance begets confidence, and eventually, this will lead to the empowerment and better wellbeing of all neurominorities.
Acknowledgments
I want to thank Rachel Zanoni for originating the idea of The Privilege Problem and for comments on a previous version of this essay.
***
Mad in America hosts blogs by a diverse group of writers. These posts are designed to serve as a public forum for a discussion—broadly speaking—of psychiatry and its treatments. The opinions expressed are the writers' own.
***
Mad in America has made some changes to the commenting process. You no longer need to login or create an account on our site to comment. The only information needed is your name, email and comment text. Comments made with an account prior to this change will remain visible on the site.