November 12, 2021 was a great day for Britney Spears and a great day for justice when a judge freed her from a conservatorship that controlled every aspect of her life. It was definitely something to celebrate, but it was also a solemn day because Spears had had to endure a more than decade-long nightmare orchestrated by her father and others. It was a solemn day, because there are at least a million other, less famous, individuals who are still trapped in exactly this kind of arrangement.
Guardianship is an alarming threat to everyone's health and welfare. In secret in a judge's chambers, one's rights to make personal and financial decisions can be stripped in moments. It is very widespread, but little known, although because of Britney Spears' chilling testimony last summer and the persistence of the Free Britney Movement, this practice has been catapulted into the public's consciousness.
That is what happened to me and my parents. Our mistake was filing for guardianship, which others used to turn us into human ATM machines. We didn't know that this had been going on for decades and didn't find out until we were trapped. Today, I am part of a national human rights coalition, Victims and Families Harmed by Guardianship, whose purpose is to protect older Americans and disabled individuals of all ages from exploitation by state probate guardianships. We are a consortium of state coalitions that have joined together to contact our federal representatives and the media to demand reform. People who can't take care of themselves need support and protection, and guardianship provides neither.
My Family's Story
It is hard to imagine what goes on unless you have lived it. The following is what happened to me and my parents.
In January 2005, my father filed a complaint with the Nassau County, New York, District Attorney against my sister, Terri, who he'd recently discovered had been embezzling millions of dollars from both my parents, as well as from me. The DA began an investigation. Around the same time, an estates attorney recommended that my father and I file a petition to become co-guardians for my mother, who had been diagnosed with Alzheimer's disease. He told us it could help us recover the stolen money. However, instead of appointing us as co-guardians, a Nassau County Judge appointed a lawyer for my mother and an examiner to review the case. At a meeting I attended at my parents' home, they both attacked us and told our lawyer they were not going to recommend us to the judge.
Without even a hearing, the judge appointed total strangers as my mother's guardians instead. Both were private lawyers. When my father and I learned this, we asked to withdraw our guardianship petition, but were told we could not. This judge and the lawyers now controlled my parents' money. But they didn't protect it, meaning Terri still had access to it, nor did they look after my mother's needs. At one point, the judge wanted me and Terri to become my mother's co-personal needs guardian evens though by this point my sister had been arrested for grand larceny.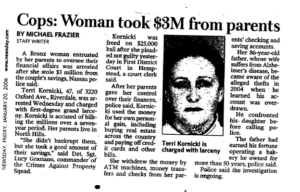 Creating Chaos
Everything in my life and my parents' lives then became a nightmare. Different court-appointed guardians, all private attorneys, cycled in and out of our lives. All the while, they billed my mother hundreds in hourly rates for various clerical services but provided no benefit to her. After my father died in 2006, I tried to intervene, moving to New York to take care of my mother because I was not allowed to bring her back to California, where I lived. I again filed a petition to become my mother's sole guardian of person and property, but was only appointed as her personal-needs guardian. The court-appointed lawyers still controlled all of her assets, including the house, and continued to pay themselves excessively for "managing" them.
For example, they hired their own accountants. One of these accountants billed us $12,000 for counting the money in my mother's brokerage account—twice, in 10 months. Another accountant billed us $100,000 for looking over forensic accounting my accountant gave him. Meanwhile, my mother's Social Security check and her retirement distribution were being deposited into a guardianship checking account, but none of that was being used on behalf of my mother. When I balked, I was told that I had no standing to ask how the money was being spent. Over time, the guardians depleted her estate. Every time they wrote a check to themselves, they claimed, "It is in the best interest of the ward." These lawyers regularly scheduled court proceedings from 2005 until 2018 (the year my mother died), resolving nothing. All of this took place with a judge's approval.
There's a lot more to the story—including being harassed by my sister (who was charged with grand larceny and disowned by our father) and the fact that the court repeatedly sided with Terri whenever she tried to intervene (she rarely visited our mother but did try to have her placed in a nursing home so she could take the house). All of it is an example of how guardianship can create chaos within families.
Dragging on After Death
Both my parents are gone, but this case is still ongoing. The lawyers are demanding one-third of my father's estate. My father had an estate plan which provided a lifetime trust for my mother, but this was overturned in a judge's chambers. They also filed a right of election against my father's will and appointed a public administrator and his lawyer to deal with the estate.
When my mother was alive, I was told that the deed to my parents' house would be turned over to me; I was even copied on emails to that effect, but when I went to the clerk's office after her death, I was told the deed was not in my name. It turned out that there was no money left, and the current guardian told me they were therefore going to do a reverse mortgage on the house.
When I resisted, the judge agreed to a conference among five lawyers (all of whom billed my mother, of course). At this conference, they also decided that the court-appointed guardian and the court-appointed evaluator would come to the house to do an inventory. For this "service," they were getting ready to bill us way more than the value of anything in the home. I made it very clear that I wouldn't allow it. The public administrator and his lawyer then sent me a letter demanding money and saying that if I didn't pay, they would tell a judge to sanction me. They also told my lawyer that I had to compel them to turn the deed to my parents' house over to me because "that's how the system works." The guardian still has still not done so, even though she was supposed to years ago. Meanwhile, I have been made to pay for everything involved in the home's upkeep, including the property taxes.
A Powerful Legal-Industrial Complex
My story is routine when it comes to guardianship. In New York State, guardianship has become a powerful legal-industrial complex, a well-designed system to benefit court-appointed lawyers who are party loyalists, former judges, and partners in the law firms of New York's most powerful politicians. These lawyers are appointed as court evaluators, court referees, court examiners, guardians and/or attorneys for the guardian, and accountants for the allegedly incapacitated person. They all work in concert to lure families who have sizable estates into guardianship to resolve a matter and then, instead of appointing the family member who petitioned to be the guardian, they give that role to a court-appointed lawyer.
That's why Victims and Families Harmed by Guardianship is calling for an end to the state probate systems that have been usurped by professional guardians. With layers of lawyers, predatory guardians take vulnerable adults and their families hostage. The human suffering is enormous. New guardianships are created every day and families are helpless to prevent or reverse it, because it is entirely legal to usurp the rights of vulnerable people.
It's not just New York. A 2010 special series on lobbying in the San Jose Mercury News of California (Britney Spears' home state) revealed how guardianship and conservatorship laws are made. They are essentially written by lobbyists who present them to legislators. This process has created a shadow system to exploit ordinary citizens using the courts as vehicles for financial abuse. Then, judges are hand-picked by politicians and/or their close associates, and after those judges are elected, they reward their friends with lucrative guardianships.
Everyone in this scenario gets paid from the assets of the person placed into the guardianship. So if there is an objection to the guardianship, the opposing party uses the ward's assets to fight them ad nauseam. Britney's battle mirrors ours in this way: The lawyer for her father/conservator, Jamie Spears, wrongly claimed that Britney had never asked to end the conservatorship—and then that lawyer fought like hell not to have him suspended. It was all paid for with Britney's money.
What We've Been Doing
As a coalition, Victims and Families has educated the media and offered to share our stories and expose what is clearly systemic corruption. Outlets across the country have begun reporting on the issue. ABC10 Sacramento, The Intercept, ABC Denver 7, the Traverse City Record-Eagle, and Buzzfeed News, among others, have shared victims' nightmares. The Free Britney movement has also joined us, inviting victims to speak at their most recent rallies. Mathew Rosengart, Britney Spears' lawyer, has publicly acknowledged the systemic failures at each of his press conferences following Britney's hearings.
Approaching state legislators hasn't gone as well. In New York, Michigan, Ohio, and Pennsylvania, victims have appealed to lawmakers and state Attorneys General only to be ignored. The message to us is: The courts can do whatever they like; we will not investigate. This is why guardianship must be eliminated.
Some Hopeful Attention
Fortunately, this issue has started to get attention at the federal level. On September 28, there was a hearing in the Senate Judiciary Committee titled "Toxic Conservatorship: The Need for Reform." It was chaired by Senator Richard Blumenthal, who is also on the Special Senate Committee on Aging and so is aware of this decades-long abusive system. At the hearing, one victim, Nicholas Clouse, testified about his agonizing experience of being placed into a guardianship after an accident and losing control of everyday decisions. He was able to end the guardianship after an incredible struggle. When he spoke, it was clear that his court-appointed guardians had been given total power and they were using it to harm him.
The hearing mostly focused on preventing people from being put under guardianship in the first place, but there was little to no mention of how to address issues in existing guardianships, including law-enforcement investigations of reported abuse and exploitation. We need more hearings that feature the voices of victims who are currently under guardianship and want out. People will see that this system needs to end because is designed to benefit the people who control it rather than disabled individuals.
Also last fall, AB 1194 was signed into law in California, which allows those who are conserved to choose their own attorneys. But will the law be followed? As victims have pointed out, they have contacted the bill's sponsor (State Senator Evan Low) in the past about their cases and he did nothing.
A Call to Action
We need to keep up the pressure on politicians and to continue to show that guardianship is a draconian, unconstitutional system that needs to be eliminated. Absolute power corrupts, and guardianship is a form of absolute power over a person's life. The system invites exploitative behavior, as has been demonstrated over and over again in these cases. We need to get to the bottom of what court-appointed guardians and their representatives are doing in order to get justice. To do that, it is critical that we keep telling our stories in every forum.
Mad in America readers who want to get involved should contact Senator Blumenthal of Connecticut and demand more hearings on guardianship with victim-witnesses. They should also contact every senator who is on the Senate Judiciary Committee and the Special Senate Committee on Aging. For more information, contact me via Twitter, @Marian_Kornicki.
***
Mad in America hosts blogs by a diverse group of writers. These posts are designed to serve as a public forum for a discussion—broadly speaking—of psychiatry and its treatments. The opinions expressed are the writers' own.
***
Mad in America has made some changes to the commenting process. You no longer need to login or create an account on our site to comment. The only information needed is your name, email and comment text. Comments made with an account prior to this change will remain visible on the site.